Whether you are trading stocks, bonds, futures, foreign exchange currency, options or other exotic financial instruments, there are a few fundamental keys that will help on not getting "burned" by the markets. I will try my best to seperate the media bullshit from the truth based on my personal experience and the methodologies I use for my trading.
Firstly, the one simple truth I have learned time and time again which I refuted for a few years was that your own personal decisions and gut instincts are the best guide to your financial success. By blending proven military philosophy and a student of strategy, I use knowledge from these areas and try to incorporate them into trading.
I view trading as a battlefield where the market is full of soldiers fending for themselves to save their skin. Thus, it is beneficial to gain a warrior's mentality - not the crap that is mentioned in the news! However, it is good to get accustomed to both sides of the media coin - the good and the bad, the sexy and the ugly, the conman and the fool, you get the point!
I wrote an article previously on how playing Poker can help you in trading mentality where its better to burn through $800k of fake money to get the right mentality before trading real funds. In this post I will go into further details of how I pick my media subscriptions, books that I go through, my practice methodologies, other military strategy books to sharpen decision skills.
If I could, I would subscribe to a million resources to get information. But at the moment I am a peasent in the pockets, so I am picky with the resources I use. I have a rule that if the information is free, it is not worth my money! Thus, I need to make sure I am getting information that has a price because nowadays there is so much false free information (not that paid info is also sometimes false) that it pays to look at free information with disgust.
The following are my sources of information:
1. The New York Times (For general information on what's going on)
2. Barron's magazine (For investment analysis and opinions)
3. FX Trader Magazine (To learn how forex market works. I haven't been able to get a handle on this instrument yet. Also good for a macro view of the world)
Note: I used to subscribe to The Wall Street Journal but I got sick of their conservative bias and stuck with the The New York Times liberal bias - for fun reads!
I hate watching TV news, financial or not, because they overhype the smallest irrelevant news items. In my opinion they're a fear factory and all that matters to them is ratings.
The secondary source of information is books. Here is a current book I am trying to go through: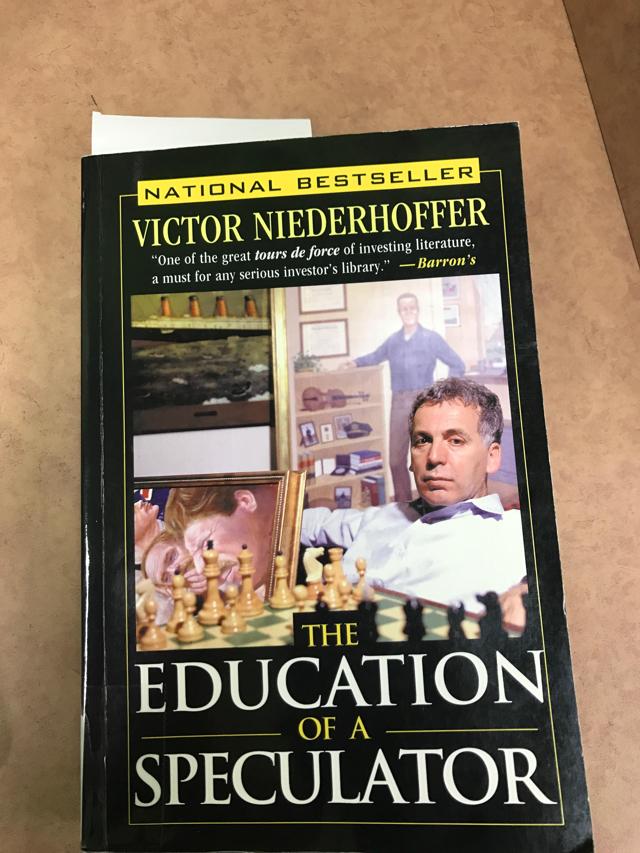 Other books that I am going through are "The intelligent investor" by Ben Graham, "Trend Trading", "The Art of War" by Sun Tzu, "Power" by Robert Greene (a second read), and some other Poker books.
I just started reading this book and so far its showing the history of a speculator from childhood in Brooklyn to his time in the markets with explanation of his methodologies.
One thing I have learned is that instead of knowing the market and changing your personality towards it, it is better to have master knowledge of your personality and then try out each market to see if it fits you. This comes from my personal experience over the past decade. As usual, there are always growing pains when you try something new. I purchased my first few shares amounting to $500 in Microsoft back in mid-2006 awaiting the release of Microsoft Vista, which was supposed to be the next big thing. I had no experience when I opened a brokerage account at TD Canada Trust. The online brokerage would not process my trade so I had to call in and beg the guy to charge me the $29 commission used for online buy instead of the $60 phone order commission. I had initially planned to spend $1000 on the stock but I decided to only go with half on MSFT (Microsoft).
This was my first lesson in position sizing. I went into the trade too small where I would have a round-turn commission (buy commission + sell commission) of $58 which the stock would need to cover to break-even. So I waited for the Microsoft Vista release which was supposed to have been released in November 2006 but got delayed until January 2007. For some reason this put off people from purchasing as the hype was slowly dying. When it launched in January 2007, Windows Vista turned out to be a dud. I didn't really know how to analyze the financial statements at that time and what each line item meant, so I was basing all my decisions on Windows Vista being great based on the features advertised.
It took me 2 years to recover from the price drop. I was wishing to come out of this stock breaking even, by checking the price every day. This took a toll on my brain where eventually after a few months I gave up checking the price at all. So after 2 years in 2009 the stock reached the break-even price and was I glad to just sell it and get out of that misery. After the sale, due to the exchange rate from USD to CAD, I made a net profit of around 6%. This might have eased the stress of the potential of taking a loss, but after a 2 year holding period amounting to a 3% gain, I could've easily made that 3% sticking the money in a Guaranteed Investment Certificate (equivalent to a Term Deposit in the U.S).
I stayed away from the markets a few years until I learned how to read financial statements (mainly through business courses such as accounting). It was not until I received my MBA in 2012 was when I got back into investing. Since then I tried investing in different industries, different investing products (Options were my favourite due to the leverage offered without putting up much of the capital), and get burned on a lot of investments.
The last resource that I use is listening to investing Podcasts where I get to listen to how swing traders, investors, hedge fund managers and other professionals and quasi-professionals make money in the markets. Some tend not to spill the beans on their exact trading methodology while others have been tell-tale investors as intution works their strategy over processes.
I hope the few strategies I have mentioned here can help you get a "one up", or edge in the markets.
Note: I wrote this article myself, and it expresses my own opinions. I am not receiving compensation for it (other than from Seeking Alpha). I have no business relationship with any company whose stock is mentioned in this article.
Disclosure: I/we have no positions in any stocks mentioned, and no plans to initiate any positions within the next 72 hours.