US Dollar spent the majority of last week on the defensive as trading resumed after winter holidays. Supportive manufacturing and service ISM surveys could not offset the weight December's FOMC minutes had after FED officials being less convinced for a drastic hawkish policy. However, December's US Labor-Markets data fueled greenback's uptrend mainly due to the unexpected wage inflation soaring to a new high of 2.9%, which hints that the economy is running hotter than what has been accounted for even before any expansionary measures taken by the President-Elect Donald Trump. The week ahead has a busy docket of commentary from Fed officials including from the Chair Yellen. Assuming that policymaker's positioning remains the same as December, then on these speeches we might expect a cautious tone.
With Trump's administration still waiting to take up office and their relatively unknown and vague policies, chances are, upcoming commentary from Fed officials is unlikely to endorse the one-sided view that rate hikes are firmly on the upside. In this light, US Dollar might experience further pressure from its high levels and while end of trading week data (Retail Sales, Consumer Confidence, PPI) might boost (USD) as job reports did, there appears to be a tendency for profit taking which might lead USD further down. It is on this note that we expect the majority of counterpairts to move substantially higher against the Dollar in the days to come.
EURUSD
December's Non-Farm Payroll disappointment in the US was partially offset by the increase of wage inflation which gave USD a temporary boost. With no economic release coming up from the Eurozone, market players will keep an eye on the USD strength or weakness in order to determine the (EURUSD) trend. EURUSD recently broke the multi month bearish flag (triangle) however recent USD weakness did not allow EURUSD to test parity levels. We are currently standing on the lower trendline of the triangle, once support now resistance. Not for EUR merit, the current rally of EURUSD off the lows might be nothing more than a short squeeze to serve as a bear trap in the short and medium term while the longer term remains a clear downtrend. If USD continues to weaken, EURUSD might witness a jump above the 200 SMA but with a limited upside towards 1.07-1.08 levels.
EURUSD Daily Chart- Jan 9, 2017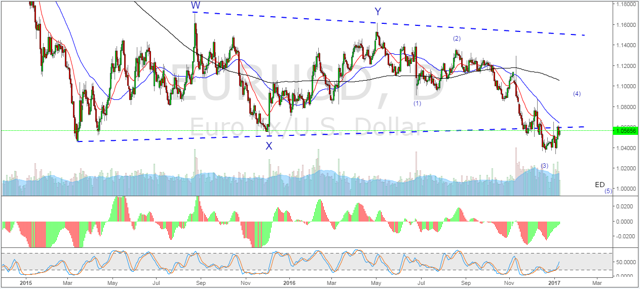 Based on the count as illustrated in the chart above, EURUSD needs to hit a final local high towards 1.07-1.08 level in order to complete leg (C) of wave (4). Wave (4) came in with an irregular B wave which hit a slight new high, however its structure remains in tact. As long as price holds above SMA 200, and most importantly above top of wave (1) = 1.04334, we may witness 1.07-1.08 levels in the following days.
EURUSD 1H Chart - Jan 9 2017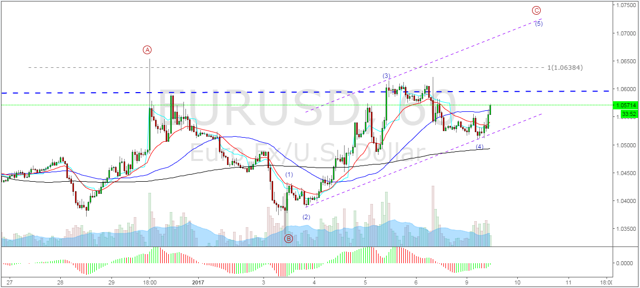 USDJPY
USDJPY's Bulls appear to be losing momentum from both a technical and fundamental viewpoint. This week's economic calendar does not hold important news coming up from Japan thus fundamentally (USDJPY) will be affected by Fed officials' rhetoric and end of trading week data (Retail Sales, Consumer Confidence, PPI) which might boost USD as job reports did. However, on a technical note USDJPY has important resistance levels ahead which need more momentum and fuel to be broken. The failure on the second attempt to break 118.6 (high) makes it even more difficult for bulls to push price past the important psychological level of 120.0 before any deep retracement as the highlighted box will serve as a profit taking zone. Break of the upwards parallel channel will pressure USDJPY to test 113.0-110.0 zone before any real upward move.
USDJPY Daily Chart - Jan 9, 2017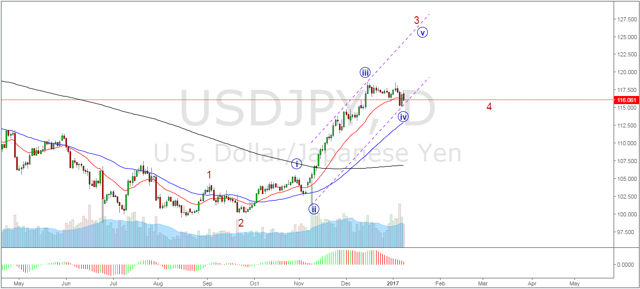 We are standing on uncertain territory from a technical viewpoint as the break of the upward channel will indicate wave (iv) is not completed and it will most likely extend both in time and price. A break of that channel will complicate the medium term picture as well and will pressure USDJPY towards 112.0 level, but in case 116.1 holds, it is very likely USDJPY will head towards its highs. We are currently witnessing hesitation around 61.8% Fibonacci of the latest wave up (exact price 116.0) which might indicate Bulls are rejoining their forces for one last try. Any long positions around these levels have an invalidation level of 115.0.
USDJPY 1H Chart - Jan 9, 2017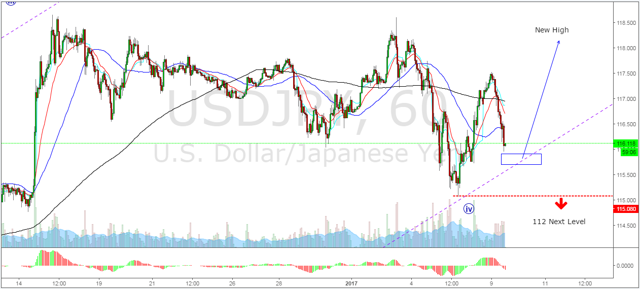 GBPUSD
While all of us agree that 2016 has been one of the most exciting years for Sterling and its related pairs, market players are in doubt whether to pay attention to BoE statements after its seriously "flawed" forecasts which its officials have openly admitted to be based on narrow economic models. It is unclear whether will BoE maintain its extremely dovish rhetoric after year-end books indicate that UK economy has been the most lucrative developed economy in the world. We will be able to get hints on the BoE next movement only in February when inflationary data for the UK will be released. Until then, (GBPUSD) is subject to short squeezes and possible rallies not only due to USD weakening but due to GBP strength in light of increasing long-term inflation (while British Pound stands in 30 year lows). Technically speaking, any new low GBPUSD is hit in an increasing bullish momentum which could make a short squeeze even more powerful/painful towards 1.3-1.35 levels where significant resistance stands.
GBPUSD Daily Chart- Jan 9, 2017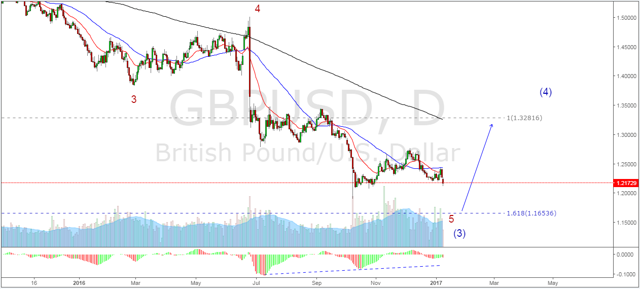 We are currently on what appears to be an impulsive wave down and the ideal scenario is GBPUSD hits a new low before any rally for the wave (4). However, given the fact that the decline has happened on an increasing AO, we have clear signs of divergence. Practice has shown these divergences happen in the end of a wave whose new low (or high) will most likely be followed by immediate and aggressive reversal. We will be sure of a new trend up only if the middle trendline of the equidistant channel is broken. Unlit then GBPUSD may slide down to 1.16 without invalidating the possibilities for a larger recovery towards 1.3 area.
GBPUSD 4H Chart - Jan 9 2017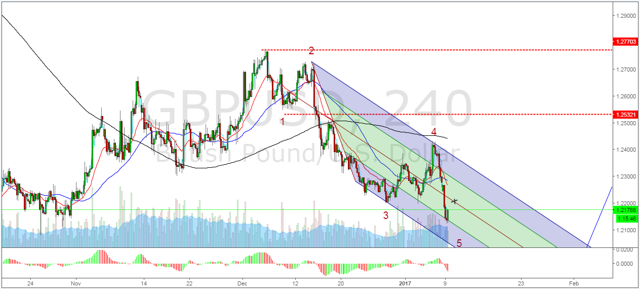 AUDUSD
(AUDUSD) has one of the most impressive charts of all the other majors from a technical viewpoint. AUUDSD "Trump" effect stopped right at the bottom of the bullish flag trendline mainly fueled by positive economic data coming from Australia as well as a continuing slight weakness in the USD. Friday's release on Australian trade data surpassed all forecast with the first surplus in three years, amounting to 900 Million USD from a 300 Million USD expected deficit. This week is light in economic releases thus AUDUSD will be driven by few US releases and the long term expectations betting on positive economic developments of the Australian economy. Further weakness in the USD will be an added value to the AUDUSD expected rally towards 0.76 area first and then higher.
AUDUSD Daily Chart - Jan 9, 2017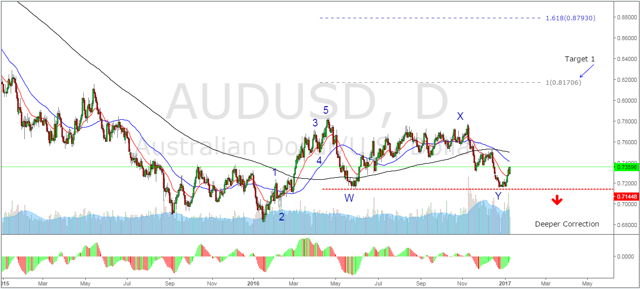 From May 2016 up to now AUDUSD has been in a WXY correction which completed the last leg down fueled by US Presidential Elections. While it is logical AUDUSD should not hit a new low below bottom of Wave (Y), I would like to see an impulsive wave up testing the 200 SMA on the daily chart and then a healthy pullback towards 0.725 level again before any further advance. Wave 3 is expected to top near 0.74 area at the upper bound of the channel, while the intermediary invalidation level would be breach of 0.732.
AUDUSD 1H Chart - Jan 9, 2017