The BoC surprised the market with a hike and a statement that shows that their intention of removing "considerable" amount of stimulus from the system remains. This is the second hike of this cycle which started with the hike in July. 
In the age of ultra dovish central bankers who have a tendency to wait and see and hike at a glacial pace if at all, this is as hawkish as you can get when you are living in a world full of uncertainties such as Trump policies/tweets and the recent North Korean tensions. 
Clearly, the economic data is giving the BoC the confidence to do this. Their statement spoke of stronger than expected growth both in Canada and globally. With strong commodity prices of late, the Canadian dollar (NYSEARCA:CAD) clearly has all the fundamentals aligned for the strengthening trend to continue.
With growth continuing to be strong (as evidenced by the latest GDP YoY growth of 4.5% vs market expectations of 3.7% released two weeks ago) and financial conditions remaining easy (stocks making new highs every other week), the fundamental reasons for continued CAD outperformance is strong. 
What about the technicals?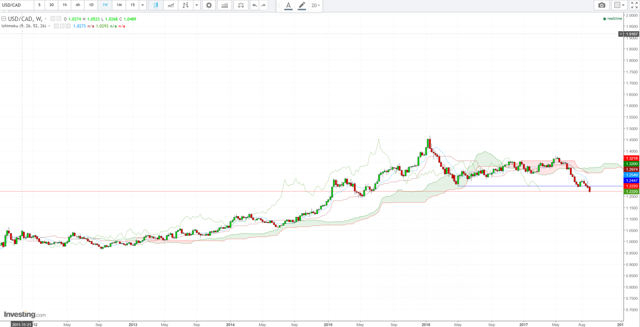 Weekly Ichimoku Chart for USD/CAD (Source : Investing.com - Stock Market Quotes & Financial News)
With the decisive break below the previous two lows (indicated by blue horizontal on chart), as long as 1.2450 resistance is not breached, the downtrend in USD/CAD is set to continue. I would be selling any bounces to the 1.2200 handle with a stop above 1.2450. The near term support would be at 1.1960 with an eventual target of 1.1000. 
Given that the fundamentals, technicals and central bank policy are pointing in the same direction, it is not too late to jump onto the train as it is early days yet!
Disclosure: I am/we are short USD/CAD.
Additional disclosure: ...and looking to sell more!