Rayonier Advanced Material ran into some transitory issues in their first quarter of 2019. The newly acquire Temiscaming manufacturing plant had down time due to a boiler issue. Also, wet weather in the Southeast U.S. spiked the price of timber squeezing margins. These types of issues shouldn't worry long term investors who see the viability of a business like RYAM. However, these days, it seems hard to find long term investors in the market anywhere. The stock was crushed from $14 to $9 in a very short time and the stock continued to be sold to where we are now at about $5.
If you aren't fully familiar with the business I will direct you to the investor relations page. The analyst day presentation gives a very good overview. RYAM makes specialty cellulose pulp that is used in a variety of end products. RYAM historically was very exposed to acetate tow, or cigarette filters, but has diversified into other products by purchasing Tembec back in 2017. The combination made RYAM a dominate player in a market with just a handful of competitors. Aside from cigarette filters, the other end products that are produced using RYAM's products are growing around the rate of global GDP, if not a little better. RYAM's acquisition of Tembec helped to diversify their business into these growing areas, but the transaction came with a large amount of debt. The unexpected issues in Q1 2019 has put pressure on margins and forced the company to focus carefully on their debt and halt a share buyback.
The Tembec acquisition also gave RYAM three non-core lines of business which are commodity paper and timber assets. They include Forest Products (lumber), Pulp, and Paper (container board and newsprint). RYAM is actively looking at strategic solutions for these non-core assets. They recently shifted around management which seemed to give indication that they have found a path to separate these non-core assets from the specialty cellulose business. Back of the envelope valuation for these three assets is around $400 million in EV. A sale of these assets would significantly right size the company's debt profile. Despite this, the recent price action would indicate that the company is falling towards insolvency. I believe there are a confluence of factors at work that have pressured the shares.
The list of factors impacting the stock is long. Although RYAM has a more specialized product than a commodity paper company, it is grouped in with the rest of them. Many within the group have been pressured into mid to low single digit multiples on EBITDA as paper seems like old business in a digital world. Another reason for the weak price is that RYAM is likely flagged as highly levered and exposed to China on a revenue basis. This would put them into a popular basket for shorting. RYAM also appeared to have some issues with an activist share holder Marcato capital. Their representative on the board left and it appears, although it isn't confirmed, that Marcato may have spitefully sold after the stock holder meeting. Yet another factor was that RYAM held its analyst day during the time which all of the Q1 issues had arisen, and failed to mention them. It is company policy to withhold guidance within a quarter, but I understand why some people would be angry with management and decided to move on.
Lastly, and most interesting, is the mandatory convertible arbitrage. Prior to the Tembec acquisition, RYAM raised a mandatory convertible preferred with a hefty 8% yield. The preferred converts to common today. The conversion is 7.7459 shares of common per share of the preferred because it dropped below a threshold of around $13. The recent common stock drop drove down the preferred creating a very high yielding risk free arbitrage. Investors could short 8 shares of the common stock at below $5 and buy a preferred share for around $38 and receive a risk free $2 per preferred. Add leverage into the equation and that is quite a trade! So good in fact that I believe it created a negative feedback loop in the stock and drove it to the current price level. The lower the stock drops the higher the preferred yields, and you get perpetual reason to short more common and buy more preferred. Fortunately, that strange technical effect is ending today and may alleviate short selling pressure leaving a very cheap stock.
So what is the value? I like to break down value as simply as possible. I've included a little table below. I figure this company under pressured margins currently should still command a value of $13 a share. If they are able to sell the non-core assets to reduce debt and get the cost cutting they expect, in a year or two as FCF reduces debt further this company should be back near $20. Almost as good as that arbitrage trade.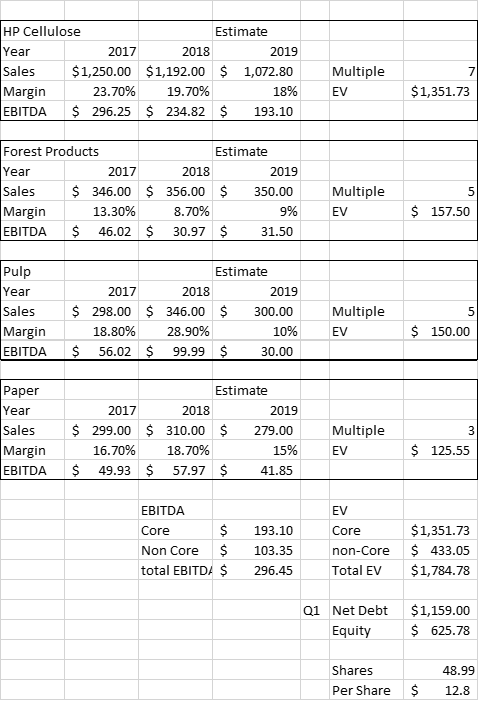 Disclosure: I am/we are long RYAM.
Additional disclosure: Opinion not advice