Fulgent Genetics: The Next Big Healthcare Stock?
Mar. 30, 2017 1:31 AM ET
FLGT
Please Note: Blog posts are not selected, edited or screened by Seeking Alpha editors.
Long/Short Equity, Growth, Momentum
Seeking Alpha Analyst Since 2016
Stock Sensei aims to find the very best stock breakout ideas globally. Sensei is a sophisticated algorithm and watchlist technique derived from the proven investment philosophies developed by the likes of William O'Neil, Jesse Livermore and Peter Lynch. The Stock Sensei subscription service is a simplified version of the sophisticated daily analysis Sensei produces and is packaged in a way that is easy to understand and action for all investors, regardless of their knowledge or experience. Stock Sensei focuses on the best ideas globally, publishing one new idea per week that is viewed as a near term breakout candidate. Stock Sensei is unique in that the research notes will always identify the key buy points, thereby giving our members the best chance of turning a good idea into a profitable investment.
Fulgent Genetics listed in September 2016 and is seeking to disrupt the global market for genetic testing.
Research suggest the genetic testing market is set to grow at over 17% p.a. between now and 2022.
Fulgent had its first profitable quarter in December 2016, with consensus earnings suggesting growth well over 100% for the next four quarters.
Near term Fulgent is expected to complete a strategic arrangement to further increase sales in China.
Theme
You don't have to have a crystal ball to know that healthcare is one sector that is set for continued future growth. In the US alone the proportion of the population aged over 65 years is set to double by 2060.
With the growth in the market will come new and innovative companies looking to provide additional products and services to the sector.

Fulgent Genetics Inc (Fulgent) (FLGT) is what you get when you combine genetics with the power of technology. Fulgent aims to increase the utilization of genetic testing in the marketplace by using its platform to reduce testing costs and increase the clinical usefulness of the data produced.
As of September 02, 2016, the Company's test menu includes approximately 18,000 gene panels that can collectively test for approximately 7,500 genetic conditions, including various cancers, cardiovascular diseases and neurological disorders.
According to GrandView Research, the size of the genetic testing market, is estimated to have been approximately $4.0 billion in 2016, of which approximately $1.4 billion was in the United States. The global market is expected to reach approximately $10.5 billion by 2022 (a compound annual growth rate of 17.95%), including approximately $3.6 billion in the United States.
Who is Behind Fulgent?
Ming Hseih founded Fulgent Genetics in 2011 and listed the business on the Nasdaq in September 2016.
By way of background Ming Hseih was born in China and in 1980 emigrated to the US to study engineering at the University of Southern California. In 1987 he founded his first company AMAX Information Technologies, before moving on in 1990 to cofound Cogent Inc.
Cogent Inc grew to become a world leader in in the $4 billion global biometric market, with products such as Automated Fingerprint/Palmprint Identification Systems used in law enforcement, civil governmental agencies and commercial applications worldwide.
Cogent Inc listed in 2004 at around $17 but struggled to generate consistent sales growth in the project based biometric market. In 2010 3M (NYSE: MMM) came knocking and acquired Cogent Inc. for $10.50 per share, valuing the company at approximately $943 million. At the time of the takeover, Cogent Inc was generating around $130 million in annual revenue and employed approxiametely 500 people.
Accelerating Earnings
Fulgent has demonstrated an ability to grow revenue quickly, albeit from a low base, becoming profitable for the quarter ended 31 December 2016.
Consensus estimates are for Fulgent to grow revenues at 84% or greater over the next four quarters, with earnings per share expected to come in at 5 cents per share in March 2017, 8 cents per share in June 2017, 11 cents per shares in September 2017 and 13 cents per share in December 2017 (well in the triple digit percentages).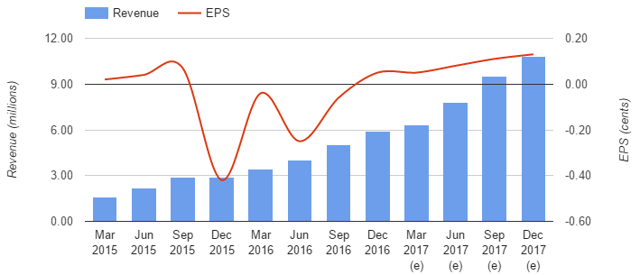 If Fulgent can demonstrate a track record of earnings growth, the multiple investors are willing to pay to own shares will start to build (PE expansion).
The other important point to note is that Fulgent is already providing services globally. As of June 2016, international customers accounted for 44% of the total revenue, of which just under half of this revenue was from China.
Fulgent is working with Xi Long USA, Inc (Xi Long) to develop a strategic commercial relationship to pursue additional customers in China, which the company expects to be finalized in the first half of 2017.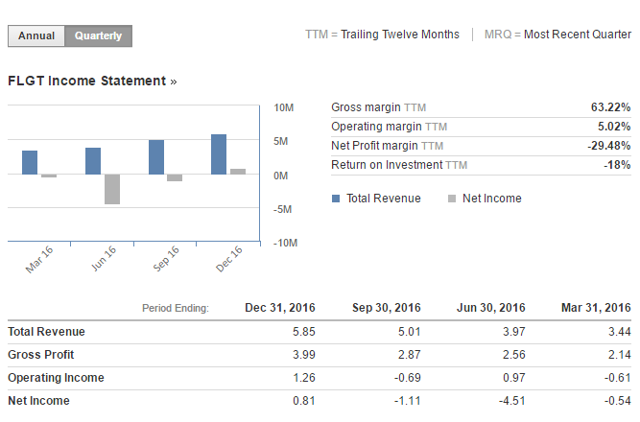 Buying & Breakout
Fulgent listed in September 2016 with the proceeds to be used to further expand the business.
Management is committed to the business (we like to invest in companies where management eat their own cooking), with founder Ming Hsieh retaining around 43% of the outstanding shares in Fulgent while other company insiders own a further 20% and strategic partner Xi Long Inc holds around 11%.
As at 31 December 2016, 36 mutual and hedge funds owned an estimated 10.5% as at 31 December 2016 and this looks set to continue to build over the next few quarters.
In terms of trading, Fulgent listed on 29 September 2016, finishing the first day's trading at $9.18, a slight premium to the $9 IPO price.
Fulgent has since traded through an initial, 57 day long, IPO base before breaking out volume (see arrows on chart) to a high of $13.90 on the 9 January 2017.
Fulgent is currently working through a 2nd stage consolidation base, which thus far is of similar depth (30%) to the original IPO base.
As breakout investors, we want to see Fulgent build the right side of the base pattern and breakout on volume above the previous high of $13.90. Fulgent only trades around 35,000 shares per day hence further institutional buying should be easy to spot in the chart.
We expect to see more positive newsflow coming from Fulgent in the next few weeks and months, hence now is the time to add this stock to your watchlist and wait for the beakout.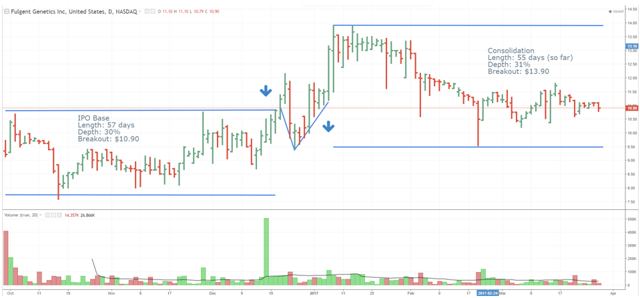 Disclosure: Stock Sensei holds Fulgent Genetics stock as part of the member's model portfolio.
This article is an opinion based on the facts available in the public domain. Stock Sensei do not receive compensation for articles or blogs (other than from Seeking Alpha), nor does Stock Sensei have any business relationship with the company listed in this article.
Analyst's Disclosure: I am/we are long FLGT.
Received an email from Abby Estikangi-Carmel <acarmel@seekingalpha.com>, asking that I submit as an article.
Seeking Alpha's Disclosure: Past performance is no guarantee of future results. No recommendation or advice is being given as to whether any investment is suitable for a particular investor. Any views or opinions expressed above may not reflect those of Seeking Alpha as a whole. Seeking Alpha is not a licensed securities dealer, broker or US investment adviser or investment bank. Our analysts are third party authors that include both professional investors and individual investors who may not be licensed or certified by any institute or regulatory body.