Starting in 2009, Alphabet has worked tirelessly to become the leader in autonomous driving. On October 20, 2015 Alphabet successfully completed the world's first fully autonomous car drive. In order to improve their technology, Waymo (Alphabet self-driving car unit) has been partnering with automotive companies. Recently they partnered with Chrysler to add an additional 500 Pacifica hybrid minivans to the existing 100 on the road. They also partnered with Lyft, which is expected to have a pilot program were customers can accept to ride in Waymo equipped cars. However, Waymo needs more than just partnerships. They need mass production capabilities, and the acquisition of an automotive company can lead them into dominating the ride hailing industry.  
            Mass production is nonexistent as of now in producing self-driving cars. In regards to the 500 Chrysler vehicles, building the car has three steps. It starts in Windsor, Ontario where the Pacifica's are manufactured. They are then shipped to Michigan where they are outfitted with the Waymo self-driving technology. Finally, they are added to the fleet in Arizona. In any large scale this process is extremely inefficient. If they can't adopt an affordable way to sell self-driving cars, then it becomes only a luxury the rich can afford.
            Many investors will ask why Waymo shouldn't focus purely on developing their technology and licensing it out to the automotive manufacturers. The concern is it will lead to other companies initially partnering with Waymo, however once they are able to mimic the technology, they will drop them as partners. Waymo would essentially be cannibalizing itself.
            After analyzing seven automobile companies that could be potential acquisitions for Alphabet; Fiat Chrysler appears to be the most undervalued, and will benefit Waymo the greatest. Looking at the charts below shows some of the measures used in comparing the seven automakers.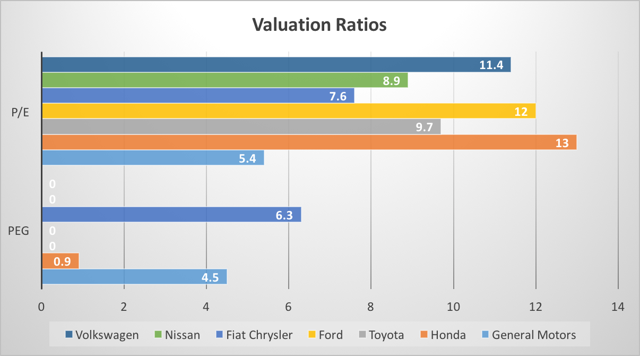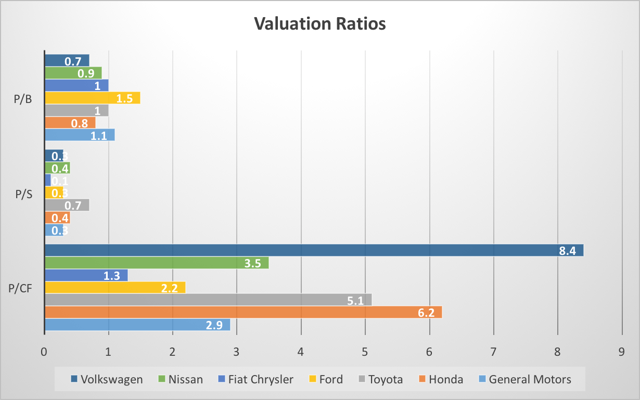 *Data provided by Morningstar & Gurufocus

            When a company has a low: P/E, P/S, P/CF, and PEG it can indicate being undervalued. Looking at the chart, Fiat nails three out of the four with the lowest of all the automotive companies. Although its PEG is certainly alarming, since it does give a better look at its price to growth representing overvaluation compared to the P/E ratio. The last major factor reviewed is ROIC/WACC which measures whether or not value is added when the company invests more of its capital. As long as the ratio is above one, then value is being added. Fiat blew away the competition with a 1.94 ratio.
            Valuation is not the only metric used, Fiat Chrysler has a lot to offer Waymo.  They are the fourth largest US automaker with 12.6% of the market share, under General Motors, Ford and Toyota. Their market share has been rising, while the top three makers have been declining since 2014.
            Chrysler is developing the Chrysler Portal. As of now it is a concept car, but with the help of Waymo it can easily become the most desired product on the market. It is an electric car that has over 250 miles of range, that can quick charge 150 miles in under 20 minutes. It can seat 6 on a track mounting system were the owner can fold the seats flat, slide the full length of the vehicle or be removed for more cargo space. This car will be perfect for road trips, picking up groceries, or ride hailing.
            Waymo has the technology, why not wring out all the possibilities of it. There are three options on how they could get into the ride hailing industry. They could improve their partnership with Lyft and with other ride hailing services like Didi Chuxing (a major ride sharing company in China). By outfitting ride hailing cars with their technology, then charging a fee for every use. The second option would be to purchase Lyft. At the last round of funding Lyft was valued around $7.5 billion. If they give a 20% goodwill purchase, that values Lyft around $9 billion. With the acquisition they could expand and create a food delivery service, or implement the same concept Elon Musk proposed a few months ago.
            Musk's proposed when a customer purchases a self-driving car, when not in use, they could turn it into a ride sharing car. That way there are more cars on the road for other customers to have access to. Plus, the owner receives income, making the car over time literally pay for itself.
            The final option would be to create their own ride hailing service. This would be the most cumbersome, having to build a reputation and acquire a customer base. However, in the end it should lead them to the same conclusion. Alphabet needs to ask if it is worth saving $9 billion.
            Having roughly $92 billion in cash or short term investments, Alphabet has created a large cash hoard. Fiat Chryslers enterprise value is roughly $28.5 billion with a 15% goodwill purchase, it would cost Alphabet $32.8 billon. Adding the $9 billion for Lyft, it would equal $41.8 billion. They have spent years testing, modifying and improving their technology, now it's time to capitalize on. With the acquisition of Fiat Chrysler, they can vertically integrate mass production that will give them full control of their technology and be able to dominate the next evolution of personal transportation.
Disclosure: I/we have no positions in any stocks mentioned, but may initiate a long position in FCAU over the next 72 hours.
Additional disclosure: This is only a speculative article, no solid evidence that would guarantee that Google will purchase Fiat Chrysler.