The USDJPY is still in a confirmed bullish trend and made a new weekly high of 114.82 on Wednesday 30 November. Before the 114.82 high, the other crucial tops were 113.90 (reached on 29th November) and 113.33 (reached on Wednesday 30th November). With the price easing slightly from this week's high of 114.82 to the current 114.32, the current chart pattern shows that the price action has so far used the 113.90 level as a temporary support line. The price drop stalled at that level before rising to its current 114.32 position, while the indicators still show that there is more room for fresh moves to the bullish side.
USDJPY fundamental overview
From a fundamental perspective, the Yen has shown weaknesses versus the Dollar and Sterling because of capital expenditure results from the Japanese economy. The overall report shows that the average Japanese company is making record profits, but reinvesting very little of it on capital ventures aimed at securing future income. To many analysts, that screams of stagnation if looked at in terms of capital re-investment. The Capex data shows a drop of 1.3% on year, making that worse than the already projected of 0.6%. On the bright side, the data shows that the profits jumped 11.5% over that same period. That is a great jump compared to the previous quarter when the profits instead plummeted 10% on average.
USDJPY Technicals
There is a lot of USDJPY volume trading as we head into the close of the week. The pair is trading close to the upper regions of the Bollinger bands on both the H4 and H1 charts, while the ADX also confirms that a lot of bullish activity is going on. Both the H1 and H4 charts still point towards a bullish continuation with the groundwork laid for a retake of Wednesday's high of 114.82. The MT4 indicators on our chart point towards a strong bullish trend on the H1 and H4. On the same account the price remains well above the 55EMA (at 113.40), which has so far crossed Tuesday's high at 113.33.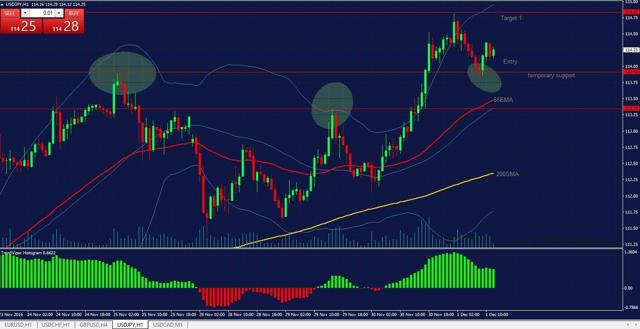 Chart: USDJPY chart with levels, Moving Averages and MACD Histogram (chart screenshot is from MetaTrader with MT4 trend indicator)
As we are focused on looking for long positions, we recommend buying above the temporary support level 113.90. The first targets can be placed around Thursday's Asian session high 114.82. While a good chance of a break above 114.82 remains, we can expect the trend to relax as it heads towards 115.50, which was a stubborn resistance in February and March.
Disclosure: I/we have no positions in any stocks mentioned, and no plans to initiate any positions within the next 72 hours.