Berkwood Resources (Symbol: BKR) - The investment opportunity of your life!
October 27, 2016
Editor: Michael Türk
Dear readers of my article!
I would like to present you a new stock today, which has the potential to completely change your life in the next one to two years. The potential of this stock is so incredibly great that I decided to invest a large part of my private equity in this company and I am the largest shareholder with a share of almost 10% of the company!
This extremely promising investment opportunity is the graphitexplorer Berkwood Resources. The Berkwood Resources stock can be purchased in Canada (TSX) under the symbol BKR. Before I tell you more about Berkwood Resources, I would like to take a closer look at the raw material graphite.
The demand for this largely unknown raw material has been rising massively for years, mainly due to the growing demand for batteries for electric cars. Also in the storage of current, e.g. Graphite is experiencing strong demand in solar plants. Graphite can also be used as a wonder material called graphene, (Which is why the raw material is used more and more for mobile phones, PCs, etc ...), lines heat better than copper, is also more resistant than steel and at the same time only one molecule thick!
Above all, however, because of the strongly rising demand from the automotive industry, the raw material will be facing a regular price explosion in the coming years. The market share of electric cars in the USA is 0.7%. A doubling or tripling of the market share would lead to a massive supply shortfall in graphite. One must not forget that in a single electric car an average of about 40 kilograms (!) Of high-purity flock graphite. On a TESLA it is even up to 96 kg! Tesla wants to increase its sales of electric cars from 50,000 cars in 2015 by the year 2020 ten times to not less than 500,000 vehicles annually! So here is a gigantic market, which I would not want to miss!
Both in America and in the EU are aware of this critical situation. The EU and America have classified graphite as a supply-critical raw material and are looking for solutions here, as the future supply of raw materials for graphite can also be ensured. This will benefit mainly from the graphite mines, which will result in a much easier permission procedure and I can imagine that the commissioning of new graphite mines in the next few years is even supported by the state.
In order to profit as much as possible from this investment opportunity, I was looking for a promising graphite company. After verifying countless graphite companies, I am particularly stuck with a company: Berkwood Resources.
As mentioned above, Berkwood Resources is a graphite explorer and owns the Lac Gueret South and Lac Gueret East Project (total: 7,767 hectares) in Quebec. The property is located in a very prominent location, because the neighbor is nobody other than the graphitexplorer Mason Graphite, which is already valued at 147 million CAD on the stock exchange and has this year already a gain of almost 300% in the stockprice. Mason Graphite has gigantic graphite resources on its project and based on an annual production of 50,000 tons of graphite concentrate, the Lac run time of the Lac Gueret Mine is already sensational 212 years!
As you can see on the following picture, Berkwood Resources directly borders on this top project of Mason Graphite with its two projects both south and east: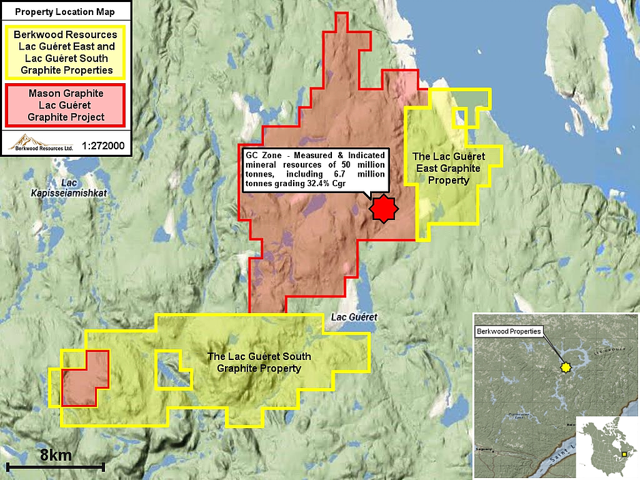 Berkwood Resources has already flown both projects with the helicopter and has created electromagnetic records of the project. Here, several promising graphite anomalies were found which are very similar to the graphitzones from Mason Graphite.
After this very successful first exploration success, the company decided to extract further grab samples from the graphite anomalies they found. It was also very successful. A total of 11 samples taken in the first zone, an average graphite content of 4.99% was achieved, which is a very good result in a worldwide comparison. Most graphite mines in operation operate with an average grade of about 2% graphite. But it is even better: One grab sample even had an average graphite content of 36.3%, which is a sensational result and is again very similar to the graphite grades of the Lac Gueret project by Mason Graphite.
You can read the complete news about these Grab-Sample-Acquisitions at: http://www.stockwatch.com/News/Item.aspx?bid=Z-C:BKR-2363991&symbol=BKR&region=C
The company's next step will now be to commence a drill program to create a NI-43-101 resource. From the geological side the prerequisites are excellent, so that Berkwood Resources will be the same or at least partly successfully as Mason Graphite.
But let us now come to the valuation of the company to help you understand why Berkwood Resources is an incredible investment opportunity for us all that can change your life in the next 1-2 years:
At Berkwood Resources, there are currently just under 31 million outstanding shares.
At the current price of 0.14 CAD the market valuation of Berkwood Resources is currently just 4.2 million CAD.
This means also, if you currently buy 31,000 shares of the company for very moderate 4,340 CAD, then you already own 0.1% of this highly prospective company. You can not miss this opportunity. Because there is a total realistic chance that Berkwood Resources will be in 1-2 years exactly where Mason Graphite is at the moment. If it brings Berkwood Resources in 1-2 years to the same stock market valuation like Mason Graphite (which is now 147 million CAD), then this 4,340 CAD initial investment from now already to over 150,000 CAD had grown!
The geological prerequisites for the project are absolutely top and that is why I have already secured a share of almost 10% in the company! I am firmly convinced that this investment will multiply over the next 1-2 years!
A statement from my friend Jamie, which I had met during my research on Berkwood Resources, is a good example. Jamie works in a forestry camp, which rent rooms to geologists. Jamie has left the project with the geologist for the grab sample collection. He told me of more than 20 outcrabs that were seen alone during the grab sample collection and the geologist reported that these were the largest graphite flakes he has ever seen in his entire career and he even believes that the Berkwood Resources project is even bigger and better than Mason Graphite's Lac Gueret Mine. A picture from one of these outcrabs can be seen here: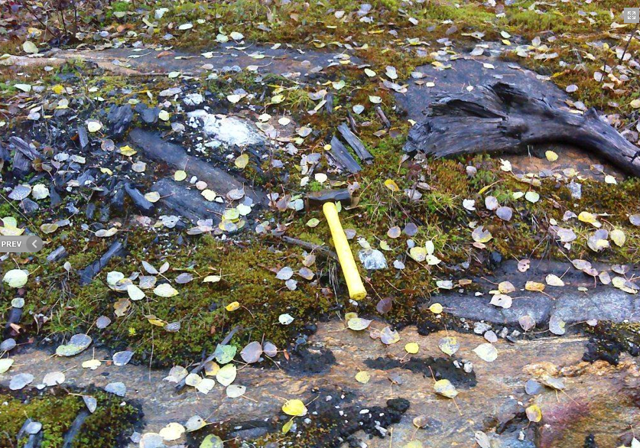 However, if Berkwood Resources may even have a better project than Mason Graphite will show the next years. Of course Berkwood Resources is currently 2 years behind Mason Graphite. This is the only reason why Berkwood Resources is currently valued at around 4,5 million cad on the stock exchange, while Mason Graphite is already valued with over 140 millionen cad. And this is what allows us this incredible investment opportunity!
Berkwood Resources is likely to close this valuation gap over the next two years and will be probably similar to that currently market cap from Mason Graphite. This is what i believe about Berkwood Resources.
That´s why i am very happy that I can now show you this incredible investment opportunity, where I own almost 10%! Don´t miss this opportunity!
Note pursuant to Article 34b German WpHG on a potential conflict of interest: The author holds stocks of Berkwood Resources!
Disclosure: I am/we are long CZSVD.