Summary
In February, the expected return for equities declined and increased slightly bonds and cash.
The modified duration of equities increased and was virtually unchanged for bonds and cash.
As a result, the equity-weight is slightly lowered in our asset allocation.
This article gives you more details about the Belgian Dentist's value investing approach to asset allocation. Today we update you on our current expected return-figures and their impact on our asset allocation.
Expected returns
Our current expected return estimates can be found in Table 1.
For cash and (government) bonds the prospective return is simply the current yield and for equities we use the model from the website Philosophical Economics based on the average investor portfolio allocation to equities.
Table 1: Expected returns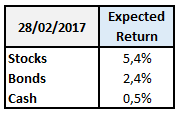 This means our estimate of the equity risk premium decreased from 5.45% at the end of January to 4.83% now. By comparison, Aswath Damodaran today tweeted that his ERP-estimate decreased from 5.59% to 5.39%.
Asset Allocation
How do we determine the asset allocation between cash, bonds and stocks? We use the idea proposed by John Hussman to equal the total portfolio (modified) duration and the investment horizon. The calculation of duration for cash and bonds is straightforward and for equities this can be approximated by using the inverse of the dividend yield.
So our algorithm maximizes the expected return with the constraint that the total duration cannot exceed the investment horizon.
Table 2: Changes to input-parameters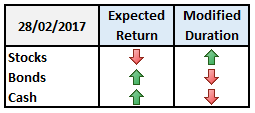 As a result, the allocation to equities was modestly lowered.
Table 3: Current asset allocation

Table 4: Previous month asset allocation

Table 5: Asset allocation changes

Conclusion
Due to the lower expected return for equities, the equity-weight is slightly lowered in our asset allocation
How will the Belgian Dentist perform in 2017? We don't know. It depends on what the equity markets will do. If they tank, the Belgian Dentist will outperform. If they continue to rise, we will underperform them, but in that case we expect to deliver positive, absolute returns. In both cases, we are happy!
Disclaimer
This article provides opinions and information, but does not contain a recommendation or personal investment advice to any specific person for any particular purpose. The information provided is for educational purposes only and does not constitute a recommendation of the suitability of any investment strategy for a particular investor.
Back-tested performance is hypothetical and does not represent actual performance, should not be interpreted as an indication of such performance and is not a guarantee of future results.