RIOT Blockchain did not start out as a blockchain or cryptocurrency business. Rather, it has a convoluted history of business model pivots and name changes, all of which occurred in the context of it being a biotech business.
The blockchain is one of the most advanced pieces of software ever constructed. Making use of relatively recent developments in encryption, distributed systems, and compression technologies, blockchain is not something you can just begin developing.
Given the large amounts of hype around blockchain, as well as the significant volatility in this stock over the last several years, I wanted to trace the history of this company's business model to see if it made a rational pivot into blockchain.
RIOT Blockchain Before Blockchain
RIOT Blockchain did not start out as a company focused on blockchain or cryptocurrency. Rather, the company was a medical device maker named 'Bioptix' until as recently as October 2017. Prior to being called Bioptix, the company hada different name - Venaxis. Prior to that, the company was named 'AspenBio' since its inception in 2000.
Four name changes in less than two decades would raise eyebrows anywhere. Nonetheless, we cannot judge a book by its cover – even if that cover seems to be morphing right before our eyes. Prior to becoming Venaxis, the company was purely focused on R&D and did not have a product ready.
AspenBio changed its name to Venaxis in 2012, seemingly in line with having finished developing its 'APPY1' bioassay product. Venaxis, as is the case with many biotech microcaps, had just this one product that it was looking to bring to market. The APPY1 was a test for appendicitis, branded as being more sensitive than contemporary solutions.
Unfortunately, the product and its newer iteration were not approve by the FDA and did not make it to market. When Venaxis had its product rejected, it purchased 'Bioptix Diagnostic' in order to acquire a new product that it could potentially bring to market. Having paid roughly $2.5m for Bioptix in November of 2016, the company discontinued operations for its new product line in Q1 2017 – just 4 months after its purchase and name change.
Within the 4 months between November 30, 2016 and March 30, 2017, the company wrote off $4,658,000 as a loss from discontinued operations pertaining to Bioptix. Roughly half ($2,754,000) of the write-off was marking down the asset as opposed to expenditures on operations () . It is strange and unusual for the company to have had enough confidence in the Bioptix product to purchase it, change its name to it, and then write off more than the purchase price only 4 months later.
On October 19, 2017, Bioptix changed its name to the one it has now – RIOT Blockchain. This was directly in line with the blockchain hype cycle occurring throughout the year:

'Blockchain' Search Activity; Source Google Trends
Current Business Model
After changing its name and seeing its share price appreciate significantly, RIOT began deploying its new business model: mining Bitcoin. Upon first glance, this could have been a smart business decision. With Bitcoin appreciating furiously towards the end of 2017, RIOT could have been in the business of creating something that continued to appreciate – a digital gold mine.
However, Bitcoin dd not continue appreciating. By the end of January 2018, BTC had dropped 50% from its all-time high, with depreciation continuing steadily throughout the year. Similar to producing any other good, declining prices in the market can make a business unprofitable. Prior to establishing a forward-looking appraisal of the profitability of mining Bitcoin, it is worth reviewing RIOT's financial performance throughout 2018.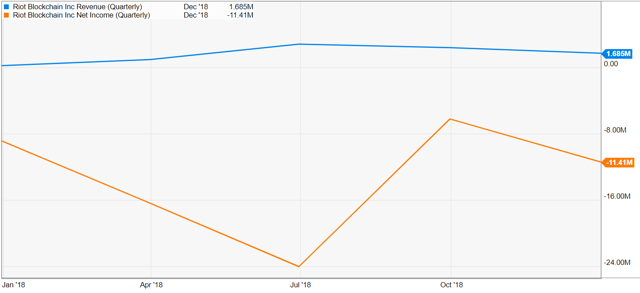 Source: YCharts
A quick glance at the firm's revenue and net income for 2018 paints a dismal picture. Revenue has stayed constant and even declined somewhat throughout the year. Net income is negative for every single quarter, with the company posting a total loss of $58m for the year (Source: RIOT Blockchain 10-K).
It may be surprising to see that the company has not been able to scale revenue. After all, aren't there economies of scale to mining Bitcoin? The answer is no. This is because of a little-known built in feature within the Bitcoin network. In order to control supply (and thus inflation), the Bitcoin network continually rewards miners less over time (Source: Bitcoin software documentation). What this means is that there are actually diseconomies of scale for Bitcoin mining: the more you do scale up and invest over time, the worse your per-unit return.
Surely that fact would make it senseless to invest significant amounts of capital into mining Bitcoin. Nonetheless, this is what RIOT did: it owns 8,000 miners. Investing in these expensive computers is one of the things that has dragged on the companies net income – and they are set to continue depreciating these machines for the next several years, at least.
Particularly disheartening is the fact that the company was not able to turn a profit even when Bitcoin's price was double what it is currently, back in Q1 of 2018. At that time, RIOT also increased stock-based compensation significantly. As seen below, stock-based compensation tracks the appreciation of the company's shares: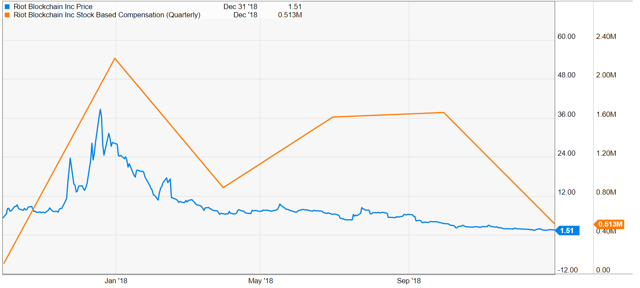 Source: YCharts
Given the significant stock-based compensation that the company is paying out, we should take a look at the behavior of the insiders. Unfortunately, they appear to have liquidated large portions of their holdings, right when the stock was performing well: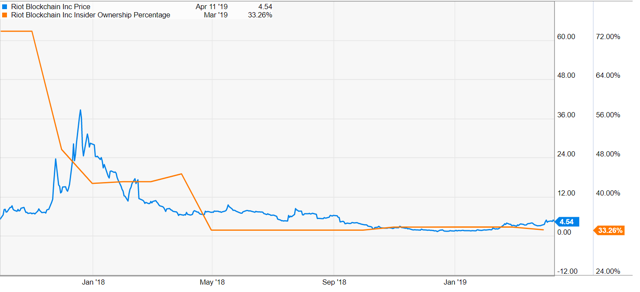 Source: YCharts
The fact that insider ownership hit over 70% in the first place is suspect. The evidently strong correlation between the market price of the security and insiders selling it makes it look like an outright pump and dump.
The company does not generate material revenue from its other lines of business (Source: RIOT Blockchain 10-K). Along with that, it's mining operation has negative cash from operations – and always had. As such, there is not more to look at in terms of its business.
The cherry on top is that the SEC has subpoenaed the firm as of April 9th, 2019. This legal action is focused on investigating as to whether RIOT may actually be an unregistered investment company. This is considered fraud under federal law.
Conclusion
There is no legitimate investment case for RIOT Blockchain. Given the fact that it has been 4 different companies in 20 years and never made money is the first major red flag. The nail in the coffin is the shady insider selling practices and the SEC subpoena. If you own this stock, get out now. In my opinion, this stock will either go into the penny range or be delisted by the end of the year.
Disclosure: I/we have no positions in any stocks mentioned, and no plans to initiate any positions within the next 72 hours.
I wrote this article myself, and it expresses my own opinions. I am not receiving compensation for it (other than from Seeking Alpha). I have no business relationship with any company whose stock is mentioned in this article.