USA Compression Partners (NYSE: USAC) is an MLP that specializes in compression services in the U.S. The company's services allow for the processing and transportation of natural gas along with enhanced crude oil production through artificial lift processes (gas lift). Evidently, the company provides critical services to both natural gas and oil producers. However, the commodity downturn still took its toll on the stock, as shares tumbled 18% from its high in 2014 to $19.88 today. Meanwhile, the company actually raised dividend from $0.480 per quarter in 2014 to $0.525 cents today. This gives the shares a yield of 11%. Is this move a desperate bid to control the stock decline or is this a good opportunity for dividend investors?
Under Stress? Not so.
Looking at the first half 2015, there doesn't seem to be a slowdown. Revenue increased 27% from H1 2014 and gross margin increased 37.4%. Operating income decreased 77% from $18 million to $4 million. However, this was due to the one time impairment of compression equipment worth $26.8 million, which was a non-cash expense. If we add this back, the adjusted operating profit would be higher than H1 2014 by 70%.
So from a quantitative perspective, there doesn't seem to be a slowdown. Nevertheless, the management is aware of the possibility of lowering utilization, as tumbling commodity prices may render certain productive reserve uneconomical. Without ongoing production, there would be no need for the company's services. However, the management stated that while liquids (oil and NGL) have dominated the headlines, demand for natural gas remains strong. Without compression, the demand cannot be satisfied. The EIA also agrees with the management, as it stated that "continued natural gas production growth will be supported in the coming years by increases in drilling efficiencies as well as a backlog of drilled but uncompleted wells." Because natural gas prices are low, it may be uneconomical for companies to drill new wells (this is upfront capital spending), but as the EIA mentioned, production will continue. Why? Because once a well has been drilled and developped, the ongoing cash cost of production is minimal. In other words, once wells have been drilled, production will likely continue regardless of natural gas prices. This means that compression services will continue to be in demand to support future production.
Although the company provides services for both oil and natural gas producers, the company's main revenue driver is natural gas production. The increase in natural gas production during the second quarter increased the company's demand and thus revenue. Finally, during the Q2 conference call, the management again gave bullish views about the future outlook, primarily driven by natural gas activities. All of the above lead me to believe that there is no imminent collapse of demand that is feared in the market. The company has demonstrated this through both strong financial results supported by projections from a reputable source (EIA).
Financials
To finance the aforementioned growth, the company has been spending a lot of money on capital expenditure. Cash outflow is always a concern here, but note that this is not cash down the drain. The company is investing in cash generating assets which will increase distributable cash flow in the future. In management's words, they "intend to prudently grow the number of compression units in our fleet, primarily through the purchase of larger horsepower units that tend to generate higher margins." Is this just corporate speak without any action? Absolutely not! To illustrate how much of an impact past investments have had, we can visualize the trend of operating cash flow in the graph below.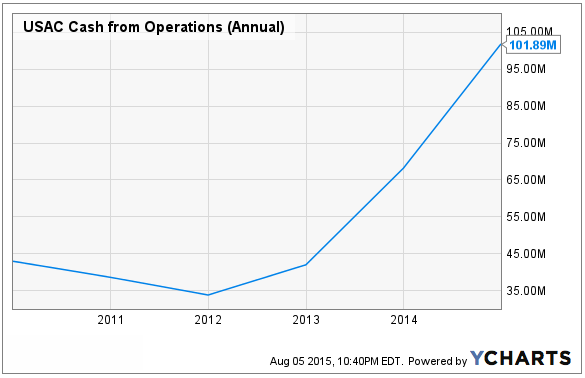 As the result of management's investment decisions, the company was able to increase operating cash flow from $34 million in 2011 to $102 million in 2014, an increase of 200% over a few short years. This year, the company is on track for another record breaker, as H1 2015 operating cash flow already eclipsed H1 2014 by 53% ($49 million vs $32 million).
Comparing the above figures with the dividend distribution, it would seem that the operating cash flow is more than enough to cover the distribution. In H1, only $21 million worth of dividends were paid. Looking at the full year financial results in 2014, we would arrive at the same conclusion. In 2014, $102 million of operating cash flow was generated versus a distribution of only $32 million.
What To Expect Going Forward
I believe that the company will continue to capitalize on natural gas activities as they have done in the first half of 2015. Bullish views by the management combined with hard numbers are evidence that support my optimism. While I cannot be certain that the management will continue to increase dividends, there is very little doubt that they would at least sustain the current level of distribution. As demand increases (as evident by H1 results), management may also elect to increase dividends as they have done so in the past. Hence, I believe now is an excellent opportunity to obtain a 11% yield from USA Compression Partners.
Disclosure: I/we have no positions in any stocks mentioned, and no plans to initiate any positions within the next 72 hours.
I wrote this article myself, and it expresses my own opinions. I am not receiving compensation for it (other than from Seeking Alpha). I have no business relationship with any company whose stock is mentioned in this article.