By now everyone has heard of the food-bourn illnesses caused by Chipotle in late 2015. The frenzy that ensued caused one of the fastest growing quick-service restaurants of all-time to fall off track. As a result, Bill Ackman stepped in to attempt to right the ship. Investors are waiting for Ackman's direction to take hold to bring CMG back to being the Wall Street darling that it was prior to December of 2015. Sorry patient investors, this is never going to happen. This event, along with other factors unrelated to the outbreak, fundamentally changed the company. As a result, the growth being projected by analysts will never come to fruition.
1. Word-of-Mouth is Out. Ad Spend is in.
Chipotle became a highly profitable company by spending little on advertising and promotions and relying heavily on word-of-mouth. In CMG's efforts to quickly repair its tarnished brand, it has significantly upped its spending on marketing and giveaways to lure weary customers. Listed under "Other Expenses" on the income statement, marketing increased by over $90mm in 2016 to $539mm (20% increase), while SG&A increased $60mm to $379mm (19% increase).
So the question here is can Chipotle, at some point in time, reduce advertising? I vote no. This is the classic prisoner's dilemma from an MBA strategy class. Once you start to advertise at this level, it's too risky to shut it off in fears that a competitor's advertising will compel the consumer more. Expect this level of costs for Chipotle going forward.
2. COGS - Labor, Occupancy, Food
Let's start with food costs. Chipotle has some of the highest food costs in the QSR industry. Last year clocked in at nearly 35% of revenues. Historically this number has never fallen below 33%. This shouldn't be news to Chipotle investors, but with a potential border-tax on the horizon, this already high hurdle could become a game changer for the company. Will CMG sacrifice the values of high quality ingredients it has promoted for so long to reduce food costs? I suspect no. Any increase in food cost will be passed on the consumer and in this circumstance, one should ask themselves, what is a consumer's willingness-to-pay for a burrito?
Labor is a fairly consistent rising cost (increasing 5.7% in 2016 YoY). This is only slightly higher than the 3.4% increase in total store count (roughly 2250 from 2175). Wages have been fairly steady to CMG workers, but with 384 of its stores in California and ensuing minimum wage hikes of $1/hour/year, this will significantly increase costs to the tune of $19mm in 2017. That is just California!
Occupancy increased nearly 12% in 2016 YoY. This increase points to two factors, increase store count and high demand locations. The only reason I bring up occupancy is to point out that although it is considered part of COGS, it is essentially a fixed cost that will continue to rise, regardless of expansion, sales, or many other factors. Chipotle is in high-traffic coveted locations, and when these leases start to roll, Chipotle will likely see large YoY occupancy hikes become commonplace.
All three of these factors caused the gross profit margin to decrease from 37.5% to 29.2% in 2016. Very little of this drop (other than potentially food waste), points to anything pertaining to the outbreak. As you can see in the pro forma below, even if Chipotle corrects its operational deficiencies, the increase in structured costs will prevent profitability from returning to 2015 levels.
Pro Forma Income Statement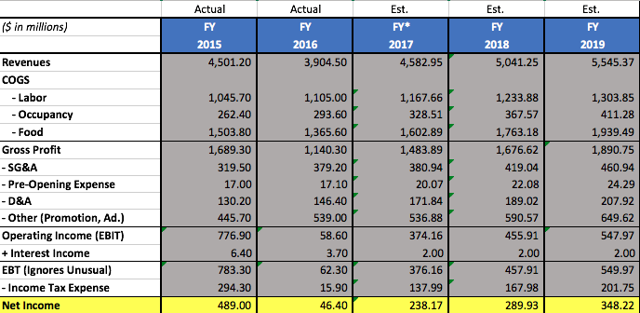 *2017 Consensus Estimates for Revenue Only, COGS based on 2016 % of Sales, SG&A and Other Estimates based on % of Sales average from 2015 and 2016
3. Same Store-Sales
Chipotle only counts stores that have been in operation for at least 12 months towards its same store sales calculations. Unfortunately, those new stores still represent costs. Here is what the numbers look like based on the actual store count (Average spend estimated):

Average restaurant sales were $1.868 million as of December 31, 2016, decreasing from $2.424 million as of December 31, 2015. We define average restaurant sales as the average trailing 12-month sales for restaurants in operation for at least 12 full calendar months." - CMG 10-K
Chipotle was running at near capacity in 2015 it would be extremely optimistic to believe that the company could regain the mojo it had when the restuarant was at the height of its craze. Based on the very optimistic revenue projections laid out above in 2018 and 2019, the company would still need to service a similar amount of clients per day. Is America willing to wait on line for 20 minutes for Chipotle like it did in 2014 and 2015? I doubt it.
4. Management and the board has dug the company a hole
Chipotle's BOD made a few precarious decisions to "catch a falling kitchen knife" since the illness outbreak and ensuing plummet of the stock from its $750 highs in July of 2015. Repurchasing over $800 million in company stock in 2016 has left the balance sheet a shell of what is once was. The company has not held this little cash ($86m) in its entire lifetime of being a public company. The other cavalier decision was to continue expansion plans at full-steam (~75 stores/year) without regard for the material change that the business had just encountered.
My prediction:
The company will continue to expand aggressively without fixing the issue of same-store sales. With less and less free cash flow due to heightened expenses it may consider financing these expansions in the debt markets (the company has predominantly been free of long-term debt), which will inherently make the equity riskier.
In order for the stock to maintain current valuations and trade in line with the sector (P/E: ~25x), the company would need earnings to exceed $500m in a fiscal calendar. This is not happening anytime in the medium term. The company does not have the ability to grow at the levels the multiple assigned to it corresponds to. These are burritos not software.
Disclosure: I am/we are short CMG.