Wi-Fi software provider iPass Inc. (OTC:IPAS) saw tremendous growth in 2016.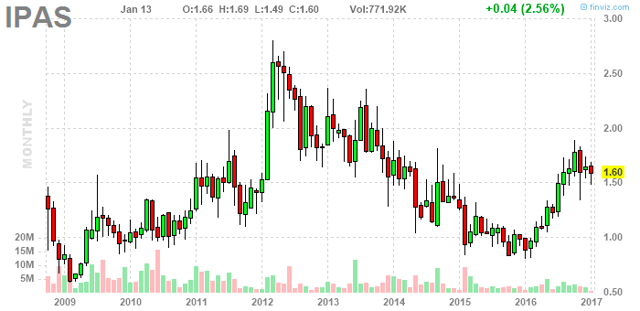 The beauty of iPass is that it's a company that connects business and individuals to devices using their Wi-Fi software. Their main application is downloaded to computers, smartphones and tablets to connect to local Wi-Fi hotspots. It is taking advantage of a the growing "Wi-Fi first" trend (devices connecting to Wi-Fi before cellular data).
The company has over 60 million hotspots around the world. These are placed in international airports, planes, major convention centers, hotels, restaurants and in small meeting places. The proprietary software of SmartConnect keeps people connected to iPass hotspots and looks out for network disturbances, outages and routing.
At the recent Needham & Company's 19th Annual Growth Conference (NGC) from January 10-12th, 2016; the company announced their future plans on how to take advantage of the (IoS) market. The growth conference connects institutional investors, equity firms and venture capitalists to a large range of growth companies in various technological and consumer industries.
Growth Conference Claims
There were many long ranging claims that shows this company is looking forward to the future. The company mentioned an estimated 25 billion intelligent devices by 2020. Its goal is to have a connection with all of these devices. Over 5.2 billion people use mobile phones. This market is far ranging and there is a lot of focus on the new interconnected powers that we will need.
Companies like Alphabet have started working on building a natural Wi-Fi service around how people live. It is called Project-Fi and shows the mass interest taken by major cornerstone companies like Google. IPass Inc. is a small player but one that is poised for large scale growth. This is evident by some recent partnerships around the world.
Strategic partnerships
A major new connection the company has made is with a company called Telrite. They are the providers to the LifeLine program in the United States. The company is in the business of subsidizing low-income consumers with mobile phones. These are then connected with Wi-Fi, the supplier of that is iPass.
Other new partnership providers come from Gisk, an educational research company in the United Kingdom. The first quarter of 2017 is also going to see some 200,000 United Group customers connected with iPass through bundled mobile packages. It was just last quarter that the company took on the number one credit card issuer in Brazil, Elo as a customer. iPass is included as a special perk for premium card users. The company is looking to extend this to a wider audience of card members in the near future.
Numbers behind the growth - and beyond
New business in just the last quarter alone hit $5.2 million. Last years quarterly earnings were $1.6 million. The beginning of the year had growth from $2.1 to $2.3 million in the first two quarters of the year. This quarter created more new business than the entire year combined. This is expected to run into the new quarter whose release will be within the next month.
The opportunity lies in the fact that iPass is still grossly underrated. Current interest and trading in the stock is noticeably low. Insider trading has held steady throughout the year, led by CEO Gary Griffiths. Shares have extended 60% up within the year following along with the steady pace of growth. If the current growth trajectory is any indicator of how things are to come then this looks like a stock and company that is going to gain further value in the years to come.
Disclosure: I/we have no positions in any stocks mentioned, and no plans to initiate any positions within the next 72 hours.
I wrote this article myself, and it expresses my own opinions. I am not receiving compensation for it (other than from Seeking Alpha). I have no business relationship with any company whose stock is mentioned in this article.