Funding for ICOs is still strong and November could easily be the biggest month ever as we're only half-way through.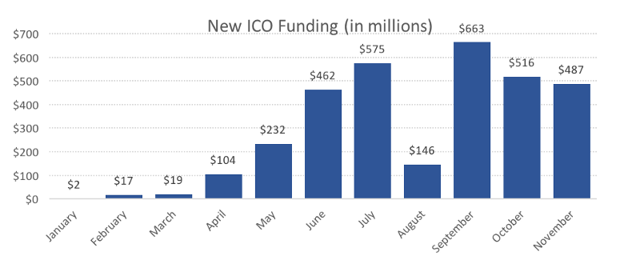 And cryptocurrencies continue to gain steam as CME plans to roll out bitcoin futures next month and Segwit2x was cancelled. As well, Square (SQ) is texting the buying and selling of bitcoin via Square Cash. 
But the most interesting aspect is more the upcoming ICOs, such as Boom, which hits at the end of the month. This is a decentralized credit scoring system powered by Ethereum. WaBi is also coming at the end of the month and will be a RFID and blockchain technology for product authentications. 
But bigger picture, we have Protos, a crypto hedge fund investing in cryptocurrencies and digital tokens. It uses a data focused trading strategy. it's closed its public sale and raised $4 million. 

Interested in getting this and other insights directly in your inbox, check out our Millennial Investing Club focused on crypto investing.