20-page Research report on the Luckin IPO - pictures have been omitted here please go to LUCKIN IPO Research Report for full report with images.
Looking at the Product Against the Competitors
I am a sell-side analyst still living in China now for more than 20 years. I have more than 12 years as a financial analyst, previously at CLSA. We have done much of our work doing "On The Ground Research" part of our research brand you can find at https://researchfrombeijing.com. We write reports on China every week and act as the eyes and ears for our clients here in China. Let us know if we can help you. We also have our China blog analysing different events in China impacting the financial markets. Please have a look.
We will start our report by actually looking at the business and evaluating the product and company operation. Most reports we have seen are just commenting on the Company Prospectus or news about the company. We could not find any report written by an analyst in China. We have original on the ground China research to help give investors the edge in China.
In our view, there is no point looking at an IPO if the company does not have a strong product and a good value proposition. We have been to Luckin, McDonald's McCafé, Costa Coffee, Maan Coffee, and Starbucks to compare the operations in Beijing. Finally, we did a taste test of our own coffee we make at home (gold standard) with our high-end Saeco automated coffee machine using Ethiopian Grade 1 beans. We think/thought it was the best cup of coffee you can make beating out the coffee shops. We then compared all the competitors (buying all the same size hot latte coffees, that was a big day of caffeine) with a few Chinese consumers to help us taste the coffees. Results are later in the report but what we found will come as a surprise to most investors.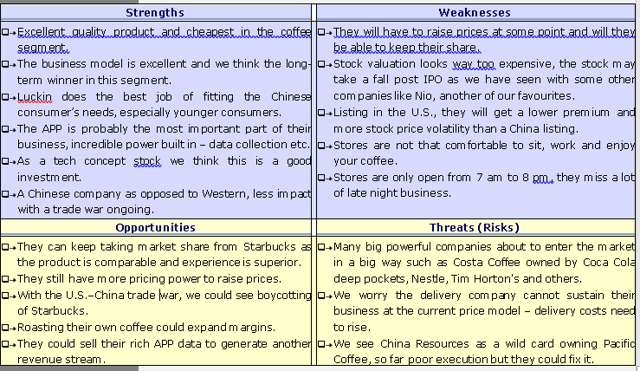 The company is growing at incredible speed. Only starting up in 2017, it is now the 2nd biggest premium coffee store in China. They plan to be the biggest this year with a total of 4,500 stores ahead of Starbucks 3,600+ stores. There is no competitor in China to compare with them apples to apples.
The quote below is an accurate summary of their business plan. But why they are doing this listing now and at such speed is not well understood by investors.
"What we want at the moment is scale and speed," Luckin's chief marketing officer, Yang Fei, told reporters
We think they are expanding so urgently as they have a narrow window to dominate the China market. On one side, there is Starbucks expanding with an old U.S. business model, (boycott potential if the trade war continues). On the other side, new entrants like Coca Cola (bought Costa Coffee) and Nestle are pounding on the doors to get into China. These companies have deeper pockets and the strength to dominate with pure financial muscle. China Resources Enterprise (State Owned Enterprise) is a wild card (Pacific Coffee) with deep pockets and connections in China.
Luckin does not have any significant financial moat (maybe efficient large scale though still too early) over new competitors so the strategy to dominate quickly will be a barrier to entry. It's brand power is incredible for less than 2 years in operation, we do not think many companies in the world have accomplished this so fast.
China Coffee Market – Small but Fast Growing
Coffee is still relatively new to consumers as China is still a tea nation. Coffee consumption in China is only 2.5% of global consumption.
Youngsters in China prefer tea shops to coffee outlets, despite tea prices going up, according to market research.…freshly brewed tea is the fastest growing category in the beverage sector, followed by coffee, juice and soda. … The survey noted that coffee products priced above 50 yuan account for 19 percent of all coffee drinks, compared with 18 percent a year ago. The percentage of coffee products priced between 30 yuan to 49 yuan remained still at 45 percent. China Daily
While China still ranks relatively low in coffee consumption on a per-capita basis (6.2 cups/yr. versus UK 250, U.S. 388, Taiwan 209, Hong Kong 250 and Japan 279 cups), total consumption grew at an average annual rate of 16% in the last decade, significantly outpacing the world average of 2%, according to figures from the International Coffee Organization.
We think coffee can grow 20%+ per year in China as it is now really taking off and new competition is gearing up to enter the market. This new competition will only further push up consumption so we see further upside potential. Coffee fits in more as a tool to help workers perform better at the office than a switch of the Chinese consumer tastes. This is why we see many of the new Luckin shops near schools and businesses who can benefit from the caffeine rush. Latte is the drink of choice, the pure taste of coffee is not what is appealing to the consumer.
From the prospectus below, the company has clearly identified the opportunity and has the best understanding of the Chinese consumer needs and the ability to satisfy those needs. This is the key to building a strong business in China is really adapting to the local market conditions and they can change quickly.
China's coffee market is highly underpenetrated. Inconsistent qualities, high prices, and inconvenience have hampered the growth of the freshly brewed coffee market in China.
This is the problem of the competitors like Starbucks, they have not adapted their business model in China. They brought over the U.S. business model that is well proven in the U.S., the most common strategy for foreign businesses entering China. In fact, Chinese consumers are different and the company is very slow to adapt to the Chinese market.
First Mover - Starbucks took advantage of offering something new to Chinese consumers when they came to China, but this old business model no longer works. Chinese want their coffee or caffeine fast and reasonably priced with delivery. They do not want to get up from their desks and go to buy one nor do they have the time. This is the new preferred way for Chinese consumers. We think of Starbucks as a dinosaur in the coffee market.
In reaction, Starbucks is now launching delivery service and other bits to copy Luckin. They missed the chance to lead the market. Luckin is now clearly the market driver in China. It has a far superior business model that is new and exciting for young consumers. In only 2 years, Luckin was able to build a business that is a threat to the giant Starbucks that has been selling coffee for over 20 years in China. Starbucks should be very worried.
Market Competition for Specialist Coffee Shops
The #1 seller of coffee is from convenience stores retailing instant coffee or bottled coffee. This is the very low end of the market. Price is low and quality is poor, but for those who need the caffeine, this is still a good business. For the purpose of this report, we will just focus on the premium brand coffee shops that dominate the China market.
The #1 competitor for Luckin is Starbucks (1999 entered China) 59% market share, 3,600+ outlets in 141 cities. While they are the biggest competitor, Luckin is not going after their market head-on. You can even say a big part of their strategy, especially looking at their marketing materials, is to gain new customers that were never coffee consumers. Luckin is focused on the untapped market and they want to develop new customers that have not had an interest in coffee from Starbucks.
Costa Coffee (2006 entered China) 500+ stores. They bought a Chinese coffee chain called Yueda in 2017. They are an exact copy of Starbucks and there is little difference between the two offerings. The only difference we find is a cup of coffee from Costa seems to have a stronger hit of caffeine than others. Pacific coffee, Maan and McCafé all have a significant number of stores in China. Only McCafé has a different business model. They are appealing more to the crowd coming in for a meal and looking for a decent coffee to drink at the same time. More of a loss leader.
| | | | | |
| --- | --- | --- | --- | --- |
| McCafé in Beijing | | Costa Coffee Beijing | | Starbucks in Beijing |
| | | | | |
Source: Researchfrombeijing.com
On the Ground Research- Store visits in Beijing
We have visited some stores and tried Luckin coffee, then compared it to the competition as well as our own homemade coffee. We think investors need to have a clear view of the product. Most of what I have read is they make a low-end cup of coffee with little concern for taste.
The store we visited is in the lobby of a hotel. The location is serving an area with many businesses so we judge it is a good location for the delivery business. There are no competitors nearby within about 2km. The competitors are all bunched together in a shopping mall 2km away - Starbucks, Costa coffee and McDonald's McCafé.
What is a little bit strange is Starbucks has another store only 500m away in a small strip mall. Also strange is Luckin will not deliver to our home which is 2.1km from the store. Our guess is they do not want to be perceived by the competitors that are across the street from me as a direct threat, at least for the time being. They have very defined delivery areas for each store. We think they are lacking flexibility being so strictly defined, so we have to assume they have a strong business reason.
Luckin Coffee in Shunyi – Located in Lobby of a Hotel (you can see the Luckin logo on the window)
Source: Researchfrombeijing.com
You go into the hotel and turn right and you are in the Luckin shop. It looks very plain and simple, but looking at it for some time, it is very appealing and pleasant. Often Chinese restaurants just over do it with advertising and pricing menus that overwhelm you. Luckin gives you a very clean and professional look. They only sell coffee so there is nothing else distracting the experience. They seem to be purposefully trying to look like a foreign brand as part of their marketing. Consumers likely will have more confidence in buying a coffee from a company that looks westernized.
When you walk up to the counter you would never know this is a coffee store. Very clean and simple but with a bright white sign showing coffee in English. Interesting to see in small Chinese characters on the far right side of the sign the Chinese name called Rui Xing Kafei (瑞幸咖啡). This is unusual as normally Chinese names are more prominent than the English name. They are likely trying to use cool foreign branding to make the brand image more westernized.
The Luckin APP – Very Powerful – A Game Changer
We think the forced usage by Luckin of their APP is a very smart move by the company. The detail of the data they can generate is second to none.
We had over 16.8 million of cumulative transacting customers as of March 31, 2019. In addition, our customer repurchase rate in 2018 was over 54%.
You cannot order a coffee at the counter no matter what you try and we did try. (We did find out through another source they will take cash if there are foreigners who cannot use the APP, this makes a lot of sense, focusing on customer satisfaction rather than the rules)
Only two employees were needed to manage the whole store. They were both friendly and helpful as I did not know how to use the APP. You must use the APP as this is the only way to buy a coffee. The advantage of their system is you can order while you are on the way to the store and the coffee will be ready when you arrive.
The Order Process – Simply Fantastic User Experience
The process for ordering a coffee is the app sends over the order to the computer monitor and then print out a label. We only saw during our visit latte's being made and a few other flavoured drinks, no food.
| | | | | |
| --- | --- | --- | --- | --- |
| Coffee menu is extensive | | Surprised the store hours limited | | Many food options |
| | | | | |
Source: Researchfrombeijing.com
The label is attached to your coffee cup. Only two employees in this shop: one to make the coffee and one to pack the coffee for deliveries. This is an efficient low-cost operation.
The coffee machines, procured from Schaerer, seem to be about US$15,000 per machine. They have two machines in the store. Having two machines allows the operator to make multiple coffees very fast and a backup in case a machine breaks down. There is very little special training required as these machines are highly automated. They seem to be the key to the system. They are very big Swiss automated coffee machines giving them product consistency. We have heard rumours the company wants to go to more robotics eliminating the position of the barista (or whatever you call the button pusher).
The coffee production line is extremely efficient – 1 person to make a coffee and 1 to pack or tell me to stop taking pictures
Source: Researchfrombeijing.com
After the coffee is made, it is placed at the pickup station. The consumer needs to go there and open the APP and scan in the bill to verify the proper coffee was picked up. The staff told me only in the morning on the way to work will they get people coming into the store. The rest of the day is deliveries. While we were there they did not have a single order for a walk-up customer. There were a few customers sitting in the store, but the shop is small with a few tables and not nearly as comfortable as a Maan Coffee or a Starbucks experience. The chairs are nice but the atmosphere is more get in and get out.
Delivery – The Main Customer Experience
The company provides second to none delivery for coffee. They have a minimum order requirement of a minimum RMB55 per order. This means you need to be ordering at least 3 coffees as the price of 2 coffees will not hit the minimum. Talking to Luckin customers, we know the usual order is an office making a group order. Someone yells out in the office they are ordering coffee and you can even make a team order with each person ordering their own coffee to their taste on the APP. This allows each person to customize their coffee and pay for it themselves. The app will consolidate the order, now that is data power.
I was told they used to have an 18 minute or less delivery, but that has changed to under 30 minutes. Also, they used to have a special promotion order 5 get 5 free, which was great for an office. They no longer seem to offer that promotion. The company prospectus says they meet that requirement more than 99% of the time, very impressive logistics and delivery is FREE.
Customer Retention Rate is Extremely High
By using the very powerful APP, data provided is fast and accurate, allowing management very quick information to react to any changes in the market. We think this is very valuable data and they have very powerful tools to manage the company. The company claims a 54% retention rate. We think this is an excellent result in a population that is not used to drinking coffee. They should also be able to sell this data, allowing another revenue stream.
Key Operating Data – Last quarter March 31, 2019 disappointing numbers
Source: Luckin Prospectus
We are concerned that the most recent quarter of data is disappointing. Is this a Chinese New Year effect? New stores being added were the slowest in three quarters. Transaction growth was poor and average monthly total items sold actually were less than the previous quarter. We will need to see another quarter before we will know for sure. But all the metrics seem to be disappointing in the most recent quarter.
First quarter numbers were very disappointing
Source: Company Prospectus
Caution for Investors - Company has Little Track Record
This is a big weakness in the U.S. stock market regulations for listing IPO's, especially compared to the Hong Kong stock market. The company is listing in the U.S. because they allow disproportional ownership and control of the company. So management will hold fewer shares than other investors, but will still maintain overall control of the company. We think the Hong Kong market is much better with listing rules for companies showing a minimum of three years' performance and at least one year being profitable.
As an analyst, it is very hard to analyse a company with so little track record. These kinds of stock listings remind me a little bit of the tech bubble of 2000 where there was a lot of excitement but not a lot of performance. Also, the company would receive a bigger premium if it listed in China, but the lax U.S. IPO regulations offer company management a bigger incentive.
Starbucks – The Giant in the Chinese Coffee Space
The Chinese living room - Starbucks is by far the market leader in this premium coffee segment, though Luckin is catching up with incredible speed. Starbucks came to China, by themselves, created and expanded this market segment. They entered the Chinese market in 1999 and had a winning concept for Chinese consumers craving something new. Foreign products were in vogue. Back then Chinese really did not like coffee at all. The reason they went to Starbucks was for the "living room experience" that they could share with their friends. Prices were considered to be very expensive, but you could buy 1 drink and sit there all day. Do homework, work on a project or just chat.
In those early days, a typical Chinese apartment was around 40 to 60 m². Too tiny to invite people back to their house and entertain. Starbucks provided the consumer with a very comfortable space to meet friends, far more luxurious than their homes. In those days, I always used to go to Starbucks to meet people. You rarely were invited to a Chinese home. The stores are easy to find, consistent quality and very comfortable for a conversation.
The problem is the company never adapted much to encompass Chinese consumer habits that are continuously changing. Starbucks offered a copy of the U.S. Starbucks experience. They did introduce more non-coffee drinks as coffee, in the early days, was not well liked. This added to the consumer experience and a coffee lover could invite non-coffee drinkers to Starbucks as they have other drink options.
When you look at the competition, like a Costa Coffee, this is really just the same value proposition as Starbucks. What makes Luckin so special as they have really offered a completely different value proposition than any other competitor. There is one other competitor that is doing something similar in China, but it has no stores and only can deliver coffee. We will not go through that company in this report as we do not think it is a serious challenger.
Will Starbucks Die? – Possible with the Trade War
Other topics we cover in this report:
The trade war and impact to Starbucks - a lot of risk for shareholders.
How are new coffee drinkers different and why Starbucks will not likelt attract them to their business model.
Price comparisons in the market around my house in Beijing.
Tatse test - we must know if they can even make a decent cup of coffee.
Is the discounting just too much?
Valuation - why it could be too expensive and volatility expected.
We have a lot more research on the company and we will also start going through questions and answers from clients. We have had great feedback so far and we will share this with you on our website Research From Beijing.
Here is an example of what else we covered in the detailed 20-page note.
Source: Researchfrombeijing.com
We have a new report on Nio next week (Electric Cars), it is also a recent Chinese company that went IPO the end of last year. It had a huge jump the first week and since then has been falling. We go through the stock and issues and why we think it is a BUY or SELL from here. There are many similarities with Luckin. Let us know if you will want to buy the report when it comes out.
Disclosure: I/we have no positions in any stocks mentioned, and no plans to initiate any positions within the next 72 hours.