Buy Japanese real estate through J-REITs
Please Note: Blog posts are not selected, edited or screened by Seeking Alpha editors.
Seeking Alpha Analyst Since 2009
I am currently setting up a Cayman Island hedge fund with the intended launch in January 2010. I have lined up most of my service providers and am now gathering capital.
Latest development
We have all seem the devastating effects of the earthquake and following tsunami and the tense nuclear situation. The victims have my deepest sympathy and I am convinced that the Japanese people will find a way to emerge from this like they have done in previous times of difficulty. It also appears like the Fukushima plant situation is already improving. The impact on the J-REITs can be seen on
the widely followed J-REITs index (TSEREIT:IND) from
www.bloomberg.com
.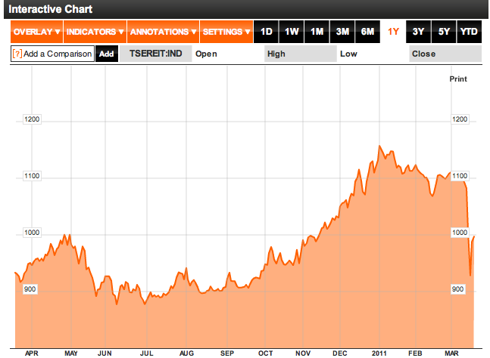 From an investment perspective I would like to point out that Japan does not suffer from having too little capacity so I expect that only parts of what was destroyed will be rebuilt. This should help balance the supply / demand situation in many business as people never return in full to the affected areas. This is also what happened following the Kobe quake in 1995. Most J-REITs have posted messages on their respective websites saying that they only experience minor damages like a few tiles coming of the facade of their buildings or some ceiling panels falling down.
So net net I see this as positive for the J-REITs that were not affected on the medium to long term.
Original investment rationale
I have been bullish on J-REITs since April 2010 for a number of reasons see
here:
1. Many trade at a discount to the appraised value of the properties they own.
2. The yields are high especially compared to long term JPY yields even though they don't pay out the depreciation which you often see in other country REITs.
3. The financing structure is not aggressive. Usually around 50:50
4. Vacancy rates appear to be peaking (see charts below)
5. Rents historically bottom 12 months later
6. The entire net income is paid out as dividends and J-REITs are virtually tax exempt.
7. 4+5 leads to rising appraisal values which enables the J-REITs to borrow more to acquire additional properties which in turn raises their dividend
8. The next recession comes and the cycle starts over
We are currently at step 4 so there is a long time before we need to start worrying about step 8.
Below is the Miki Shouji Office Index (MIKIMT07:IND) which shows vacancy rates from the 5 central wards of Tokyo from
www.bloomberg.com
.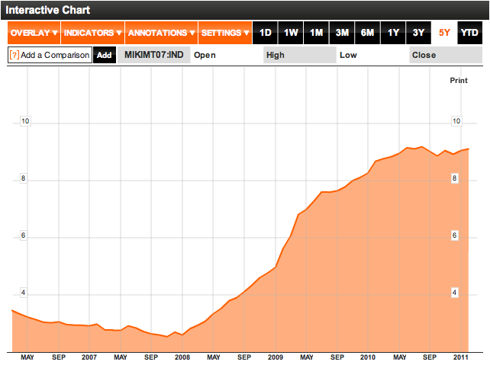 Below is the same index but in long term perspective:


My favorites were
Japan Hotel and Resort, 8981
Japan Office Investment Cooperation now called Ichigo Real Estate Investment Corp, 8983
United Urban Investment Cooperation now called Yunnaiteddo Aban Toshi Hojin, 8960, UUICF.PK
I luckily sold my position in Japan Hotel and Resort at 260.000 in December and February but have now bought it back at 178.000 which implies a dividend yield of about 7-8%.
United Urban has almost regained most of its recent losses so I have reduced that position to 1/3 and exited Japan Office Investment Cooperation at a nice gain after its refinancing issues were resolved.
My favorites are now
Japan Hotel and Resort
You would think that the earthquake would be bad for business. I did some checking and it doesn't seem like it. Of the five hotels with variable rents 4 are either booked out for weeks or have much higher rents than usual. I suppose this is driven by people leaving disaster struck areas to live in hotels in safer areas or by relief workers living in hotels in disaster struck areas.
I think the next step will be that business returns to normal within 6 months. So I am expecting a good March and April followed by weaker May and June and then relatively quickly back to normal. 
Nippon Hotel Fund Investment Corp, 8985, NPPHF.PK
It appears to be a similar situation to Japan Hotel and Resort but they only produce limited information in English so am not too well informed on this company.
Mori Hills, 3234
Tokyo focused high quality buildings and forward yield of around 6%. High quality buildings and making strides to achieve a long term yield of 10.000 JPY per share.
Above three companies display rising yields and if we look for longer term turnaround stories then I still like Japan Office Investment Cooperation and United Urban.
Other REITs are:
8976, DAFVF.PK
8975, FCRDF.PK
8966
8983
8963, TGIVF.PK
8987
8972, KDXRF.PK
3227, MREIF.PK
8985, NPPHF.PK
8951,NBFJF.PK
3240
8959, NREOF.PK
8956
8973, JORIF.PK
8982, TPRYF.PK
Japanese Quantitive Easing
In late 2010 the Bank of Japan committed to buying ETFs and J-REITs as part of its QE and it has now decided to double its efforts. The J-REIT market is not particularly liquid and the implication of this scheme is that the BOJ will own 3.7% of the market when the program is completed and account for about 10% of all daily volume! This is a very powerful program.
Some of the J-REITs trade on the US exchanges but are not liquid so I would recommend to invest in them directly on the Japan exchange.
Conclusion
For the patient investor I believe the J-REITs space will provide great capital appreciation gains as the economic cycle evolves and occupancy rates and rents rise and while we wait for that high dividend yields.
Disclosure: Long Japan Hotel and Resorts and United Urban and may go long other is in the coming days.
Disclosure:
I have no positions in any stocks mentioned, and no plans to initiate any positions within the next 72 hours.
Additional disclosure:
I am long Japan Hotel and Resort and United Urban Investment Cooperation but they are not available in your selection
Seeking Alpha's Disclosure: Past performance is no guarantee of future results. No recommendation or advice is being given as to whether any investment is suitable for a particular investor. Any views or opinions expressed above may not reflect those of Seeking Alpha as a whole. Seeking Alpha is not a licensed securities dealer, broker or US investment adviser or investment bank. Our analysts are third party authors that include both professional investors and individual investors who may not be licensed or certified by any institute or regulatory body.