Trading The VC Price Indicator
Friday, May 31, 2013
For now, this blog is only focused on the silver market. Eventually, I hope to expand the focus into other markets as well. If you want to gain a better perspective on where I see the market headed, you can refer to previous posts as well as this one. This type of trading can take a long time to develop.
Like so many natural processes, the market can express itself as a reaction of energy and mathematics. With the market, we've found that energy precedes price changes. On a personal level, think about buying yourself a car. The money you use to pay for the car can be thought of as energy and what you receive in return for it (the car) can be thought of in terms of energy. So, the transaction is an energy exchange.
Changing the way you look at the market and focusing not just current price or predictions, but also on the energy of the market, can take your trading to the next level. Understanding that even the market follows natural law, takes much of the emotion out of trading. Trade energy and everything else falls in line.
The VC price indicator is used to measure the energy within the market. Let's see what it is says currently on the weekly chart: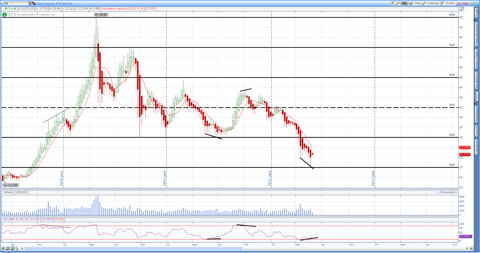 This is Heikin Ashi bar chart. It shows the current downtrend in the silver market. Like last week the energy still remains at a 1 when looking at the Code 0-9. (See last blog if you don't understand these Code #'s.) Divergence in the RSI remains clear and I am expecting a sharp rally back to 26 in the weeks to come. We should get the first signs of confirmation once the Heinkin Ashi bar chart closes green for the week. With current negative sentiment and the strong physical demand that exists under this market, we are not far off from a move occurring. For more details feel free to post or email me @ thomas@ema2trade.com
I am still accumulating AGQ, USLV, PSLV for my swing trades, using VC cyclical analysis. At the same time, I'm daytrading using the VC Price Indicator. For longterm holdings, I'm maintaining a position in physical bullion.
TRADING DERIVATIVES, FINANCIAL INSTRUMENTS AND PRECIOUS METALS INVOLVES SIGNIFICANT RISK OF LOSS AND IS NOT SUITABLE FOR EVERYONE. PAST PERFORMANCE IS NOT NECESSARILY INDICATIVE OF FUTURE RESULTS.
Disclosure: I have no positions in any stocks mentioned, but may initiate a long position in AGQ, USLV, PSLV over the next 72 hours.