Monday, June 3, 2013 VC $1692 Profit for Today
The VC price indicator had another big day. We have been tracking its progress for 8 days now and the Trading Room has produced $4500+. All this is being done live. If this trend continues, the room would be on track to producing around 12-13k per month, assuming there are 20 trading days each month. I think you can do the math and see the potential from here.
Now here's the thing, the VC indicator can be used on different timeline. We are only talking about daily trades. These trades are very short term trades and profits in the room converted into other products (i.e.. physical bullion and etf's) for the longer term trend. The VC can also be used for these longer term trends as well. It is not just a day-trading tool, as it can be used on short, intermediate and long-term time-frames. We're about building wealth for the long run. These longer term trends can help you achieve this. There's a great benefit in staying grounded. Yes, the VC tools are amazing. That's self-evident. But how you apply them makes all the difference in the world. This isn't a get rich quick thing. Don't make the same mistakes I have in the past and get greedy! Keep your eye on your long term goals.
The chart below shows today's price action with the inflection points highlighted: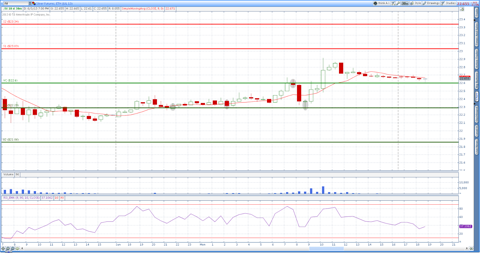 As you can see the price started from the B1 level indicating that the energy was at a level 2-3 (0-9 being your range). From this set up we quickly returned back to the VC line (neutral). Trading the energy appropriately was once again rewarding. The VC measures energy on a scale of 0-9, with 0-1 representing the market at it's lowest energy and 9 representing the market at it's peak energy.
thomas@ema2trade.com
TRADING DERIVATIVES, FINANCIAL INSTRUMENTS AND PRECIOUS METALS INVOLVES SIGNIFICANT RISK OF LOSS AND IS NOT SUITABLE FOR EVERYONE. PAST PERFORMANCE IS NOT NECESSARILY INDICATIVE OF FUTURE RESULTS.
Disclosure: I have no positions in any stocks mentioned, and no plans to initiate any positions within the next 72 hours.