Wednesday, June 5, 2013
VC Up Another $2100+ Today
VC Live Day Trading Room was up $2190 today. Considering Gold and Silver were somewhat flat for the day, that was impressive. This brings us up to $5,600+ for the month at only 3 days in.
Remember energy precedes price. When you can measure energy then it becomes easier to predict price. Traditional trading techniques like Elliot Wave, Gann, and Fibonacci fall short in this area. Energy's the missing puzzle piece. That's why we are having so much success with the VC.
Let's look at today's chart for Silver: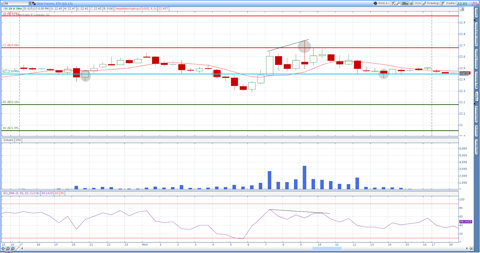 Notice the divergence between the RSI and price as we approached the B1 level. At the B1 level the VC indicator is indicating to us that the energy is at 8, on a scale of 0-9, with 0-1 representing the market at it's lowest energy and 9 representing the market at it's peak energy. At an energy level of 8 and divergence in RSI we would be looking for an optimal entry point to short the silver market. This is just one demonstration of how we use The VC Trading Indicator in the room. All these numbers are made available the day before.
To gain access Click Here: Live Trading Room
thomas@ema2trade.com
TRADING DERIVATIVES, FINANCIAL INSTRUMENTS AND PRECIOUS METALS INVOLVES SIGNIFICANT RISK OF LOSS AND IS NOT SUITABLE FOR EVERYONE. PAST PERFORMANCE IS NOT NECESSARILY INDICATIVE OF FUTURE RESULTS.
Disclosure: I have no positions in any stocks mentioned, and no plans to initiate any positions within the next 72 hours.