Wednesday, June 19, 2013
VC Up 94k in 9 months!
If all you did was take the trades in the VC Live Trading Room, you would be up over $94k in the last 9 months. Today the VC made another $425. Remember this is long term success we are having. Its not a fly-by-night venture.
As for the Gold & Silver markets, I am expecting some upside for the second half of the year. I believe we are within weeks of bottoming out here. It may take some time to get the locomotive going; however, once it starts I'm expecting fireworks to the upside. As always we need to manage our risk appropriately and not get ahead of ourselves.
Here is today's price action in the Silver Market: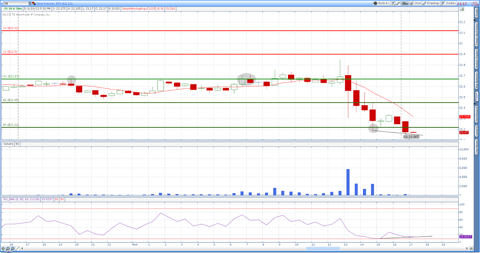 In the last couple of hours of trading we approached the B2 number. This indicates that we are at an energy level 0-1. The divergence on the 30 minute chart is clear. The B2 number would have provided you an optimal entry point for a quick scalp day trade. With continued momentum building to the downside going into the next day's trading I am expecting the 20th & 21st to provide some nice entry points to add to my swing trade position. I will provide a weekly update by close Friday.
To gain access click here: Live Trading Room
thomas@ema2trade.com
TRADING DERIVATIVES, FINANCIAL INSTRUMENTS AND PRECIOUS METALS INVOLVES SIGNIFICANT RISK OF LOSS AND IS NOT SUITABLE FOR EVERYONE. PAST PERFORMANCE IS NOT NECESSARILY INDICATIVE OF FUTURE RESULTS.