Former PayPal employees Jeremy Stoppelman and Russel Simmons founded Yelp in 2004. Quick growth was observed and various sources of funding were raised. By the end of 2010 Yelp was $30 million strong in revenues and had published about 4.5 million crowd sourced reviews. During 2009 up to 2012 they spread out to Asia and Europe. In March 2012 they started selling shares as a public company and in spite of all the gloom and doom; Yelp became a profitable company in 2014. Since 2016 they have 135 million visitors per month and more than 95 million reviews. All thanks to business advertising.
What Transpired
In accordance with data provided by S&P Global Market Intelligence, Yelp Inc. produced a robust 2016 with shares that increased with 34%. Their revenue grew forceful for the most part of 2016 and climbed steadily after the market sell off in the first quarter. With the good growth and steadiness, they exceeded expected earnings in the last two reports.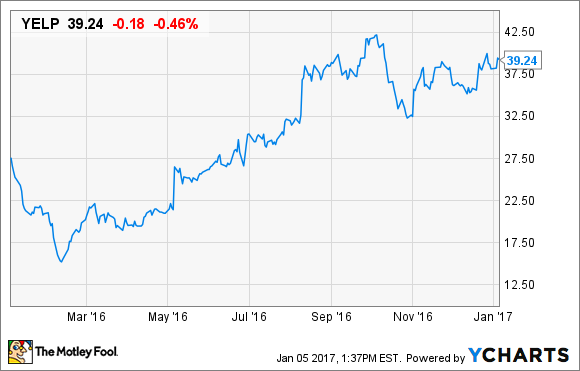 Why is That Significant
Firstly because few people see them surviving especially for the first 8 years. One could say they could have easily been the laughing stock of the stocks. So 2016 arrived and things took a turn for the best. In the first three quarters of 2016 Yelp stock increased by 31% to an amazing $518.3 million. This caused the share earnings to increase to $0.46 from $0.26. Other upbeat indications, the local revenue which is close to 90% of the entire revenue, boosted to an impressive 41% in the latest quarter. Now the company sets its focus on the domestic market to increase the notable opportunity to drive local advertising outlay.
To further rub salt in the wounds of the gloomy clairvoyants Yelp Inc. has also enhanced their impressive product scope with a newcomer namely "request a quote" option to lend a hand to find various services online. With the addition of the button, the yelp stock increased with 20% afterwards in the third quarter. Moreover with supplementing their platform with Eat24 where people can make reservations online in 2015, transaction levels escalated again in that particular quarter.
The Next Step
Yelp Inc. along with other technical companies such as Pandora and Twitter has originated an outrageously lucrative product that millions of people make use of in spite of the writhe they had to face. Regardless of the successful gains in 2016, it is still behind comparing to the peak it reached in 2014.
Where generally accepted accounting principles is concerned, yelp stocks are still functioning at a loss. Regardless of the significant 34% gains, according to generally accepted accounting principles, stocks are actually from minus $0.14 to minus $0.17, however, from a non GAAP perspective that owes predominantly to an increase in stock based compensation.
When we take a look what 2017 is projected for Yelp stocks, it is highly likely that revenue will continue to grow so strongly in the event where local advertising continues to be so inspiring as it has been in the few last quarters. If there is something that is motivational is the prospect that Yelp can make those profits count and eventually make a big difference on the bottom line and ultimately soar to even higher yelp stock prices.