After a rough June, technology has come roaring back with the S&P 500 Information Technology Index finally clearing its March 2000 peak and the tech-heavy Nasdaq Composite Index up 10 days in a row for the first time since early 2015. The obvious question is: Can this potentially continue? We think so.
First things first; it took the S&P 500 Information Technology Index 4,354 days to clear its March 27, 2000 closing high, but it finally did on Wednesday, July 19. Here's the catch. Per Ryan Detrick, Senior Market Strategist, "Some might think because tech is at new highs this means we are in a bubble, but we would disagree. Tech is 42% away from a real high if you factor in inflation, meaning there still could be plenty of room to run. Not to mention earnings are strong and valuations are still modest, a recipe for higher longer-term prices in our book."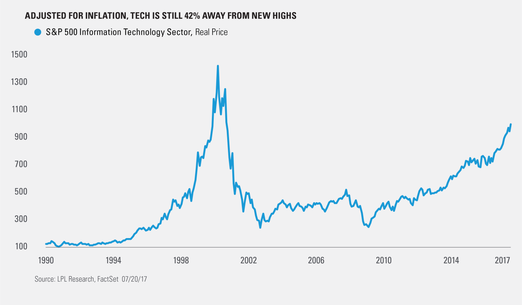 Tech has been strong recently, but on a longer-term basis relative to the S&P 500 Index, it took years to get over the tech bubble hangover. As the chart below shows, tech isn't as extended as it might seem and could continue to be a major driver of equity gains.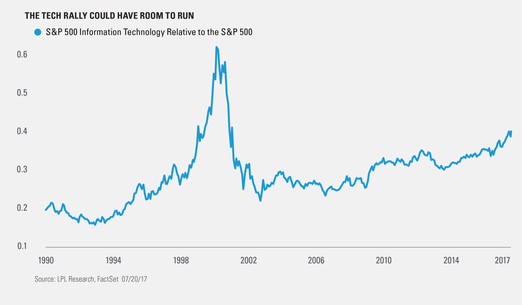 Last, yesterday (July 20) the Nasdaq closed in the green for the tenth day in a row. This is significant, as history would suggest near-term strength could continue. In fact, since 1980, the Nasdaq has gained 2.6% on average during the month following a 10-day win streak versus an average monthly return of 1.0%. Looking at this same period, three months later things became more normal. Over the next several weeks though, the bulls could still be in charge.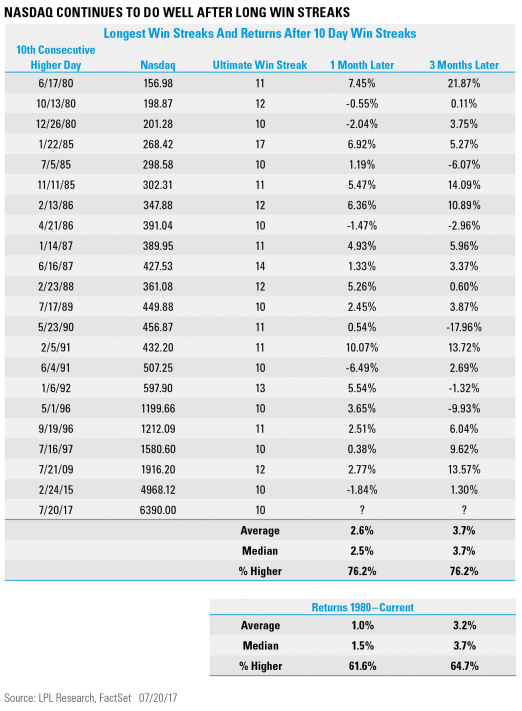 IMPORTANT DISCLOSURES
Past performance is no guarantee of future results. All indexes are unmanaged and cannot be invested into directly.
The opinions voiced in this material are for general information only and are not intended to provide or be construed as providing specific investment advice or recommendations for any individual security.
The economic forecasts set forth in the presentation may not develop as predicted.
Investing in stock includes numerous specific risks including: the fluctuation of dividend, loss of principal and potential illiquidity of the investment in a falling market.
Because of their narrow focus, specialty sector investing, such as healthcare, financials, or energy, will be subject to greater volatility than investing more broadly across many sectors and companies.
Stock investing involves risk including loss of principal.
The NASDAQ Composite Index measures all NASDAQ domestic and non-U.S.-based common stocks listed on the NASDAQ stock market. The index is market-value weighted. This means that each company's security affects the index in proportion to its market value. The market value, the last sale price multiplied by total shares outstanding, is calculated throughout the trading day, and is related to the total value of the Index. It is not possible to invest directly in an index.
The Standard & Poor's 500 Index is a capitalization-weighted index of 500 stocks designed to measure performance of the broad domestic economy through changes in the aggregate market value of 500 stocks representing all major industries.
The S&P Information Technology Index is comprised of stocks primarily covering products developed by internet software and service companies, IT consulting services, semiconductor equipment and products, computers and peripherals, diversified telecommunication services, and wireless telecommunication services.
This research material has been prepared by LPL Financial LLC.