As Snap Chat gets ready to go public, many of the young investors wonder if they should ride the IPO wave that is to come. In the world of investing, it is difficult to expect trends that a certain stock will have. That being said, one thing is for certain, IPOs tend to go high for a short period of time and then proceed to drop dramatically.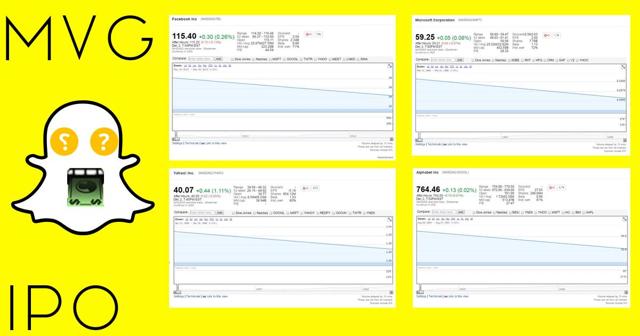 The theory behind why this happens:
When a company wants to go public, the main reasoning behind this is to gain funding beyond its natural capabilities. From being funded by a small group of investors to potentially being funded by 319 million (US population) is a big jump in funding opportunity. Before being open to the public, the company stock is showcased to the "big boy" investors before actually going completely open to the public. The price that is offered to these investors is called the offering price.
Seeming that the company needs to insure that a large sum of its stocks are sold, it tends to offer the investors the company stock at a lower price than what they would have liked. Why do they get a lower price? Because they are taking on the risk of the company not being able to completely go public and because it is relatively a new company in the market. Perhaps the investors need to liquidate later on for some reason, where Pre-IPO stock is hard to sell. In other words they get a lack of marketability discount for their troubles.
After the big boy investors get their shares and the company goes completely public, the company shares become open to everyone to trade. The price that is presented to everyone is called the opening price. How things usually play out is that the opening price tends to be larger than the offering price. Specifically in any computer or technology related industry we have found that 90.52% of opening prices are higher than their offering prices. In most cases, the diffrence is substantial.
What does this mean?
Prices are driven by supply and demand. When you sell something it increases in quantity to the public and therefore loses value. On the other hand if you buy something then it decreases in quantity to the public and increases in value. The big boy investors that see the opportunity to gain a quick return swiftly take it, leading the price of a stock to plummet sooner mostly than later. As you can see, some of Snap Chat's current comparables have faced the same fate that we mentioned in the beginning of their IPO journey. Some of the examples illustrated are Microsoft, Google, Yahoo, and Facebook.
Is it a smart idea to put your money in the Snap Chat IPO?
Our opinion is that we would hold off until it recovers from its plummeting downside. After that the market should stabilize and the true value of Snap Chat will start to appear.