A fractal is a pattern that repeats.  There is an interesting fractal that has appeared in SPX that harkens back to recent action in BP.  Specifically to the beginning of the waterfall decline BP suffered. In the BP chart below note the double top (not pictured) that compares to the top on Jan 19, 2010 at $60.44.

There was also a 5 wave move (numbered on chart) from the intermediate bottom to the 2nd top.  There was a 7 day topping pattern. The first big decline day was day 8, a Fibonacci number.  The decline was followed by a curious 2 candlestick pattern that bears resemblance to a "Tasuki" pattern according to Steve Nison's book  - Japanese Candlestick Charting Techniques, see pg 119.  These two candles happened in the approximate vicinity of the 38.2% fib retracement of the rally to the 2nd top.  BP then declined precipitously.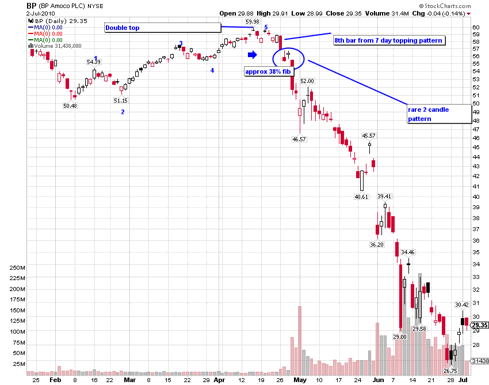 A double top, 5 recent waves to 2nd top, 7 day topping pattern with 8th day larger decline and 38.2% fib situation are all present in SPX chart below, along with the 2 curious candlesticks.  The result is unknowable.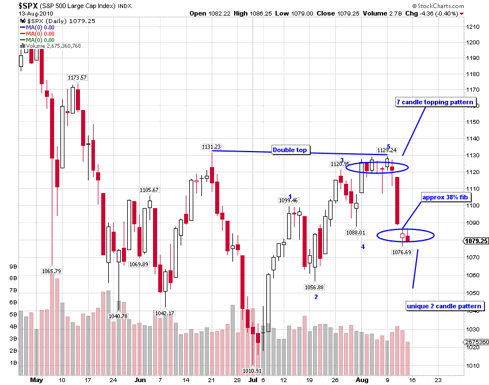 Disclosure: long TZA and SDS, inverse ETFs to SPX