Here are 3 of my current long positions.  I'm hedged with an ultrashort ETF at times as well. These long positions could change at any time.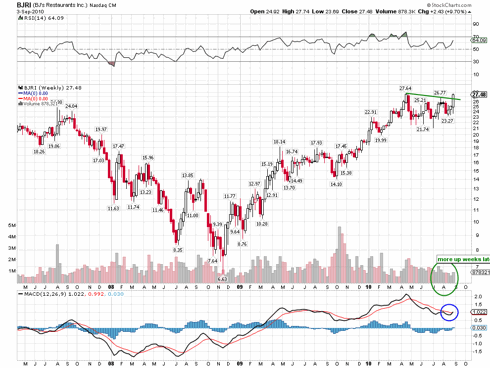 BJs Brewhouse - BJRI   Breaking out of consolidation, with volume, MACD technical confirms.  Most importantly, and from personal experience, this is a great casual dining restaurant.  With just 99 stores, there is plenty of room for growth.  And they are growing.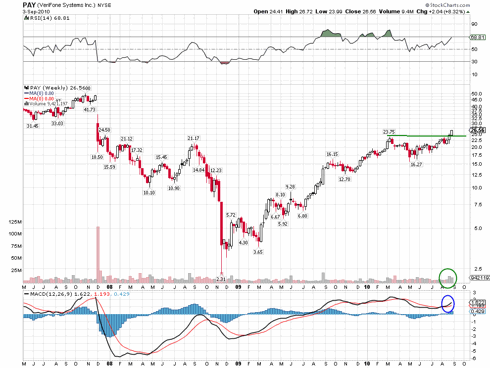 Verifone - PAY   You've swiped your credit card through their machines a 1000 times.   Now you know who they  are!  Be cautious on your entry point.  It has run up a bit. Start with a partial position?  But at the same time, its just now breaking out.  If you think electronic payment systems and wireless payment systems at POS ( point-of-sale, ie; retail) have a big future, PAY is a strong buy.  Was a $50 stock in October 2008.  Have credit and debit card transactions declined worldwide since 2008?  I don't think so. This company operates worldwide: read Asia. Check out their recent acquisition, it looks like a steal.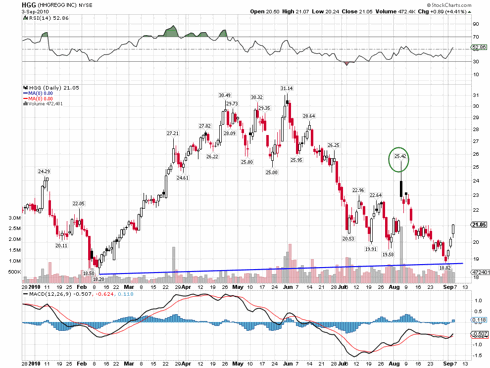 HHG Gregg -  HGG   This is a daily chart.  The weekly is less interesting.  HGG is more speculative at this time than the two above.  That being said, this is a great electronics store concept, at least from my visit to a store and their frequent sales flyers and prices observed.  That price spike to $25+ was the most recent earnings report which was very strong.  This company just opened a dozen more stores in the Wash. DC and Phila. PA. USA areas.  I believe they are benefiting from weak commercial real estate in situating new store locations.  Also, with Circuit City gone, they are a new competitor to Best Buy.  Lots of room nationwide to grow.



Disclosure: HGG, BJRI, PAY, SDS