High time I tried out one of these instablog things.  Apologies to User for borrowing his concept of an insta tasked with concentrating as much collective input as possible - I can only aspire to the high standards he has set in his justly famous Swine Flu concentrator!

I will be bringing to this concentrator much of the prior commentary I've made on the topic, of course, plus adding frequent new entries.  One of the reasons for creating this blog was to be able to add charts and graphic aids, starting with this amazing chart demonstrating the performance of the 5 primary REE companies I am invested in (and focused upon):  (OTCPK:GWMGF) Great Western - (MCP) MolyCorp - (OTCPK:LYSCF) Lynas - (OTCPK:HUDRF) Hudson Minerals - and (OTCPK:GDLNF) Greenland Minerals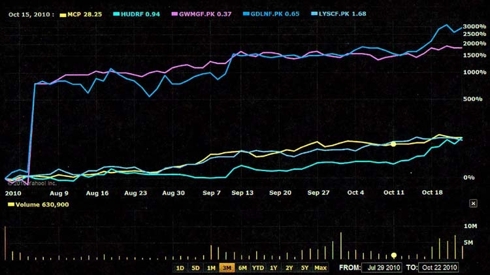 This is quite a 3 month chart, of course.  Note that (OTCPK:GWMGF) and (OTCPK:GDLNF) both took off at the same moment, and have been pacing each other until Greenland finally started to recently pull away (this coincided with Great Western's stock dilution, of course).  Even so, their performance is astounding.

The other three have formed a very compact group of their own, moving at a more sedate pace, but it should be understood that they are all currently up about 250% over the same short period of time.

I am also invested in a brand new REE company, (OTCPK:MLLOF) Medallion, and had I included THEM on this chart they would have distorted the whole chart, since they have only been chartable for a few weeks, during which time their stock has doubled, redoubled, and redoubled again.

For today's REE notes and update, its interesting to note that (OTCPK:HUDRF) has sailed right through the recent REE downdraft, and continues to show its heels, up 9.05% as I write this today.  (MCP) and (OTCPK:MLLOF) are flat, so perhaps they are showing signs of finishing their round of profit taking, while (OTCPK:GWMGF) and (OTCPK:LYSCF) have taken up again with their upward trend, both up well over 1% on the day.

The following linked article contains a good snapshot of events in China, and I believe reflects many underlying questions which have yet to be resolved concerning rare earth element markets:

http://www.raremetalblog.com/2010/10/the-london-ree-report-under-estimating-demand.html#tp

As a general aside, its my opinion (following much research) that the "boutique" market which has been the REE economic space for many years is obsolete.  As events unfold over the coming year, this could well prove to be the most compelling new economic story written. 
Disclosure:
Long GWMGF.PK, MCP, LYSCF.PK, HUDRF.PK, GDLNF.PK, MLLOF.PK
Disclosure:
Long (
OTCPK:GWMGF
), (
OTCPK:LYSCF
), (
OTCPK:HUDRF
), (
OTCPK:MLLOF
), (MCP), GDLNF.PK)