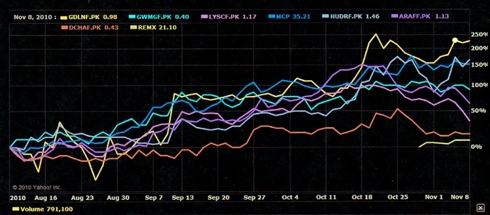 Third Third in the series, and the story just keeps getting bigger.
Now it appears that China has completed their REE export quota for the year (so shipments are stopped once again, or for the first time, depending on who you believe).
Either way, the truth that 28% of last year's quotas will be NEXT year's total quota is still just beginning to sink into the investment pundit's thick skulls.  Needless to say, I don't think any of us intend to wait for them to make up their minds!
Below I am enclosing another 3 month chart, this one including the new REE/Strategic Metals ETF, (NYSEARCA:
REMX
).  Its still new, so its hard to compare it to the existing trends from stocks we have been following for a long time, but it belongs in the mix, I think.
Disclosure:
Long (
OTCPK:GWMGF
), (
OTCPK:DCHAF
), (
OTCPK:LYSCF
), (
OTCPK:HUDRF
), (
OTCPK:MLLOF
), (MCP)