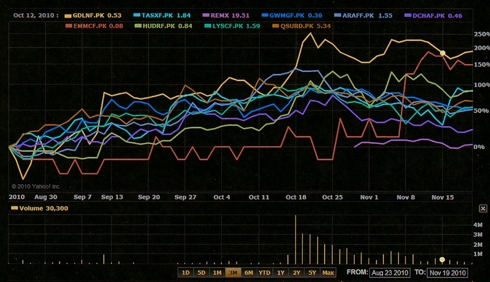 Fourth in the series.

Tasman Metals (OTC:TASXF) showed a dramatic 36.82% jump in stock price today, with the following news:  http://canadanewswire.com/en/releases/archive/November2010/18/c5358.html

The New York Times has this recent update of the "China (sort of) resumes shipping REEs to Japan".  Nowhere is it made clear that these are, indeed, orders made months ago and WITHIN the export quota limits China set in 2009, and then reduced twice in 2010:

http://www.nytimes.com/2010/11/20/business/global/20rare.html?_r=1&src=busln

Today's REE/strategic metal action was fierce.  The market leaders as of writing this insta were:

(OTC:TASXF)  up 36.82%
(EMMCF.PK) up 17.02%
(OTCPK:GWMGF) up 8.33%
(OTC:QSURD) up 7.94%
(OTCPK:ARAFF) up 7.21%
(OTCPK:HUDRF) up 6.77%
(OTCPK:DCHAF) up 5.56%
(MCP) up 4.19%
(OTCPK:GDLNF) up 3.45%
(OTCPK:LYSCF) up 3.39%
(NYSEMKT:GMO) up 2.15%
(RBY) up 1.19%
(OTC:MTCEF) up 1.02%
(OTCPK:MLLOF) up .30%
(TIE) up .06%
(OTCPK:NATUF) down 7.63%

This insta's chart includes some of the new names mentioned, but is limited to just 10 items, so some of the old favorites are missing this time.  For reference, (MCP) would be in third place at about 100% if it were included.

The steep updrafts which have struck several of these stocks (like EMMCF and TASXF) make for some wild charting. 
Disclosure:
Long DCHAF, EMMCF, GMO, HUDRF, LYSCF, MTCEF, MLLOF, NATUF, QSURD, RBY, TASXF, GWMGF, GDLNF, MCP