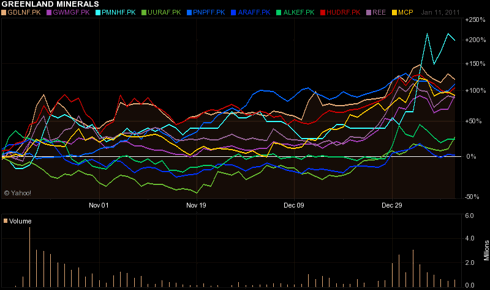 For this chart I have included REE against some other comparable stocks in the market.  As I've mentioned in the past, I have a personal aversion to this particular stock, and therefore I rarely include it, and do not track it, nor have I done any due diligence recently...  But there are several participants who ARE interested, so I have added it this time.  Note that its performance ranks it as 7th out of the 10 stocks listed.  From looking at many such charts, its clear that this relatively high flying and volatile group (top 7) would encompass the upper half of the REE range, although if you add in strategic materials, (EMMCF.PK) would tower above them.  For those fans of EMC, please note that I no longer include EMC in these charts due to the fact that it greatly compresses all the others and makes evaluating the relative merits difficult.  I am one of those fans, LOL, of course, and I hold a core position long in EMC.
The most dramatic stock in this chart is, of course, Pele Mountain, and clearly shows their recent spike.  IMO this performance is not indicative of anything news-related so much as its inclusion in a large media campaign, particularly in Canada.  Even so, its solid performance in the middle of the pack, if projected, would still place it in the top 7, though hardly with the dominance we are seeing today.
Note that the two stocks with REE deposits in Greenland are closely matched, with (
OTCPK:GDLNF
) narrowly edging out (
OTCPK:HUDRF
), though on any given day the reverse is true.
(
OTCPK:ARAFF
) continues to outperform, and is currently splitting the difference between (
OTCPK:GDLNF
) and (
OTCPK:HUDRF
), the three of them forming a tight leading group.  If Arafura's pink sheet listing did not include the usual high Australian exchange fees for American investors, this stock could well perform even better.
MolyCorp and Great Western are currently essentially tied, which is interesting given the huge differences in capital base between the two companies.