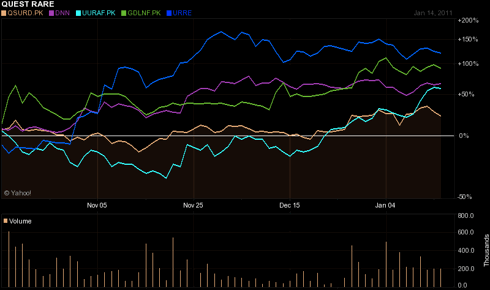 Starting with this Concentrator, I am preparing a number of charts comparing the performance over the last 3 months of groupings of stocks which share common traits.  The first chart titled "Quest Rare" shows (OTC:QSURD) Quest Rare Minerals, (OTCQX:UURAF) Ucore Rare Metals, (OTCPK:GDLNF) Greenland Minerals & Energy, (OTC:NOURF) Northern Uranium Ltd., (NYSEMKT:DNN) Denison Mines, and a new entry, (URRE) Uranium Resources, Inc. of Lewisville, Texas.

All these companies share a common thread, ie, at least part of their business involves mining Uranium.  Obviously, (URRE) is outperforming the rest, this despite the so-called "REE hype" affecting other stocks on the chart.  It should be noted that ALL the stocks are up currently from 3 months ago, and showing solid gains.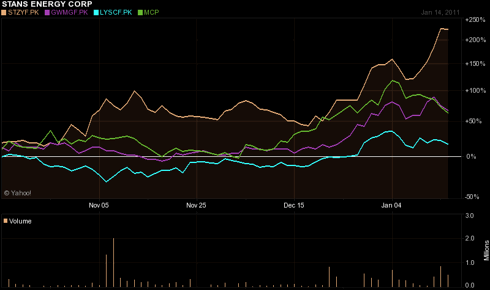 This chart compares the small group of REE companies which are working with established mines and are planning a vertically intergrated corporate structure.  Note that the recent news about Stans Energy (OTC:STZYF) has lifted this company's performance well above that of the others, though it is still my opinion that they have perhaps the farthest to go in delivering finished product from their project!  In fact, the rankings here show a clear NON-relationship between the likelihood of being first to market with a finished product coming out of their own mine, processed through their own concentration mill, and refined in their own plant - and that would be Lynas (OTCPK:LYSCF) of course.  Amazingly, MolyCorp (MCP) and Great Western (OTCPK:GWMGF) are currently in a dead heat, despite the wild volatility we have seen recently.
The market data represented in this chart is a compelling reason why I am already long Lynas, GWM and MCP, and shopping for Stans Energy.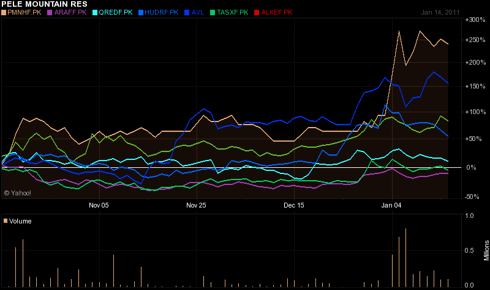 Here we see a charting of the main body of REE junior/exploration stocks.  Pele Mountain (OTC:PMNHF) is still benefitting mightily from the recent media flurry about their first comprehensive resource review - and these small companies and penny stocks are VERY prone to reacting in a powerful manner to news events.  In general, all the stocks in this list are to be considered volatile and extremely risky...

When looking over the REE landscape for candidates for M&A activity involving larger companies, particularly any company possessing plenty of the lighter rare earth elements but needing a good source for the heavies, this list comprises an excellent selection.  In order they are Pele Mountain (OTC:PMNHF), Avalon (NYSEMKT:AVL), Alkane Exploration (OTCQX:ALKEF), Hudson Resources (OTCPK:HUDRF), Quantum Rare Earth (QREDF.PK), Tasman Metals (OTC:TASXF), and Arafura (OTCPK:ARAFF).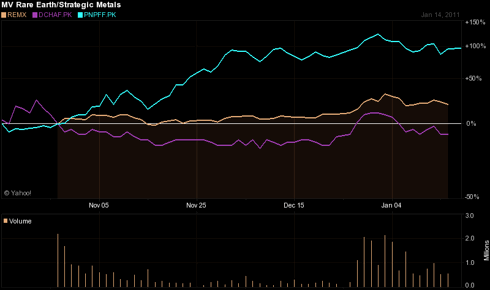 This simple graph portrays three very different approaches to investing in the REE/Strategic Materials sector.  (NYSEARCA:REMX) Market Vector's Rare Earth/Strategic Metals ETF is a well-known alternative which has caught on in recent weeks.  This new ETF has an inherent problem portraying the world's REE markets due to the extreme bifurcation between the extremely dominant Chinese REE companies buried within huge iron, steel and aluminum companies in protected stocks unavailable for trading by foreigners (or this ETF) and the upstart western junior REE miners, most of whom are simply too young and undercapitalized to qualify for the ETF's $150million minimum capital requirement.  Even so, this is quickly becoming a valuable benchmark against which to compare the overall results of REE/strategic metal companies.  Note that it is solidly slotted betwen the other two stocks...

On top is what was very recently a penny stock called Pinetree Capital Ltd.  Note its burgeoning performance in recent months.  It is even less focused on REEs, for instance, than (REMX), since its investments include the gamut of miners, from gold and silver through REEs, the various strategic metals, and plenty of base metals.

On the bottom is Dacha Capital Inc., a unique firm which deals in high purity physical REE metals - an approach which appeals to many investors accustomed to the wide-spread rumors regarding physical metal shortages and fraud in the precious metals.  When nothing but the actual, physical metal in a vault will do, Dacha is blazing that route to the future.

Author's Disclosure:  I am long most of these stocks, including LYSCF, GWMGF, MCP, GDLNF, NOURF, UURAF, MTCEF, TASXF, HUDRF, PMNHF, PNPFF and REMX.