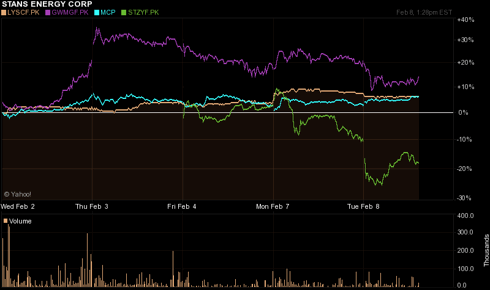 Here we have our Big 4 REE miners (those with essentially the same game plan, a vertically integrated operation featuring at least 1 or 2 functional components ready to go.  I chose a 5 day snapshot due to the dramatic changes occurring over this short period...
Great Western's chart shows their recent pop (and its gradual drift back towards $1 per share, a result of profit taking imo).  Still, it rules the roost this week...
Stans Energy shows its recent disintergration, as the pop from news that it was purchasing its ex-Soviet proccessing plant and rail head for $5.5mm has lost its punch.  A number of recent dump articles have taken the steam out of its prior pump articles, so this trade is shaping up to once again be just that - a trade.
The serious competition, though, might well be in the trenches, where Lynas and MCP are still neck and neck.  It will be interesting to see what changes are wrought by tomorrow mornings Lynas conference call...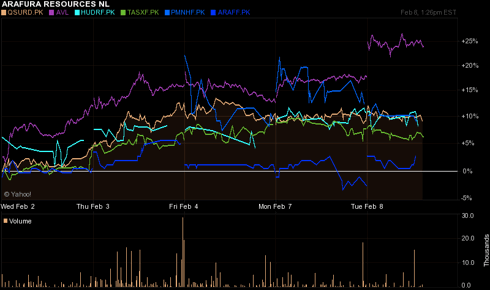 This time I set aside a 5 day chart for some of the larger junior explorers.  Note AVL's recent breakaway from the pack.  I view the spike in their prices (which are clearly not in line with the group's median trend) to be unsustainable, so look for a reversion to something closer to the group's common performance soon.  This is, of course, not necessarily a bad thing, this group has done quite well this year, so just look upon this as a cautionary note...
QSURD is the steady stock in this group, essentially setting the pace for the more volatile to bounce around.  Note that though it has never been #1 in this charting, it has shown strength at every level, and is the standard against which the others may be measured.  Right now QSURD is actually #2, while Pele Mountain and Hudson are fading...  This sort of extremely short term tracking, however, should always be viewed against a longer term to get more persepective...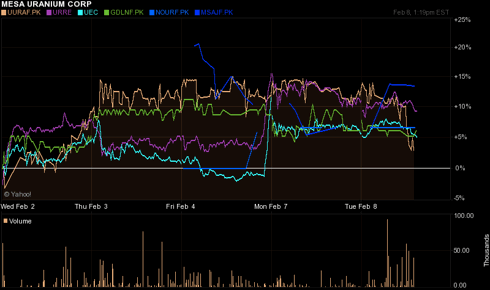 Here is a selection of our Uranium stocks plus some REE/Uranium plays, just for comparison.  The Uranium sector was weak yesterday, and is not looking very strong today thus far.  Note that I have included a new stock, Mesa Uranium (

OTC:MSAJF

), which is the clear leader this afternoon.

REE/Strat Concentrator Links to past Concentrators:

https://seekingalpha.com/instablog/480016-tripleblack/136068-ree-strategic-minerals-concentrator-feb-5-2011

 

https://seekingalpha.com/instablog/480016-tripleblack/135439-ree-strategic-minerals-concentrator-february-3-2011

 

https://seekingalpha.com/instablog/480016-tripleblack/135074-ree-strategic-minerals-concentrator-february-2-2011

 

https://seekingalpha.com/instablog/480016-tripleblack/134379-ree-strategic-minerals-concentrator-january-31-2011

 

https://seekingalpha.com/instablog/480016-tripleblack/133649-ree-strategic-minerals-concentrator-january-28-2011

 

https://seekingalpha.com/instablog/480016-tripleblack/132617-ree-strategic-minerals-concentrator-january-25-2011

 

https://seekingalpha.com/instablog/480016-tripleblack/130772-ree-strategic-minerals-concentrator-january-20-2011

 

https://seekingalpha.com/instablog/480016-tripleblack/129951-ree-strategic-minerals-concentrator-for-january-18-2011

 

https://seekingalpha.com/instablog/480016-tripleblack/127523-ree-strategic-minerals-concentrator-january-11-2011

 

https://seekingalpha.com/instablog/480016-tripleblack/125641-ree-strategic-minerals-concentrator-january-4-2011

 

https://seekingalpha.com/instablog/480016-tripleblack/124151-ree-strategic-metals-concentrator-dec-29-2010

 

https://seekingalpha.com/instablog/480016-tripleblack/123052-ree-strategic-metals-concentrator-dec-23-2011

 

https://seekingalpha.com/instablog/480016-tripleblack/120043-ree-strategic-materials-concentrator-dec-12-2011

 

https://seekingalpha.com/instablog/480016-tripleblack/117052-ree-strategic-metals-concentrator-dec-1-2010

 

https://seekingalpha.com/instablog/480016-tripleblack/114903-ree-concentrator-november-22-2010

 

https://seekingalpha.com/instablog/480016-tripleblack/109355-rare-earth-elements-concentrator-nov-9-2010

 

https://seekingalpha.com/instablog/480016-tripleblack/107219-rare-earth-elements-concentrator-nov-2-thru

 

https://seekingalpha.com/instablog/480016-tripleblack/104375-rare-earth-elements-rees-concentrator-oct-25-nov-2



Disclosure:  The Author is long most of these stocks, and is an active trader in this market sector.  Long GWMGF, HUDRF, LYSDY, MTCEF, GDLNF, TASXF, NOURF, AVL, PMNHF, UURAF