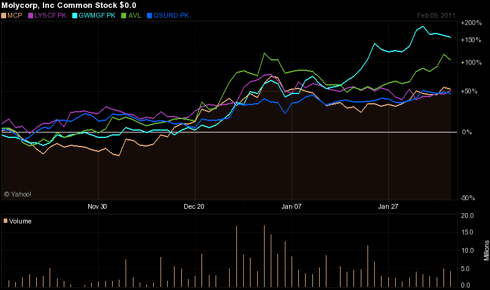 In this chart I have reintroduced an old friend, MolyCorp.  We don't spend much time discussing MCP (afterall, its like music fans reviewing a Britney Spears video - its incredibly over-exposed and famous, and what else is there to discover?), but I think we need to keep it on our radar screens.  Eventually, the latest lockbox WILL pop open, and like Pandora's box, it might be important to the entire sector!
This chart surprised me a little, more from what did not happen than from what did.  Even during MCP's massive peak, it's relative performance to other REE stocks like Lynas, Great Western, Avalon and Quest was really not dominant (on the contrary, over the past 3 months, including its peak, MCP was not anything like a world-beater.
Lynas, despite several quixotic analyst downgrades from JPM and Citibank, continues to run in the middle of the field.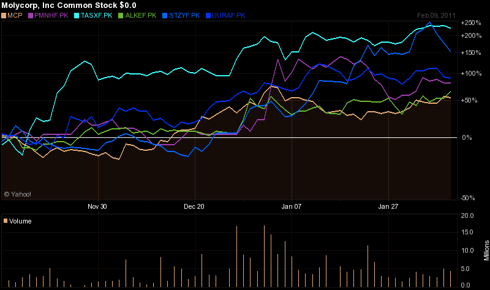 In this Chart we see how MCP has performed compared to some of the smaller and more valatile stocks in the REE space.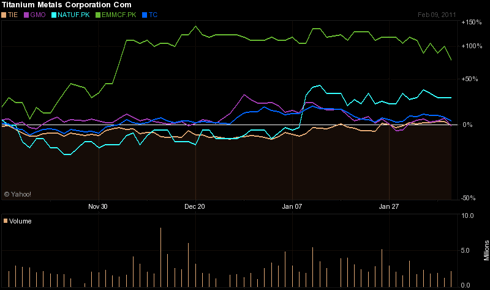 In this Chart we see how some of the Strategic miners compare.  Again, the unusual narrative of a stock like EMC Minerals works its magic just as it does with the similar REE stocks.  Re-opening mothballed facilities purchased for pennies on the dollar is a recurring (and for now at least successful) theme.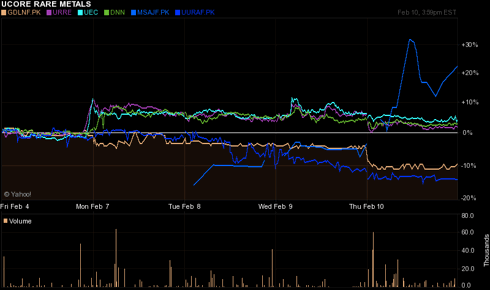 This 5 day chart shows the recent breakout by Mesa Uranium/Ree.  Amazing.
Links to past REE/Strat. Concentrators:

 

https://seekingalpha.com/instablog/480016-tripleblack/136068-ree-strategic-minerals-concentrator-feb-5-2011

 

https://seekingalpha.com/instablog/480016-tripleblack/135439-ree-strategic-minerals-concentrator-february-3-2011

 

https://seekingalpha.com/instablog/480016-tripleblack/135074-ree-strategic-minerals-concentrator-february-2-2011

 

https://seekingalpha.com/instablog/480016-tripleblack/134379-ree-strategic-minerals-concentrator-january-31-2011

 

https://seekingalpha.com/instablog/480016-tripleblack/133649-ree-strategic-minerals-concentrator-january-28-2011

 

https://seekingalpha.com/instablog/480016-tripleblack/132617-ree-strategic-minerals-concentrator-january-25-2011

 

https://seekingalpha.com/instablog/480016-tripleblack/130772-ree-strategic-minerals-concentrator-january-20-2011

 

https://seekingalpha.com/instablog/480016-tripleblack/129951-ree-strategic-minerals-concentrator-for-january-18-2011

 

https://seekingalpha.com/instablog/480016-tripleblack/127523-ree-strategic-minerals-concentrator-january-11-2011

 

https://seekingalpha.com/instablog/480016-tripleblack/125641-ree-strategic-minerals-concentrator-january-4-2011

 

https://seekingalpha.com/instablog/480016-tripleblack/124151-ree-strategic-metals-concentrator-dec-29-2010

 

https://seekingalpha.com/instablog/480016-tripleblack/123052-ree-strategic-metals-concentrator-dec-23-2011

 

https://seekingalpha.com/instablog/480016-tripleblack/120043-ree-strategic-materials-concentrator-dec-12-2011

 

https://seekingalpha.com/instablog/480016-tripleblack/117052-ree-strategic-metals-concentrator-dec-1-2010

 

https://seekingalpha.com/instablog/480016-tripleblack/114903-ree-concentrator-november-22-2010

 

https://seekingalpha.com/instablog/480016-tripleblack/109355-rare-earth-elements-concentrator-nov-9-2010

 

https://seekingalpha.com/instablog/480016-tripleblack/107219-rare-earth-elements-concentrator-nov-2-thru

 

https://seekingalpha.com/instablog/480016-tripleblack/104375-rare-earth-elements-rees-concentrator-oct-25-nov-2



 
Author is long many of these stocks and is an active trader in this sector, including GWMGF, TASXF, LYSDY, AVL, MSAJF, UURAF, REMX, STZYF, MTCEF, GDLNF, HUDRF