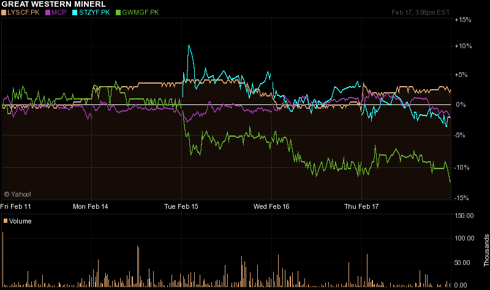 OK, this 5 day chart clearly shows the abrupt downdraft that hit Great Western Tuesday morning.  Noteworthy is the relative lack of volatiility for both Lynas and MolyCorp, though MCP is starting to trail back to the $47 range.
Today Lynas was up 2.07%, GWM was down 1.11%, MCP was down 2.50%, and Stans was off 5.00%.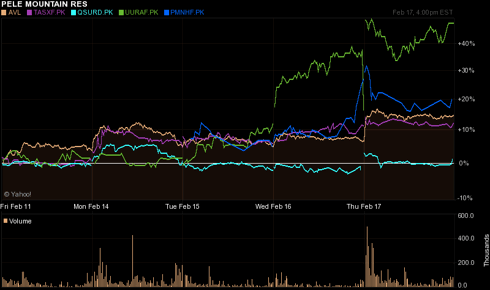 UCore is running away from the field over the past 2 days, demonstrated by this 5 day chart.  There was a trade in there for Pele, but only if one were particularly nimble.  Note that Tasman and AVL are less explosive, but showing a steady short term uptrend.  Quest is flat, the trailing baseline to the group, and that fact is one reason I suspect they will come out with some news soon (the shadows are often a very cold place to be in the junior ranks).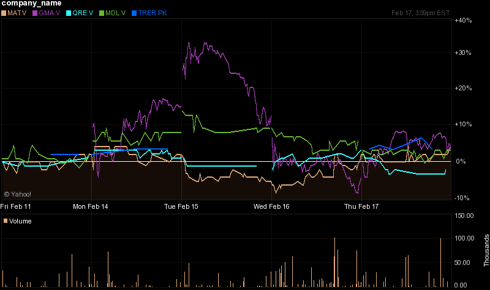 Here we see a chart dominated by the outlandish spike of GeoMega last Tuesday, and its quick reversion to run with the pack, which has begun to form a very tight knot.  Having watched the smallest cap REE pennies for a while, the charting from Monday thru Tuesday is more nearly the norm vs that from Wednesday through Thursday.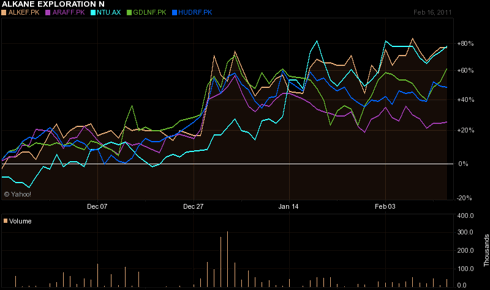 This is a chart showing how the last 3 months have treated the Australian juniors (other than Lynas).  I also threw in Hudson, just because they often trade similar to Greenland Minerals, and I am trying to include as many stocks as possible.  Note that Alkane and Northern Minerals are neck and neck at the top, swapping spots frequently.  Arafura's recent results show a steady fade.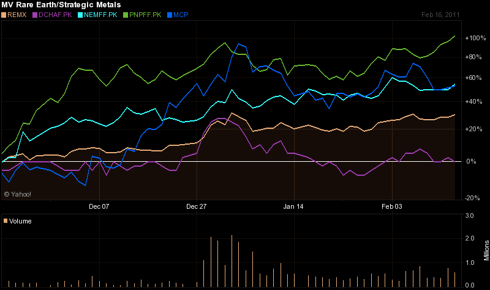 Here we can see that Pinetree Capital's mixed portfolio of every different class of miner is paying off.  They handily trounce REMX, which in turn is usually far ahead of the performance of Dacha (still an interesting business model, but I just believe they are about 5 years ahead of their time).
The Author is long LYSCF, PNPFF, REMX, GDLNF, METCF, AVL, ALKEF, NOURF, UURAF, PMNHF, HUDRF, GOMRF.
Links to prior Concentrators:
https://seekingalpha.com/instablog/480016-tripleblack/137621-ree-strategic-minerals-concentrator-feb-10-2011
https://seekingalpha.com/instablog/480016-tripleblack/136931-ree-strategic-minerals-concentrator-feb-8-2011
https://seekingalpha.com/instablog/480016-tripleblack/136068-ree-strategic-minerals-concentrator-feb-5-2011
https://seekingalpha.com/instablog/480016-tripleblack/135439-ree-strategic-minerals-concentrator-february-3-2011
https://seekingalpha.com/instablog/480016-tripleblack/135074-ree-strategic-minerals-concentrator-february-2-2011
https://seekingalpha.com/instablog/480016-tripleblack/134379-ree-strategic-minerals-concentrator-january-31-2011
https://seekingalpha.com/instablog/480016-tripleblack/133649-ree-strategic-minerals-concentrator-january-28-2011
https://seekingalpha.com/instablog/480016-tripleblack/132617-ree-strategic-minerals-concentrator-january-25-2011
https://seekingalpha.com/instablog/480016-tripleblack/130772-ree-strategic-minerals-concentrator-january-20-2011
https://seekingalpha.com/instablog/480016-tripleblack/129951-ree-strategic-minerals-concentrator-for-january-18-2011
https://seekingalpha.com/instablog/480016-tripleblack/127523-ree-strategic-minerals-concentrator-january-11-2011
https://seekingalpha.com/instablog/480016-tripleblack/125641-ree-strategic-minerals-concentrator-january-4-2011
https://seekingalpha.com/instablog/480016-tripleblack/124151-ree-strategic-metals-concentrator-dec-29-2010
https://seekingalpha.com/instablog/480016-tripleblack/123052-ree-strategic-metals-concentrator-dec-23-2011
https://seekingalpha.com/instablog/480016-tripleblack/120043-ree-strategic-materials-concentrator-dec-12-2011
https://seekingalpha.com/instablog/480016-tripleblack/117052-ree-strategic-metals-concentrator-dec-1-2010
https://seekingalpha.com/instablog/480016-tripleblack/114903-ree-concentrator-november-22-2010
https://seekingalpha.com/instablog/480016-tripleblack/109355-rare-earth-elements-concentrator-nov-9-2010
https://seekingalpha.com/instablog/480016-tripleblack/107219-rare-earth-elements-concentrator-nov-2-thru
https://seekingalpha.com/instablog/480016-tripleblack/104375-rare-earth-elements-rees-concentrator-oct-25-nov-2
https://seekingalpha.com/instablog/480016-tripleblack/138543-ree-strategic-minerals-concentrator-feb-14-2011