A little known company that is making big moves in industrial synthetic biology and could be on the radar of Bill Gates $1 Billion Breakthrough Energy Investment Fund.
Investment Highlights
Recent positive news about major partnerships with Chevron and Roche suggest that the blockbuster potential with this industry leader is finally about to unfold.
On September 30, 2016 the Company signed a definitive agreement to establish a cosmetic ingredients joint venture with NIKKOL GROUP ("NIKKOL"), a leading Japanese cosmetic specialty chemical provider. NIKKOL is purchasing 50% of the Amyris Neossance business for up to $20 million in total. Amyris will receive $10 million of the purchase price upfront and the remaining $10 million is structured as an earn out over the first three years of the joint venture operation.
The company announced that it has executed with its long-time partner Kuraray Co., LTD (TYO:3405) a multi-year extension to their collaboration agreement for the use of Amyris's Biofene® branded ß-Farnesene in liquid farnesene rubber ("LFR") and farnesene-based elastomer applications. This collaboration, which originally began in 2011, features increased farnesene supply to Kuraray and joint marketing of products to industry and end-customers.
Amyris expects to report record 4Q revenues and forecasts ending the year on cash-flow positive status for the first time in company history according to a recent press release.
Amyris has grown sales of its own products at double-digit rates for the last three quarters. This trend is expected to continue as the company keeps developing award-winning products.
The forecasted explosive demand/growth for Amyris own molecule farnesene could quadruple revenues for 2017 vs the expected record 2016 revenues.
The Company announce that just months after initiating a collaboration with one of the world's leading pharmaceutical companies, it has successfully achieved the first milestone under the agreement. This milestone resulted in the creation of a robust, sensitive activity assay for an oncology target in a live yeast strain. This high-throughput assay enables screening for chemical diversity found in nature using Amyris's proprietary µPharm™ platform, with the potential to provide previously inaccessible molecule targets.
Amyris plans to develop at least 20 more commercial molecules in the next three years through high-value collaborations with industry leaders in various sectors from biotec to nutraceuticals.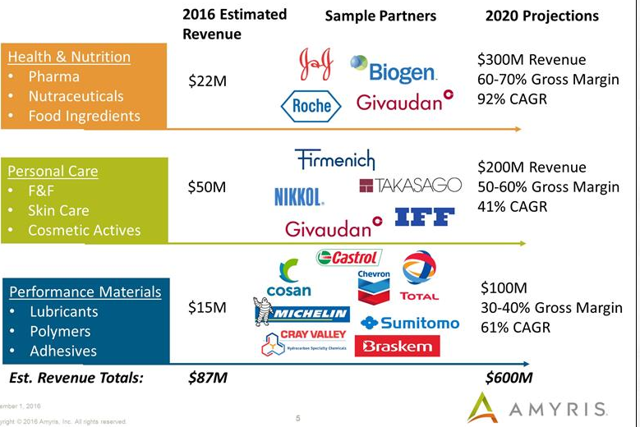 Discussion
Amyris, Inc. (NASDAQ:AMRS), an integrated renewable products company, offers renewable compounds for a variety of markets. Through its proprietary technology protected by more than 600 patents Amyris modifies microorganisms, primarily yeast, and use them as living factories in established fermentation processes to convert plant-sourced sugars into a variety of hydrocarbon molecules. It currently focuses its commercialization efforts on a molecule called farnesene, but it's on a path to engineer hundreds of molecules through several recent high-profile collaborations. The company was founded in 2003 and is headquartered in Emeryville, California.
Amyris stock has been on a tear since the price crossed the 50 DMA on September 8, 2016. Earlier in the uptrend the pps touched the 50 day moving average a few times only to quickly bounce away from it. In the last several weeks the share price has been distancing itself away from the 50 day moving average suggesting that a strong uptrend could be sustainable.
So why is the increased interest in the stock? I believe that there are many reasons for it, but the primary catalyst is likely that it appears that AMRS revenues and financial performance have reached a major inflection point.
Record Q3 2016 GAAP revenues* of $26.5 million, led by strong collaboration and product sales growth of 61% over Q3 2015
Continued strong momentum in new collaborations, including with two key nutraceutical partners, the Department of Energy (DOE) and most recently a new pharma deal and pending asset transaction leading to strong Q4 cash generation
Reduced selling, general and administrative expenses by 19% quarter over quarter
Q3 Key Highlights
Signed our third collaboration agreement with a "big pharma" partner solidifying our entrance into the biopharma sector. We are now partners with the leading companies in the world for each of the target compounds we are working on.
Executed definitive agreements for a strategic partnership with a global nutraceuticals market leader including expansion to a second nutraceutical market product expected to represent $40-$50 million of incremental annual revenue in 2019, and an unsecured credit facility of $25 million, expected to close in December 2016.
Amyris, Inc. (NASDAQ:AMRS), the industrial bioscience company, and the Government of Queensland, Australia today announced a partnership to create a southeast hub of sustainable ingredients production for the rapidly-growing personal care sector in Asia, while supporting Queensland's local economy and sugarcane industry. The partnership aims to develop a new production plant with support from local partners. The plant will produce Amyris's high-value personal care and nutraceutical actives, as well as farnesene-derivative products.
Entered Memorandum of Understanding with a leader in food ingredients and nutraceuticals for a transformative collaboration. Subject to completing definitive agreement - on track for completion by the beginning of December 2016 - Amyris expects to receive a collaboration payment of $10 million along with a partner equity investment of $20 million at $1.40 per share. Initial revenue expectations with this partner beginning in 2017 are $100 million.
Announced major DOE agreement to further the manufacturing of cellulose-derived farnesene for biofuels. This is expected to expand global availability of Amyris's farnesene for a variety of applications. Success in the project could enable farnesene cost below $1 a liter, delivering breakthrough results in a variety of products and unlocking additional market opportunities.
Recently announced that our Biossance skin-care products will be launched in Sephora stores and online beginning in the first quarter of 2017, in line with our plan to introduce Biossance into new, large, distribution channels to drive growth and lower our operating cost.
Signed letter of intent for distribution of Biossance skin care products through leading infomercial and direct selling channel. This anticipated partnership will also fund working capital to support growth of Amyris's consumer business and become key distribution channel for Biossance along with Sephora relationship.
Recently signed term sheet with one of most respected cosmetic ingredient suppliers in the world to establish joint venture for Amyris's Neossance cosmetic ingredients business. This proposed partnership is valuing the business at $40 million and expected to continue supporting the growth and leadership the company has achieved with our proprietary Neossance squalane.
Since September 30, 2016 the Company has closed on financing totaling $16.5 million. Further, management executed an amendment that extends the maturity of the Company's senior secured loans of $28.6 million from the 2017 to 2019, subject to extending maturities of various loans with non-affiliates to 2019 as well. Along with this amendment, restrictive financial covenants have been eliminated as well as the monthly loan amortization.
" We're very pleased with our continued execution this year and remain on track for expected record revenue in the 4th quarter of 2016, and execution on the non-core asset sales that are expected to deliver strong, positive cash flow by year end."
Record revenues for 3Q 2016 and cash-flow positive performance by year end is a strong message of confidence for a company that despite so much promise has underperformed up to now. But as will be seen later in this article, there are many reasons for expecting improved results going forward. Third quarter 2016 financial results will be reported in about 5 weeks and I expect the share price uptrend to continue before this event and beyond.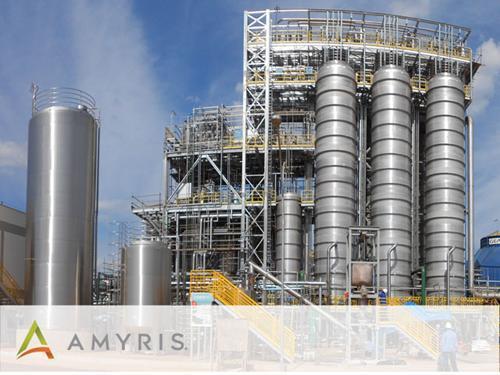 The University of California at Berkeley
"Amyris has its origins at the University of California, Berkeley where a team of students/scientists were focusing on developing a sustainable path for the production of Artemisinic acid to cure malaria. These students focused their research on genetically-engineering a yeast cell to produce this compound. Artemisinic acid is only found in one plant in the world, Chinese sweet wormwood. Through this discovery, Artemisinic acid could be produced in mass quantities in a biomanufacturing facility instead of having to rely on limited supplies of the rare Chinese plant. Malaria is a mortal disease that kills over half a million children a year under the age of five in Africa."
When word of this breakthrough discovery got out, the Bill & Melinda Gates Foundation awarded a $43M grant to Berkeley and the newly created Amyris through OneWorld health. After years of development, Amyris made available its Artemisinic Acid-producing yeast strains to Sanofi, on a royalty-free basis starting in 2008.
Amyris early days as a public company
Amyris went public in September 2010. In 2013 CNN's Doctor Sanjay Gupta interviewed key Amyris scientists for a look into the fascinating world of turning yeast into high-value, environmentally friendly products. Amyris' first major collaboration agreement was with TOTAL(NYSE:TOT), the French multinational oil and gas giant, for the production of farnesene/Biofene to be used biofuel. Amyris initially contract-manufactured farnesene at several sites around the world. Farnesene is now produced at Brotas, Brazil where it has a reliable supply of raw material. The first shipment of farnesene from the Brotas plant was announced in January, 2013. The early focus on using farnesene as a biofuel has shifted to the production of a variety of low-volume high-value specialty molecules due to collapse of oil prices beginning in late 2014. Amyris uses farnesene's unique physical properties and chemical reactivity to convert it into dozens of commercial applications."
Although the use of farnesene as a biofuel is limited today due to the low price of competitive oil-derived products, the stage is set for increased use in this area when commodity prices rebound and/or the price of making farnesene continues to drop. For instance, the EPA has approved farnesene-derived renewable diesel for blend up to 35% and it contains no sulfur or particulates. Also, the American Society of Testing Materials (ASTM) has approved farnesene for use as blending component with jet fuels in commercial aviation. Furthermore, the Renewable Energy Directive (RED) in EU has set a target of 10% renewable energy use in transportation across EU by 2020. More recently, in July 2016, the EPA announced that it is advancing plans to limit carbon emission from aircraft, another long-term catalyst for the use of farnesene as jet-fuel component. Also in July, Amyris announced the successful test of Amyris-supplied biojet fuel on a new Airbus jet for Cathay Pacific. The successful test showed a 30% reduction of CO2 emissions. The announcement also stated that "all of Cathay's upcoming A350-900 aircraft deliveries over the next two years will use the Amyris/Total biojet fuel."
Amyris today
The company has experienced a significant inflection point in the rate of collaboration agreements with major players in various industries starting in 2016. CEO John Melo, stated that during the quarter "We are experiencing solid product sales demand in farnesene and farnesene-derived products in addition to the growth in new fermentation products for the flavors, fragrance and cosmetics industry. Farnesene growth in the third quarter was driven by demand in nutraceuticals, industrial, lubricants and cosmetic ingredients. We expect this strong demand to accelerate into the fourth quarter, combined with sales of two fragrance products and significant growth in farnesene sales for the nutraceutical markets. Our main risk is ensuring we have sufficient capacity to meet this increased demand, and that is currently our main focus. Our collaboration pipeline is the most solid and diverse it has ever been, with 14 active revenue-producing collaborations and about a dozen new agreements in various advanced stages of discussion. This compares to a portfolio of about three material collaborations, of which Total was the most significant of those at the start of 2015. The core of our strategy remains to collaborate with leading global companies to deliver innovative poducts and resolve supply chain issues by delivering lower cost, better-performing ingredients for our partners' core business."
The company's robust technology platform has proven that it can produce a myriad of compounds that can be used as raw materials for cosmetics, medicines, vitamins, flavors and fragrances, nutraceuticals, biofuels, etc as seen in the following slide from a recent company presentation (all slides shown in this article are from the same presentation):
(click to enlarge)
The Company has entered into significant revenue-generating agreements in recent months as will be seen later.
Amyris continues to receive strong support from the Gates foundation as seen by the$5M equity investment announced on April 11, 2016. The investment was made to focus on the continued production of high-quality and secure supplies of artemisinic acid and amorphadiene to combat malaria.
Significant Recent Collaboration Agreements
I will now highlight the most important collaborations announced by the company in recent months:
Expanded Agreement With Global Neutraceuticals Market Leader
On September 30, 2016 the Company announced an expanded agreement with a global nutraceutical market leader. The new agreement suggests a significant expansion in expected revenue compared to the prior agreement announced on April 27, 2016, and includes the addition of a new nutraceutical target, a credit line of up to $25 million with a 5-year maturity, and an option for a $5-million strategic investment.
Regarding this agreement, Amyris CEO John Melo commented:
"We're very pleased with our achievement to date and the significant expansion of our partnership. This relationship continues to be based on our ability to provide our partners with low-cost, high-performance farnesene that can provide them with a competitive advantage while enabling them to grow sustainably. This expanded partnership agreement further transitions us to a more broadly diversified portfolio of high-performance, sustainable ingredients to some of the world's fastest-growing markets and a global leader in low cost, high performance ingredients for the nutraceuticals market."
Amyris/Gingko Bioworks partnership
On September 15, 2016 Amyris announced that it had completed an agreement to accelerate commercialization of bio-based products with Gingko Bioworks. According to the agreement:
"Ginkgo and Amyris will share in the value of new cultured ingredients brought to market across several industries including food and nutrition, flavor and fragrance, and cosmetics and personal care. These ingredients, produced via fermentation with engineered microorganisms, leverage the end-to-end biotechnology stack that Ginkgo and Amyris have developed, from high throughput automated strain development, analytics, and optimization, to process development, full-scale manufacturing, and product recovery operations."
Ceo John Melo commented:
"Working together with Ginkgo leverages our combined strengths to make renewable products mainstream. The combination of our capabilities creates an unparalleled offer for partners who want to create competitive advantage in their supply chain. We're very pleased with our continued execution this year and remain on track for expected record revenue in the third quarter of 2016, and execution on the non-core asset sales that are expected to deliver strong, positive cash flow by year end. We are pleased with the early results of this collaboration. With what we believe is the world's largest combined R&D groups focused on engineering organisms and producing cultured ingredients at robust industrial manufacturing scale, we are able to offer our customers the best solution in the market."
The latest agreement with this partner extends our partnership to a second target product. The first product is expected to contribute about $40 million of 2017 revenue. Upon full-scale production of the second target in 2019, the two of them combined are anticipated to generate approximately $100 million of annual product revenue. Nenter, our partner, has also agreed to provide Amyris an unsecured credit facility of $25 million. This kind ofnon-dilutive partner funding is what we promised last quarter and is a great example of the value of our collaborations and the power of becoming a must-have technology for our collaboration partners
Second, we executed a Memorandum of Understanding for transformative strategic collaboration with a partner that is a leader in food ingredients and nutraceuticals. This is a separate partner. I've met with them last week and toured some of their production facilities in China, and we had identified our initial molecule targets to begin engineering. Some of their customers include many of the Fortune 50 brands. And they have a strong pipeline of planned new products on which we will improve their efficiency and productivity through the application of our technology. This deal is expected to deliver $100 million in annual revenue starting in 2017, initially, at minimal margins, that we expect to rapidly expand by lowering their cost of production and by improving the cost of fermentation for products, where we end up receiving 50% of the improvement. Upon required approval and execution of definitive agreements, Amyris expects to receive a $10 million technology access fee, think of this as another collaboration fee, as well as an equity investment of up to $20 million at $1.40 per share. We will also invest in the partner's industrial fermentation facilities in Asia using Amyris' shares valued at $1.40 a share. We expect to sign a definitive agreement around the beginning of December.
Thirdly, at the beginning of the year, we told you we plan to execute on two to three major collaborations in the biopharmaceutical sector. This is an important emerging opportunity for us, where we are already winning with the leaders for each of our targets and have a real opportunity to transform solutions for patients. We had signed our third large microPharm collaboration, as planned, and have now executed agreements with three of the top companies in the industry. This latest agreement with a commercial license option is with 1 of the top 10 largest global pharmaceutical companies, similar in nature to the technology we'll utilize in our collaboration with J&J biotech. This one will focus on the creation of novel antibiotic targets. Our work with this partner is a major opportunity for us as modern medicine is being threatened by antibiotic resistance. In fact, Tom Frieden, Director for the Centers for Disease Control, recently noted that this resistance could turn back the clock to a pre-antibiotic era, in which previously treatable infections could potentially become fatal. This has put the medical community and global organizations on high alert and making resources available to solve this problem. And we believe our capabilities can be a solution. So within one year, we have executed agreements with three of the top companies in the industry, and we expect to close others in the coming year.
Fourth, standing opportunities for commercial use of our farnesene is a key part of our growth, as evidenced by demand from our nutraceutical partner. In August, we won a three-year multimillion dollar contract from the U.S. Department of Energy to further manufacturing of cellulose-derived farnesene. Success of this project could enable farnesene cost below $1 per liter, delivering breakthrough performance and unlocking additional markets for us, where farnesene can be a high-performance replacement for a variety of products and applications.
Fifth, as you know, on our last call, we detailed a $10 million equity investment by ARG, one of the oldest refining companies in our country, into our Novvi lubricants and oil joint venture to fund growth in the business, lower our cash costs and begin ramping farnesene shipments, which occurred during the third quarter and was our first initiative to monetize assets. Novvi's renewal plant-based oil based on our farnesene has fueled the launch of Castrol's biosynthetic plant-based renewal motor oil this week. We're excited about the prospects for Novvi as this is a significant achievement with the leading brand in automotive lubricants. Farnesene continues to demonstrate its ability to deliver performance without compromise for many applications while enabling our partners to deliver sustainable growth.
Finally, we are happy to announce we signed a term sheet to enter into a joint venture for our Neossance cosmetic ingredient business with one of the world's most respected cosmetic ingredient suppliers and one of our core ingredient partners, Nikko Chemicals of Japan. This JV is valuing our Neossance business at $40 million. And more importantly, we're happy to remain a co-owner as this is one of our product lines growing at over 50% annually. We are very excited to partner with Nikko, whom we believe will provide added hom we believe will provide added distribution and sales support and further drive growth in this business. Amyris will continue to enjoy the benefit of supplying Neossance cosmetic ingredients to over 500 of the world's leading brands.
Amyris in the future
For Amyris the future is now. To satisfy commitments with current collaborators, the company plans on adding dedicated flavors and fragrances manufacturing units to its Brotas industrial fermentation complex in Brazil. CEO John Melo recently stated:
"After several years of application and product development activities in collaboration with our strategic partners, we've now transitioned to the commercialization phase of many applications... We are very fortunate that many of our partnerships are focused on solving supply chain challenges by replacing our current raw material sources with lower-cost, better-performing, sustainably sourced material. This is enabling us to grow our supply of farnesene into these markets at a faster rate than we expected.
We expect to have five or more high performance fragrance molecules scaled as we complete 2016 and this, combined with strong farnesene demand, has enabled us to initiate a project for a dedicated flavors & fragrances operation at Brotas. We are very excited for our Brazilian operation as this will result in our plant becoming one of the largest providers of flavors and fragrances ingredients to the world as we continue to execute and deliver contracted molecules to our partners."
Besides farnesene, Amyris currently produces artimisinic acid for malaria and two fragrance molecules according to the following slide from the company' most recent investor's presentation. The slide also shows that the Amyris' commercial molecule-generation rate is expected to grow exponentially in coming years. The chart might actually be conservative because the goal of the partnership with Gingko Bioworks is to develop 20 new molecules in the next three years:
(click to enlarge)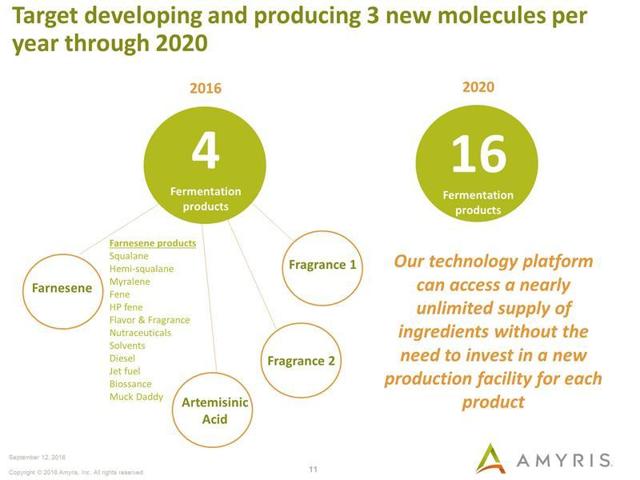 Besides the revenues coming from the newly developed molecules in the future,independent research companies and Amyris expect a significant ramp in farnesene demand in coming years:
(click to enlarge)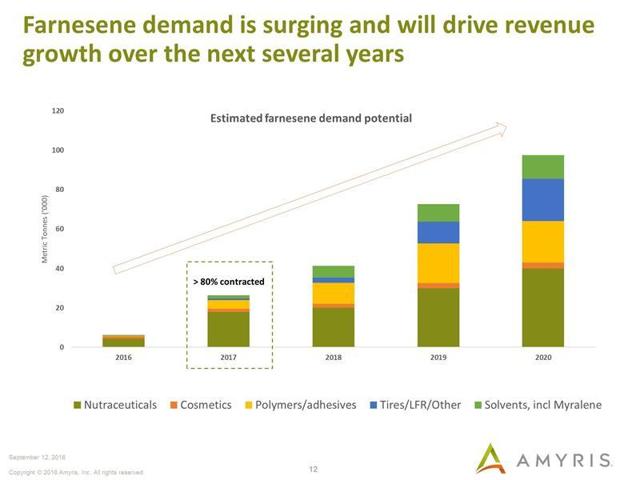 As the slide shows, 2017 revenues could potentially quadruple when compared to the record revenues projected for 2016. If the company is able to maintain its high gross margins nearing 60%, the market cap in future years could be many times the current $120 million cap. As a point of reference, competitor XON's market cap is $3.3 billionwhile having similar quarterly revenues to what analysts expect for AMRS in 4Q 2016. The big difference here is that XON has a strong balance sheet and AMRS currently does not.
Another significant development for the future of Amyris was theSeptember 23, 2015 announcement that the U.S. Defense Advanced Research Projects Agency (DARPA) signed a $34.2 million contract with Amyris with the ultimate goal to produce more than 350 molecules to help the DOD.
Institutional and individual investor support
For a company trading well below the dollar mark Amyris has notable investor support led by TOTAL and Temasek owning 26% and 28% of the company respectively. The following slide shows the company largest supporters:
(click to enlarge)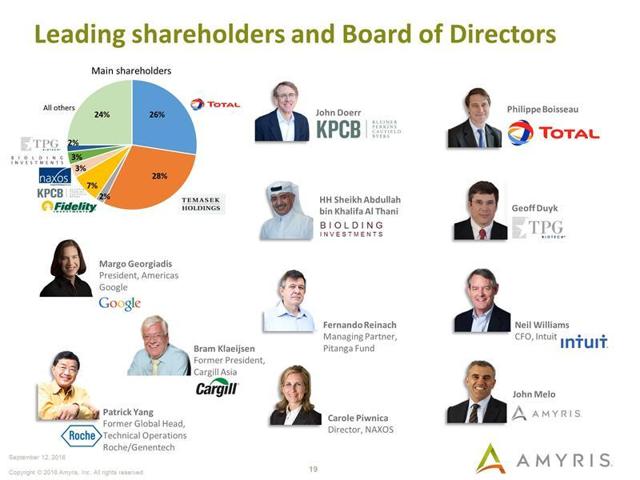 Conclusions
AMRS is one of the most Incredible corporate comeback stories I have seen in a long time. At the current price-per-share of .77, I see a near term upside of 200 to 300% and we could be trading north of $5 by the close of 2017. The new Amyris was leaner, meaner, and more focused and efficient than before - primed to make a big impact in the market by massive potential growth as seen by large recent collaboration agreements and growth forecasts for the company's products.
Industry partners are depending more and more on Amyris because at this moment it's the only company that can deliver raw-material sustainability and growth for their specialized, high-margin products. This is why Amyris is receiving significant upfront collaboration funds to expedite time-t0-market and to expand production facilities.
2016 has been a banner year for the Company in terms of signing collaboration agreements with leaders of various sectors including nutraceuticals, flavors and fragrances, cosmetics, big pharma, etc..
Investors seem to be looking forward to record 4Q 2016 earnings and even a more significant 2017 resulting from collaboration revenues and funding. The company has already expressed that they expect to end 2016 cash-flow positive. This will the first time in Company history to accomplish that key financial milestone.
Investors interested in AMRS are again encouraged to consider the potential risks and uncertainties included in the company's latest 10K filing with the SEC.
Supporting Documents