At WingCapital Investments, our automated tactical portfolio is managed using trading signals generated by our quantitative model. Our signals are based on technical and statistical indicators on U.S. large caps and ETFs, and have a short-term horizon between 10-20 trading days. For more information and try our trade signal service for free, please visit here.
Introduction to our Methodology
We have 2 suites of automated trading signals: Statistical Rarity & Statistical Pattern Recognition.
1) Statistical Rarity
Based on a series of technical indicators such as RSI, MACD, Bollinger Bands, our model detects if there is a statistical rarity in the current combination of values in the indicators relative to historical data points. A simple example - if RSI is 75, and only 2% of the time the RSI is higher than 75 historically, then our model would flag this as a statistical rarity based on a 2% percentile. After determining the percentile for each indicator, the model calculates the aggregate statistical rarity. If significant, the model calculates the forward looking returns and % of the time positive, and determine if there is a buy signal.
As an illustration, we went long Leucadia National Corp (LUK) on 2016/11/03 based on a statistical rarity signal and returned 25% in 1 month.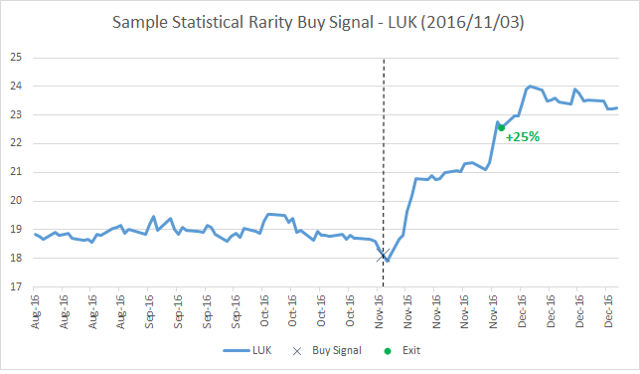 The buy signal was triggered when the model detected a statistical rarity on the combination of Lower Bollinger Band < 0 and Choppy Index > 60, which occurred on 2016/11/03. The model found 4 other occurrences matching the criteria since 2000, and 100% of the time the 20-day forward returns were positive with an average of +7%. Hence, the model gave a buy signal on positive expectancy.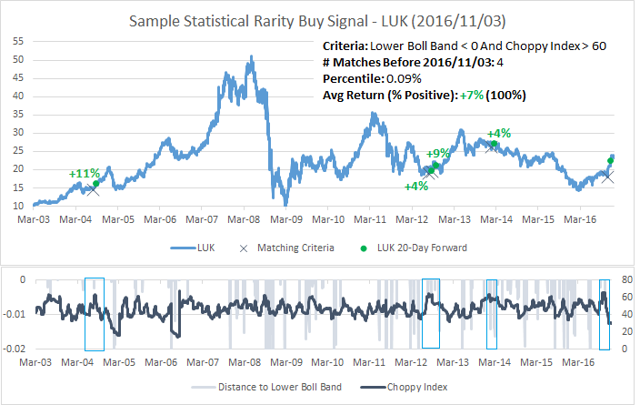 2) Statistical Pattern Recognition
Conceptually similar to our Statistical Rarity signal, the model detects if current price pattern has positive expectancy by matching vs. historical occurrences. The pattern is combination of candlestick (high-low-close-open combo, e.g. doji candle: open=~close ), standard technical oscillators such as RSI, and proprietary trend indicators. For example, we went long The Mosaic Company (MOS) on November 3 based on the statistical pattern recognition method.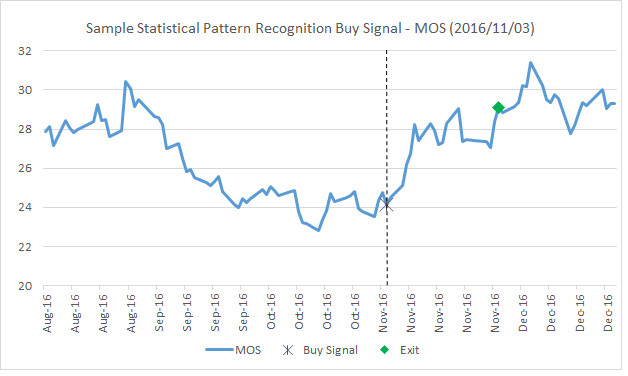 The model found 3 occurrences that matched the pattern on November 3rd, all of which had positive return within 20 days with an average of +19%, which resulted in a buy signal and returned 20% in a month.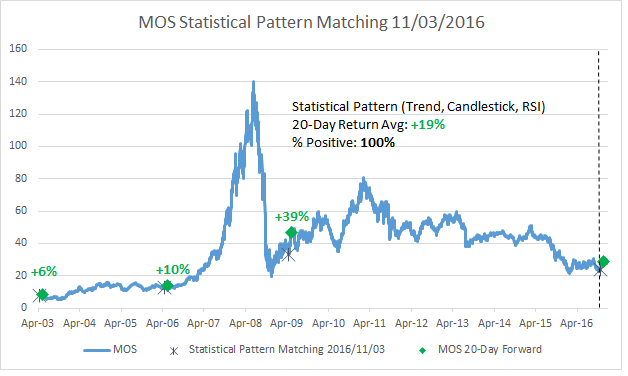 While not all trading signals would work out as expected as in the above examples, historically our signals are over 60% of the time positive with returns skewed to the right. Our objective is to filter out the day-to-day noise and find high-probability opportunities in the market regardless of the market environment with a statistical edge.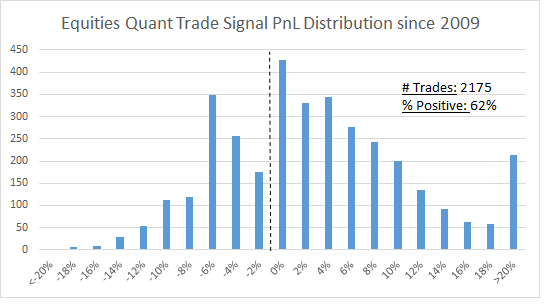 In addition, our signals have stop losses between -5-10%, automatically adjusted based on how far the signals diverge from our statistical projections. In the long-run, our system has a positive expectancy and has outperformed S&P 500 (SPY) every year since 2008 based on backtesting.
Click here for more information and try our trade signals out free for 7 days.
2016 Summary
On the year, our portfolio was up 26% vs. 11% in S&P 500 (total return). In 2017, we will be posting weekly and monthly updates.
Monthly Performance Breakdown
| | | |
| --- | --- | --- |
| PERIOD | PORTFOLIO RETURN | INDEX RETURN |
| 2016 | 26.41% | 11.34% |
| 2016-12 | 0.81% | 1.42% |
| 2016-11 | 4.84% | 3.62% |
| 2016-10 | -3.23% | -1.75% |
| 2016-09 | 2.87% | -0.5% |
| 2016-08 | 1.85% | 0.12% |
| 2016-07 | 6.98% | 3.58% |
| 2016-06 | 0.93% | -0.17% |
| 2016-05 | 1.96% | 1.69% |
| 2016-04 | 3.82% | 0.39% |
| 2016-03 | 10.26% | 6.1% |
| 2016-02 | 2.98% | -0.19% |
| 2016-01 | -7.24% | -5.11% |
Current positions as of 2016/12/30
SYMBOL

NAME

SECTOR

INITIATE DATE

INITIATE PRICE

CURRENT PRICE

TOTAL PNL %

DAILY PNL %

Long

12 Holdings

2.23%

-0.08%

Johnson & Johnson

Health Care

2016-12-06

112.06

115.21

2.81%

-0.24%

UDR Inc

Financials

2016-12-06

33.50

36.48

8.9%

1.84%

Microsoft

Information Technology

2016-12-06

59.95

62.17

3.69%

-1.17%

Garmin Ltd.

Consumer Discretionary

2016-12-14

48.89

48.49

-0.82%

-1.06%

Williams Cos.

Energy

2016-12-15

29.12

31.14

6.94%

0.42%

Corning Inc.

Industrials

2016-12-15

24.24

24.27

0.12%

-0.7%

PPL Corp.

Utilities

2016-12-20

34.50

34.05

-1.3%

-0.61%

Alexion Pharmaceuticals

Health Care

2016-12-20

116.72

122.35

4.82%

-1.04%

Humana Inc.

Health Care

2016-12-22

202.93

204.03

0.54%

0.55%

LKQ Corporation

Consumer Discretionary

2016-12-28

30.88

30.65

-0.74%

-0.74%

General Growth Properties Inc.

Financials

2016-12-28

24.41

24.98

2.34%

1.92%

EOG Resources

Energy

2016-12-28

101.65

101.10

-0.54%

-0.18%
Dec 2016 Exited Trades
SYMBOL

NAME

SECTOR

SIGNAL TYPE

INITIATE DATE

INITIATE PRICE

EXIT DATE

EXIT PRICE

TOTAL PNL %

43 Trades

Avg

3.42%

LUK

Leucadia National Corp.

Financials

Stat Rarity

2016-11-03

18.10

2016-12-01

22.77

25.8%

MOS

The Mosaic Company

Materials

Stat Pattern

2016-11-03

24.15

2016-12-01

29.09

20.46%

Xylem Inc.

Industrials

Stat Rarity

2016-11-03

47.24

2016-12-01

51.81

9.67%

Endo International

Health Care

Stat Rarity

2016-11-07

15.68

2016-12-05

15.87

1.18%

Goodyear Tire & Rubber

Consumer Discretionary

Stat Pattern

2016-11-07

28.08

2016-12-05

30.14

7.34%

Murphy Oil

Energy

Stat Pattern

2016-11-07

26.77

2016-12-05

33.25

24.21%

The Travelers Companies Inc.

Financials

Stat Rarity

2016-11-07

105.36

2016-12-05

115.87

9.98%

Ametek

Industrials

Stat Rarity

2016-11-08

45.41

2016-12-06

49.52

9.05%

Fortune Brands Home & Security

Industrials

Stat Rarity

2016-11-08

54.39

2016-12-06

55.15

1.4%

Pioneer Natural Resources

Energy

Stat Pattern

2016-11-08

175.04

2016-12-06

184.77

5.56%

Delta Air Lines

Industrials

Stat Pattern

2016-11-09

45.25

2016-12-07

51.10

12.93%

OReilly Automotive

Consumer Discretionary

Stat Rarity

2016-11-09

264.15

2016-12-07

285.20

7.97%

Varian Medical Systems

Health Care

Stat Rarity

2016-11-09

88.51

2016-12-07

90.22

1.93%

Dominion Resources

Utilities

Stat Rarity

2016-11-10

71.13

2016-12-08

73.50

3.33%

Illumina Inc

Health Care

Stat Rarity

2016-11-11

137.71

2016-12-01

127.72

-7.25%

American Electric Power

Utilities

Stat Rarity

2016-11-11

59.99

2016-12-09

60.99

1.67%

Amazon.com Inc

Consumer Discretionary

Stat Pattern

2016-11-11

739.01

2016-12-09

768.66

4.01%

EOG

EOG Resources

Energy

Stat Rarity

2016-11-11

91.41

2016-12-09

106.45

16.45%

Schlumberger Ltd.

Energy

Stat Pattern

2016-11-11

78.66

2016-12-09

84.78

7.78%

Masco Corp.

Industrials

Stat Rarity

2016-11-15

31.93

2016-12-01

30.33

-5.01%

CF Industries Holdings Inc

Materials

Stat Pattern

2016-11-15

27.80

2016-12-13

28.40

2.17%

WMB

Williams Cos.

Energy

Stat Pattern

2016-11-16

30.29

2016-12-14

29.22

-3.53%

Starbucks Corp.

Consumer Discretionary

Stat Pattern

2016-11-17

55.85

2016-12-15

57.71

3.33%

Waters Corporation

Health Care

Stat Rarity

2016-11-17

138.85

2016-12-15

137.50

-0.97%

Activision Blizzard

Information Technology

Stat Rarity

2016-11-18

38.39

2016-12-02

35.71

-6.98%

TripAdvisor

Consumer Discretionary

Stat Rarity

2016-11-18

50.79

2016-12-02

46.46

-8.53%

Weyerhaeuser Corp.

Financials

Stat Rarity

2016-11-18

31.13

2016-12-16

30.72

-1.32%

Entergy Corp.

Utilities

Stat Rarity

2016-11-21

68.42

2016-12-19

73.18

6.96%

Juniper Networks

Information Technology

Stat Pattern

2016-11-21

26.36

2016-12-19

28.54

8.27%

Boston Scientific

Health Care

Stat Rarity

2016-11-22

20.84

2016-12-20

21.53

3.31%

Interpublic Group

Consumer Discretionary

Stat Pattern

2016-11-22

24.31

2016-12-20

23.71

-2.47%

Thermo Fisher Scientific

Health Care

Stat Rarity

2016-11-22

143.00

2016-12-20

141.80

-0.84%

Ventas Inc

Financials

Stat Rarity

2016-11-22

60.56

2016-12-20

61.93

2.26%

Medtronic plc

Health Care

Stat Rarity

2016-11-25

75.52

2016-12-21

71.58

-5.22%

ConocoPhillips

Energy

Stat Pattern

2016-11-25

45.75

2016-12-22

51.54

12.66%

JNJ

Johnson & Johnson

Health Care

Stat Pattern

2016-11-25

114.13

2016-12-22

115.44

1.15%

Monsanto Co.

Materials

Stat Pattern

2016-11-29

102.39

2016-12-27

105.69

3.22%

LyondellBasell

Materials

Stat Pattern

2016-12-01

91.18

2016-12-28

86.38

-5.26%

Royal Caribbean Cruises Ltd

Consumer Discretionary

Stat Pattern

2016-12-01

79.30

2016-12-29

82.96

4.62%

State Street Corp.

Financials

Stat Pattern

2016-12-01

80.39

2016-12-29

77.66

-3.4%

Chesapeake Energy

Energy

Stat Pattern

2016-12-02

7.23

2016-12-30

7.02

-2.9%

Valeant Pharmaceuticals International, Inc.

Health Care

Stat Rarity

2016-12-09

15.46

2016-12-15

13.60

-12.03%

Vertex Pharmaceuticals Inc

Health Care

Stat Pattern

2016-12-14

78.33

2016-12-30

73.67

-5.95%