The tape has shown positive since touching Christmas-Eve's bottom. Since the low of 2,350, the S&P 500 has gained back some 320 points or nearly 14%. At the current price-index level of 2,671, the S&P 500 has pulled-back in the ranges of three-prior troughs between late October and early December. Now, the next test levels for the S&P 500 to clear is around the 2,800 mark, which slightly above the 200-day moving-average and where two earlier peaks reside.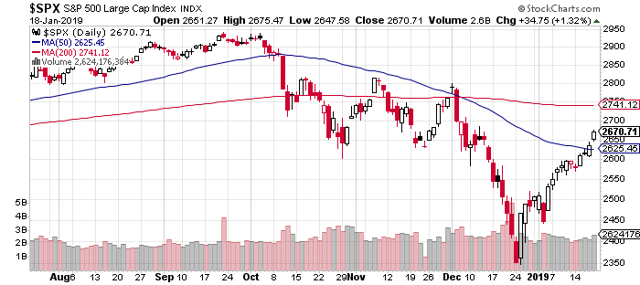 What's more, earnings season has begun. Beginning the kick-off are some of the nation's largest financial centers. A selected-sample of 21 financial institutions that have already reported full-year numbers revealed that respective revenues and pre-taxed operational earnings grew at rates of around 5.3% and 11.3% (market-cap weighted averages). The street favorably regarded the figures reported BAC and GS. BAC's stock price popped over 12% last week on reported top-line growth of 6% and bottom line expansion of 18% (pre-tax). GS's stock jumped over 14% on both top and bottom line growth of about 12%. The street also found something to like about C. C's stock leaped over 11% even though revenue and operational earnings slightly slipped from the previous year.
Industrials were another noteworthy group. In a selected-sample of 6 reporting, revenues rose 9% and pre-tax operational earnings grew 13% (year-over-year and market-cap averages). The sample is mostly made up of transportation stocks such as rails, trucking, and airlines. In airlines, DAL and UAL posted revenue gains of about 8.5%. However, both of their bottom lines (pre-tax) slipped below last year's levels. Last week's stock price action on DAL was uneventful, but the street found love for UAL and pushed its stock up almost 7%. Rail revenues reported by CSX and KSU grew in the single digits. Bottom line growth was strong for CSX, but the street saw more optimism in KSU's stock price. KSU raised the bottom-line (pre-tax) by 6% and the stock gained nearly 8% last-week. Last, is trucking. JBHT experienced a whopping revenue growth number of 20%. Its pre-tax earnings gained 8% and the stock bounced nearly 9% last week.

Big name Financials are the first report, and their showings gave little reasons for the street to remain pessimistic. In fact, Financials lead the S&P 500 last week as represented by SPDR index funds. Following in second place were industrials. Possibly the street is getting ready to gear up for more Industrial growth based on some figures that have already led out of transportations?