All broad indexes finished last week higher with the transportation average taking first place.
One-Week Performance Window
January was reportedly the best month on record in years for the broad indexes.
One-Month Performance Window

Still, hopes are on the index averages ability to pull-back through their 200-day moving averages and eventually sustain price levels above the peaks recorded in November and early December. Should the indexes perform accordingly, any speculation that this is merely a bull market rally in a bear market could be called into question. And, it will be off to the races to see if the highs set around the transition into the fourth-quarter can be reached.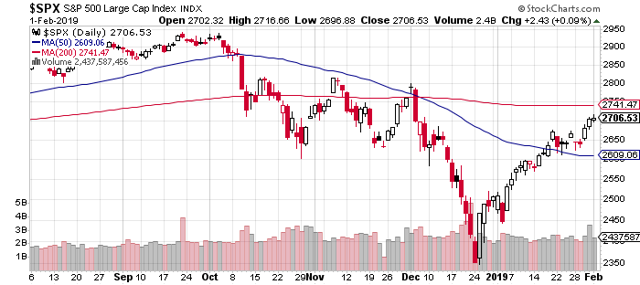 It was a busy week on Wall Street for financial reporting. In the last week, the street got a look into revenues and earnings on some of the bigger names. AAPL's stock price received a 5.6% lift on revenue figures that were better than expected. BA reported a desirable bottom line figure and the shares popped 6.4%. MSFT reported top-line growth of 15% and pre-tax earnings grew around 20%; although, the street was unimpressed and share price lost about 4%. AMZN fell 2.7% on revenue growth that was below expectations even though revenues still grew near 31%. FB's numbers came in strong with respective top line and pre-tax bottom line growth of 37% and 23%. The bottom line expanded less than the top line on higher R&D and marketing expenses, which would be better counted as an investment in the future. FB's stock knocked out a 11.2% gain last week. CHTR's stock rose 17% on highly accretive pre-tax earnings growth. Another winner was XRX's 16% gain even though it reported that its sales declined. Possibly, things weren't as bad as expected for XRX. Finally, two energy bellwethers, XOM and CVX, reported strong results, which lifted the two stocks and the energy sector all together.
There weren't many material losers last week. MSFT was already mentioned. AMGN dropped almost 6% on pre-tax earnings that fell below the previous year's. Then, JNPR lost 9% on declining top and bottom line growth.
About two-thirds, measured by market-cap; or, a little more than 210 of the companies in the S&P 500 are now reported. Excluding companies with negative earnings, either this year or last, and, companies with extreme outlying financial results, respective revenue and pre-tax earnings growth are 7.3% and 8.5% in the S&P 500. On the whole, pre-tax profit growth is still ahead of revenues, which possibly has been the reason why stocks have bounced back to today's levels (i.e. no earnings recession).
Since earnings season began and according to the performance of State Street's SPDR ETFs, REIT, Financial, and Industrial stocks have led in the broad market index. REITs and Financials have shown solid profit-margin expansions in the re-sampled table (below). Communication Services provided a good showing on recent advancements from FB. Even though pre-tax profits show growth below revenues in Communications, the results are biased, because some of the biggest companies in the group invest heavily in R&D and marketing that accountants' expense. The Technology sector has been able to advance on notable names like AAPL and IBM. The energy results in the below re-sampled table are biased and are actually better than what's shown in the table, because some energy companies were removed on extreme outlying financial results.

Fourth-quarter and year-end results haven't disappointed. For savvy players, there are probably better ways to compound returns by selecting individual names versus investing in broad indexes through ETFs. However, that chance for improved returns probably comes at higher costs of risk. Of course, the markets are already focused on what will come of next year's earnings in assessing today's prices. So, unfortunately, this exercise doesn't provide a complete picture for stocks today.