Summary:
US oil inventories are rising. A continuation of inventory builds could put pressure on future prices.
Today, WTI prices trade above a key equilibrium price (see more below and this is good news for energy linked asset classes).
Today, chart patterns don't indicate that a top is here, but a close watch of upcoming inventories are necessary to detect a nearer-term top for WTI prices.
Analysis
US oil inventories have risen since mid-March. Inventories have gained ~4M bbl/week since the last dip. Although imperfect, and on the average, WTI price trends are modestly flat this year. Meanwhile, inventories are zigging and zagging.
If inventories are a good short-term proxy for prices, some lessons may apply.
A sudden fall in inventories from May 2018 to July 2018 provided prices with a quick bump.
The quick rise in inventories from September 2018 to December 2018 sunk prices, and was synonymous with the year-end sell-off of most asset-classes.
In December 2018, inventories quickly fell, and then, prices subsequently rose with inventories.
Charting
Since WTI's fall in 2014 from ~$110, the equilibrium price has ranged between ~$45 to ~$55. Call these the key support and resistant levels. However, the key resistance level was well broken and sustained in much of 2018.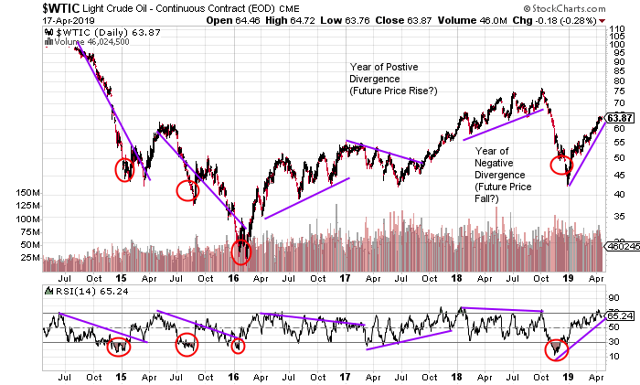 Still, oversold and divergence indicators may have something to say about future short-term price-trend reversals.
An oversold RSI seemed like a reasonable indicator of a price-trough (see circles on chart).
On divergence (compare purple lines on chart):

Before the sell-off in late 2018, oil prices were rising while the price oscillator was modestly declining;
Before prices began to rise in late 2017, the price oscillator was exhibiting a bullish trend;
In 2016, the price oscillator was leaning more bearish while prices were rising. Prices soon fell in most of 2017.
Conclusion
Oil prices are probably not exhibiting an immediate risk today. However, if inventories were to build to ~6M bbl/week, risk of downward pricing pressures in oil and energy linked assets could come into the picture. Then, in a downward price pattern, it would be best to wait for weakness on a price oscillator (e.g. RSI) before entering back into any trade.