MUSING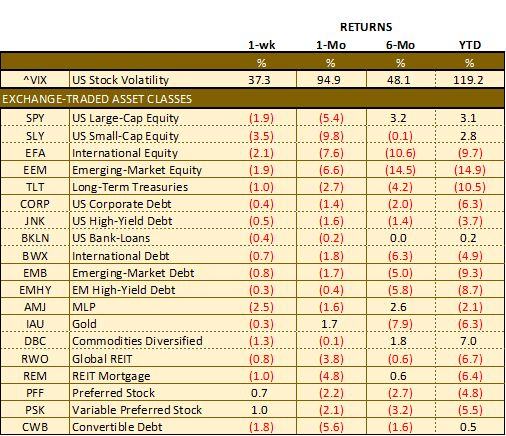 Capital-market have sustained trailing-weekly losses. US stock uncertainty is still elevated. US large and small cap stocks have respective trailing-week losses of nearly 5.5% and 10%. A US small-cap pull-back up towards the 200-day moving-average has yet to be seen. Its 50-day moving-average has concaved. US large-caps, on-the-other-hand, remain supported by their 200-day moving average.
The other depressed equity markets are of course international and emerging stocks. The bear market is clearly present in these markets defined by trends reaching lower-highs and lower-lows. International-equity recently took-out the bottom of its channel. Some consolidation at the bottom of emerging-market's channel seems present.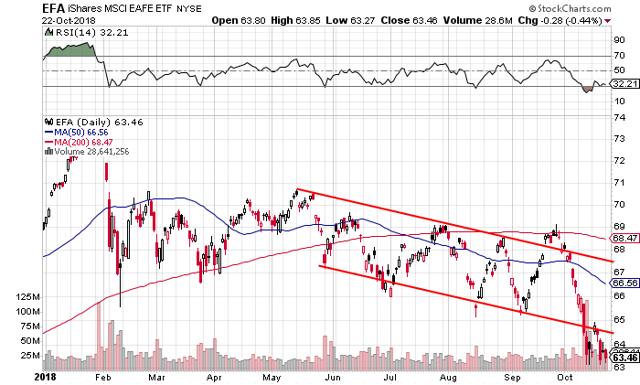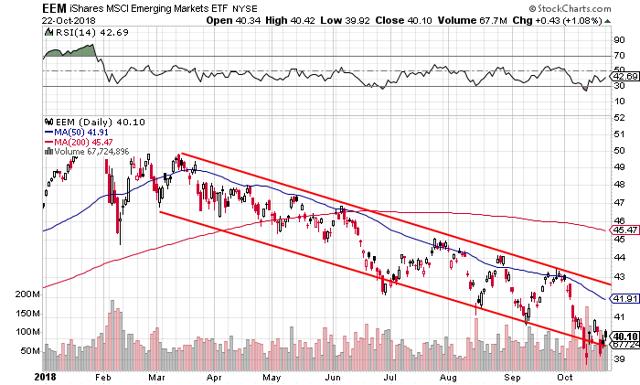 Until technicals receive enough time to play-out, it feels as though US large-cap equity is the only viable option for equity investors. Although, if emerging-equity is indeed consolidating, its current level may offer an attractive and early price-entry point; but it's probably too soon to tell.
Similarly, the same narrative is present in international-debt. As of lately, international-debt has made its 50-day moving-average into a downward slope. A five-year window makes for a somewhat interesting apparent and approximate seasonal pattern. There are some noticeable valleys at the beginning of new-years and peaks around the mid-year points. It would be curious if today's levels are another bottom as the new-year lies shortly ahead.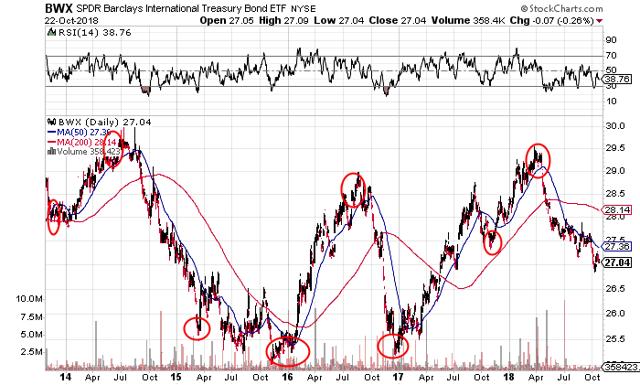 Additionally, emerging-market debt is showing consolidation into the apex of a descending-triangle. A subsequent breakout in either direction will undoubtedly provide an interesting narrative and, may even act as a tale-tell sign (good or bad) for emerging-equity.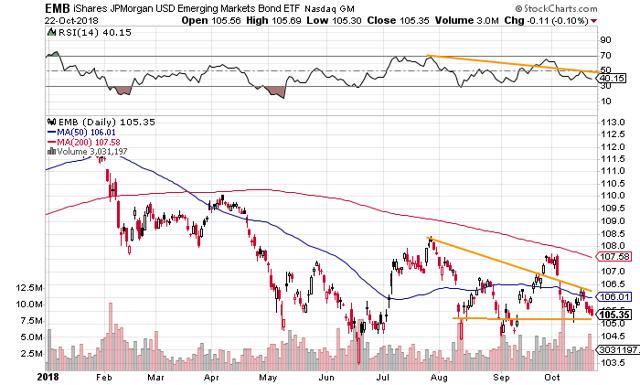 On a return-basis, capital-market securities have certainly come under pressure. Specifically, the US stock-market has shown considerable market-weakness in the last couple of weekly sessions. Last-week, the NYSE rose about 18 points while the NASDAQ lost about 50 points. Issues making new-lows on the NYSE outnumbered issues making new-highs by about 14-to-1. The same was true for the NASDAQ.
Clocking back to late July of this year. The NYSE had a similar weekly gain of about 20 points and the NASDAQ put-up losses of about 6 points. Characteristically different was the number of issues making new-highs, on both markets, outpaced the number of issues making new-lows by about 2-to-1.
Possibly, there is little-significance between the two-weekly comparisons. The point is, market-strength is lacking in the US stock-market. Before calmness can prevail, market-strength will have to make a turn-around.
GROWTH VS. VALUE

In the weekly window, value has outperformed as market-averages have been falling. For longer-term windows, growth is still ahead from a time when market-averages were in a rising-trend. Even in a year characterized as a correction for international-equity, international-growth has sustained better than international-value. Currently, the better trade in the US seems to be value. However, the international-trade may do better in growth.
SECTORS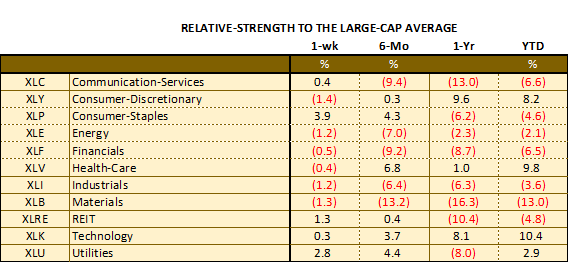 Communication-services have shown some life in the trailing-week. However, six-month momentum is all about defensive sectors right now, which are staples, health-care, and utilities.
INDUSTRY SPOTLIGHTS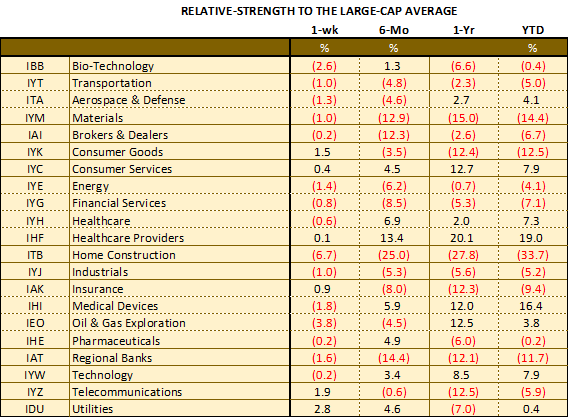 Despite the consumer discretionary sector coming under recent pressure, consumer goods have put-up some weekly gains and consumer services remain on positive ground. Utilities and healthcare are the defensive themes here. Oil and gas exploration is under pressure.
Disclosure: I/we have no positions in any stocks mentioned, and no plans to initiate any positions within the next 72 hours.