Over the past few years, artificial intelligence, or AI, a concept which mainly came from science fictions, has morphed into an indispensable part of 21st century life. It opens up new markets and new opportunities in a spectrum of areas such as health, education, energy and the environment. Even the White House is preparing for the future of AI, as manifested in one of its reports released in October. Here in China, what we've seen so far is just the beginning, and Baidu is poised to lead us to the end.
As Goldman Sachs noted in a recent report to clients, AI, Machine Learning and Data Fuel the Future of Productivity, Baidu, among a number of world-renowned Internet giants such as Google, Microsoft, IBM and Intel, bears boundless potentials and is listed as drivers for the future trajectory of AI.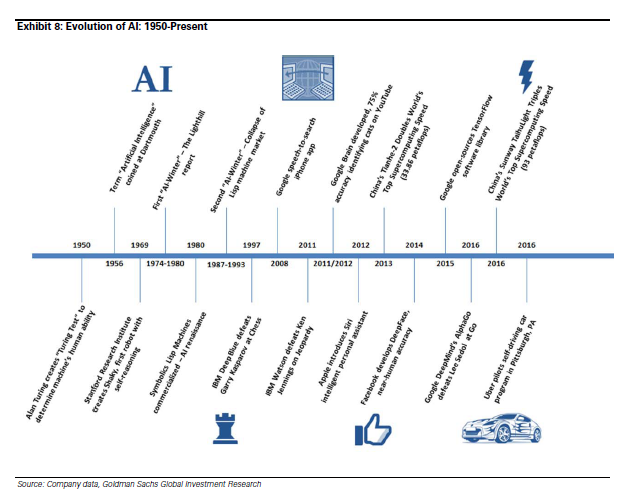 One conclusion can be drawn from the report perhaps is that the biggest buzz in Baidu's AI development is not all about setting up business models for the Chinese market. Moreover, it is about the head-on competition with the US and other tech powerhouses in this hottest area of technological innovation. The US is not the center of the world in AI anymore. With Baidu's performance as the driving force, China is set to advance shoulder to shoulder with, or even bypass, the US in this regard.
Baidu has been investing time and money into AI, an area it considers central to its business growth. Robin Li, CEO of Baidu, has proposed the development of a national-level AI program and believes AI is the next growth driver for his company.
The Goldman Sachs report has listed Baidu's achievements over the past year. For instance, in September 2015, it launched a new digital assistant, Duer, that will be integrated into its mobile search app and use AI to tailor suggestions to a user's tastes. Based on AI, it is set to rival with products of American tech companies such as Siri, Google Now and Microsoft's Cortana. Its deep learning AI system Baidu Brain was selected by this year's World Internet Conference as one of 15 emerging technologies to watch.
Why what Baidu is doing matters? The Goldman Sachs report analyzed that "artificial intelligence is improving user experience and user stickiness across Baidu's product lines and is driving the customization of high-quality content for each user." It believed that Baidu, together with some other Chinese tech enterprises, is leading the China AI market, while "hundreds of start-ups are also penetrating the industry and establishing services models in various AI segments and application areas."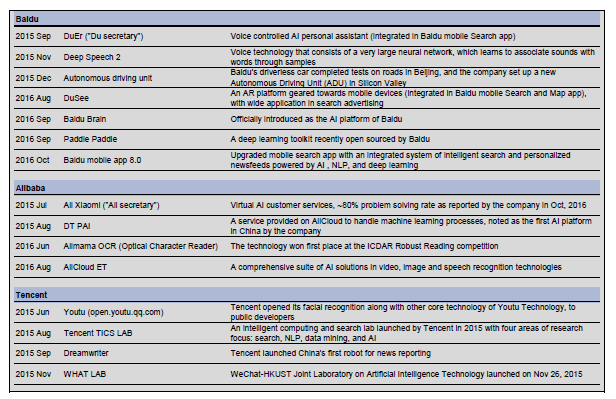 Baidu's moves are winning international accolades. Besides the recent Goldman Sachs report, a New York Times article on December 14 revealed that Baidu, along with Google, Facebook, Apple, Amazon, Microsoft, has touched off an arms race for AI talent. MIT Technology Review once listed Baidu as No. 2 on its list of the 50 smartest companies in 2016, after Amazon.com. The Washington Post noted that China has effectively eclipsed the US in terms of the number of papers published annually on deep learning.
"China is poised to be a leader in AI because of its great reserve in AI talent, excellent engineering education and massive market for AI adoption," the Wall Street Journal quoted Kai-Fu Lee, a former Microsoft and Google executive and now chief executive of Sinovation Ventures.
As AI advances, what comes around is the combination of intelligence of humans and machines. The two-in-one technology will greatly boost China's innovation capabilities in a whole. China is confident in competing with the US. In a broader sense, being a leader in AI research and development will put China in a better position to become the rule-maker of how to utilize AI and benefit the mankind.