EUR / USD was highly volatile yesterday as a result of the ECB interest rate decision. The first outlier to the South once again turned out to be a trap. Subsequently, the currency pair shot up to a significant downward trend since January. From there, consolidated EUR / USD in past trading hours.
EUR/USD Chart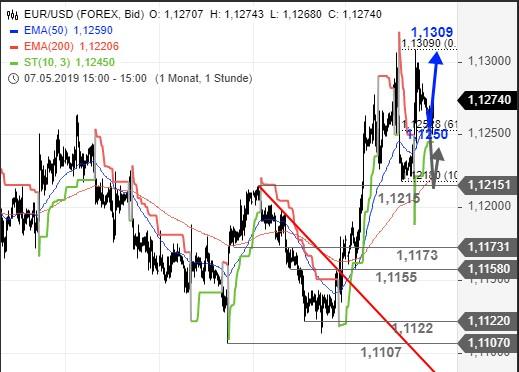 With the large labor market report on Friday at 14:30 clock ends a week with many appointments. Disappointing the newly created jobs, expected to be 180,000, could further burden the US dollar. Starting from 1.1250 USD, there is once again a chance to launch an attack on the high at USD1,1309, the technical downtrend on daily chart.
On the other hand, if EUR / USD can not hold 1.1250 USD in today's trading, a second test of the breakout level would be expected at 1.1215 USD. This threatens a short-term top education, and buyers would have missed their chance once.
GBP / USD:
GBP / USD is trading higher at 1.2728 at the week end. The UK Halifax House Price Index surged 0.5% m / m in May. By contrast, analysts expected a 0.2 percent decline by consensus, after a rise of 1.1 percent in April. British consumers Inflation expectations fell from 3.2 percent to 3.1 percent. At 12:20 CEST, GBP / USD is trading at 1.2712.
AUD / USD - risky long-shot
The currency pair has been able to recover.
The chances of further recovery in the direction of $ 0.710 is currently good. But to reach this target zone, these currency pair should no longer fall below 0.6937 USD. The ideal would be a reverse plug at 0.6950 USD.
On the other hand, if the currency pair falls below the $ 0.690 mark, a slide to $ 0.680 is likely.
Disclosure: I/we have no positions in any stocks mentioned, and no plans to initiate any positions within the next 72 hours.