1. Yes, OTCPK:LFIN is a complete scam. The blockchain link to this stock, is nothing more than a refurbed P2P Ethereum token, web-hosted, comically insecure wallet with a dash of incoherent story-telling and make-believe.
2. You can have a short position on it and still lose plenty of money if you get a margin call, due to the low float, and momentum traders tweaking on crypto-meth with an IV injection chaser of a bull-market too long in tooth.
3. Since this is a stock worth eventually $0.00, it's so obvious, that with the low float, part of the price manipulation action this week was likely in part naked calls that were written getting assigned and thereby forcing a short or a purchase of 100 shares per written call contact.
4. I'm not going to analyze the trading at any deeper level in this post, just bear in mind that the trading situation is for the moment more complex than it looks, while the long term torque and eventual demise of OTCPK:LFIN is clear: this is not a company, it is a trading toy. Well maybe a game- of chicken. The company doesn't and can't do anything more than try to trick and manipulate with its "business partners."  That is its mission statement, though it could never declare it, and sometimes it may be accomplishing it by making bears underestimate the street smarts behind the little-book and little-tech smarts.
When the Simple is Difficult:  Corporate Equivalent of What Day of the Week is It?
On the SEC's Edgar system, it states that the OTCPK:LFIN financial year ends 3/31. Longfin's Singapore subsidiary ended its last financial year on 3/31. And yet there is a new FAQ on Longfin Corp Website today – FY ends, oh how about 12/31?
I'm starting to turn towards a theory that this is all measured incompetence to have everyone chase their tail to buy time, while also ambushing overconfident short sellers, as the investigation of the OTCPK:LFIN scam drags on. But maybe not - it is a different system to scam than the one Meenavalli is used to.  Yes, there's already plenty of smoke, but that doesn't mean the fire department is going to come in a time table to save your house.  "There is justice in the world" is alas a fallacy.
That's what getting simple things wrong does by forcing your mind into simple narratives.  It sparks confusion across all the places stock information is normally syndicated and causes time spent analyzing what with most publicly trading US companies can be taken as fact without a wild goose chase and reading tea leaves.  Did 25 million shares hit tonight for LFIN?  Can I look to Edgar and see the information I'm expecting and feel I really know the facts? For LFIN...and good luck with that!
But on the other hand, it took many tries for LFIN to IPO. Could they have gotten here by dumb luck? They had wanted an IPO sooner than December,  but it was IPO amateur hour just like it is SOX amateur hour since then. So I don't know which is the more consistent explanation, perhaps a bit of both, along with the "exceptional" times we've been experiencing as a catalyst.
I'd caution about surety that since there is fraud, OTCPK:LFIN can fall on a reasonable time table.  This may be naivete, since multiply parties outside of Longfin's C-suite are exploiting the market dynamics and will continue to do so until they can't.
They have experience living the borderlands of what can be gotten away with in the US as a public company. They know how to not be the loudest in the room, so that others become the ones carted out and made examples of. 
The $142 high was probably part-accident/over-pump, on not getting enough interest in "Shadow Banking" baked with a side of gibberish before adding "blockchain" bull crud to avoid becoming a headline.
Why else go on TV as Meenavalli did later and sink your own stock- allow a charlatan must be nothing- but optimistic in surface orientation.  He apparently didn't have to worry about a RIOT-style mass media expose, after he defused the bubble a tiny bit on national television, and made it clear that it won't be an enjoyable interview for the cameras and ratings beyond a certain point.  But it still stuck out among the trading crowd as an aberration, reducing the time on the ticking clock for the pump and its encore, and probably changed the time table on unwelcome attention from regulators coming sooner.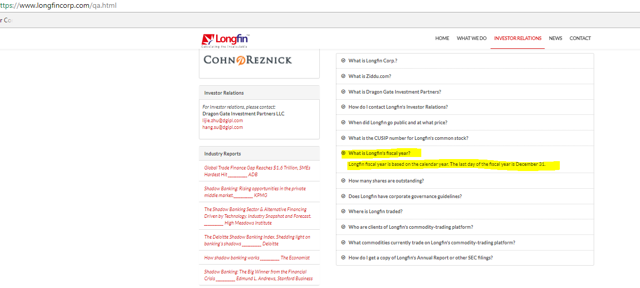 "SERVICES-COMPUTER PROCESSING & DATA PREPARATION" – how does that fit what they claim their business is again? I'm confused. So is everyone else. That's the point...
That's Some Impressive Reverse Psychology: I do Admit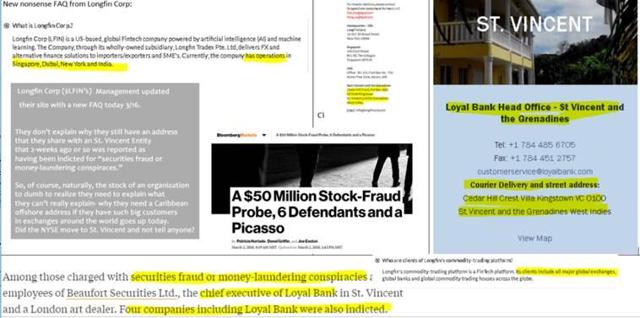 So set aside this nonsense talk, in the FAQ they also mention 4 locations, that don't even fully match up to their contact page – no India location, i.e. real HQ, though presumably comingling office space with Stampede Capital Ltd. in India – since the real org is not the fronts, PO Boxes and temporary work mail boxes. (Oh not to speak of the Florida location mentioned in the umpteen revisions of the IPO circular, which evaporated without a word why or what it was: maybe the home office of the COO who decided to quit before IPO? Dragon Gate )
The contact page still lists the PO Box address of Loyal Agency and Loyal Bank of St. Vincent/Grenadines, indicted recently in an international pump and dump securities scheme, as reported by Bloomberg earlier this month (A $50 Million Stock-Fraud Probe, 6 Defendants and a Picasso ).
Do most US public corporations now keep SVG PO Boxes at other organizations that have been indicted in suspected criminal international conspiracies?  Especially, when there's no reasonable explanation likely for why their business as described in public disclosures would need such a location? 
And keep that link up for the 2 weeks since after the news broke? And then ignore mentioning that location in a new Investor's FAQ that they even listed a St. Vincent address that same investor could then see on the contact page?  Seems legit. Trade on.
New fun fad of 2018? 1) Don't know your FY info is incorrect. 2) Kept address  association/overlap (if different PO for Loyal Agency) with Banks under criminal indictment? Jedi-mind trick. 3) Stock price stays the same, even rises, the more damning evidence is released and common knowledge of active traders, and bitcoin, the original spark fueling the pump, is having a bad week. 
Undisclosed Related Entities?
A new foreign subsidiary was established in India, under the unclear ownership of a foreign subsidiary: "Longhash Commmodity [sic] Trading Pvt. Ltd." on 1/10/2018.  It shares the same address as Stampede Capital Ltd., ~36% owner of Longfin Corp. USA
2. Mrs. Usha Rani Meenavalli (wife of Longfin CEO) becomes a director of the same on 2/9/2018. 
3. This week after revelation of this company and its new misspelled name publicly, the same company is renamed: "LONG COM INDIA PRIVATE LIMITED"
4. On February 28th, 2018 Longfin HK Limited files papers of Incorporation. 
The Corporate secretary/shell company address same as Meenavalli's Meridian Tech HK Ltd.(photo on right) & associated Avilash Dehliwala's wholly-owned (on paper) Galaxy EXIM Ltd. FKA Galaxy Media Ltd.
Galaxy Media Ltd. received something-like 200K shares of Longfin Corp. in the Ziddu acquisition on Dec. 15th, 2017, and shortly renamed itself replacing Media with EXIM. Both Meridian Tech & Galaxy Media have Global Ad Network jokes of non-to-quasi functional websites that give that mention to frequent wire money transfers (e.g. tagjunction.com Meridian Enterprises FKA Meridian Tech PTe Ltd SG and galaxymediahk.com respectively. )
The Shareholder is not listed as "Longfin Corp" nor any person known to be a director nor officer of Longfin Corp., but rather "Venkata Surya Prakash Rao DASIGI."
He is CEO of Proseed India FKA Green Fire Agri Commodities FKA NorthGate Technologies FKA so-many things (prior related India-based backstory that by the naive non-security professionals might so how be mistaken by the ignorant knaves as pump & dumps, complex acquisitions and reverse mergers, name changes and spin offs, and seeming-but-surely real fake "global ad networks" associated at least one point with Meenavalli that continue on). Meenavalli is still listed as a director of some of its Singapore affiliates with "interesting" financial statements (further)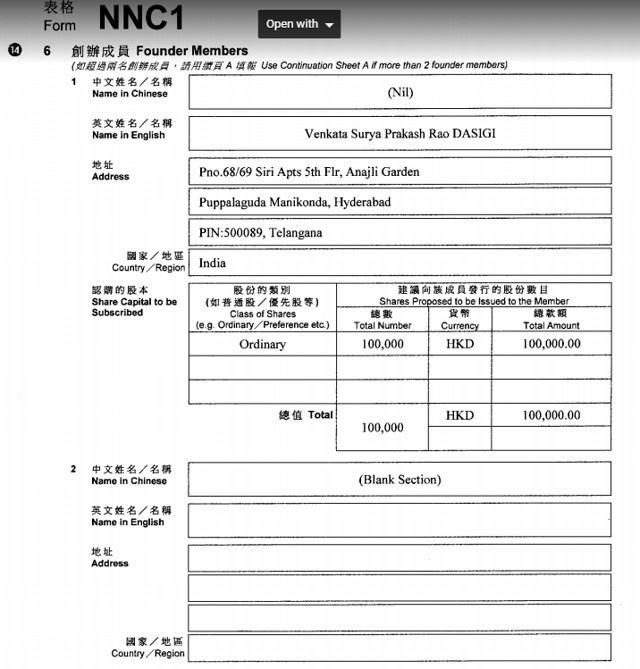 5. On March 9th, Longfin Corp Ltd. is incorporated in UK, with no sign of Longfin Corp. USA as Shareholder – instead starting with Ajit Mishra. However, there is only 1 share issued, therefore this may be more a local custom or approach to the company formation process, and so seems less likely to be out of the ordinary. Incongruously, with its already incongruous and patently false statements in the past about being a designated Market Maker with Longfin Tradex Pvt. Ltd. (no Stampede or Longfin found as DMM on SGX nor HKE records) – the company is said to engage in consulting. "Nature of business (NASDAQ:SIC) 70229 - Management consultancy activities other than financial management." Right.
6. This is less suspicious than the HK incorporation, since the person doing the incorporation is a solicitor.  Other shell companies Mr. Meenavalli has in the UK start with 1 share and then assign shareholders later in later statements to my recollection.
A. However, Ajit Mishra incorporated a company on the same day YARMOUTH HOSPITALITY PVT LTD YARMOUTH HOSPITALITY PVT LTD - Overview (free company information from Companies House) with a SIC of 68320 - Management of real estate on a fee or contract basis.
B. Meenavalli has had other past companies in the UK which deal with RE (according to the company incorporation statements, specifically Smart Ahead Solutions FKA Techno Energy Holdings PLC did at one time) under the 2 aliases he used in the UK in company registrations:
Venkat MEENAVALLI - Personal Appointments (free information from Companies House)
Venkata Srinivas MEENAVALLI - Personal Appointments (free information from Companies House)
C. Smart Ahead Solutions currently runs a "commodities" website that is one of many in Meenavalli's associated "web" business empire, e.g. little web traffic according to Alexa.com, incongruities, others with technical problems: :: Smart Ahead Solutions - Global Commodity Trading House :: (although ownership may have shifted to Avilash Dehliwala a British national from the initial Techno Energy Holdings PLC incorporation, if memory services) 
D. LONGFIN CORP LIMITED - Filing history (free information from Companies House)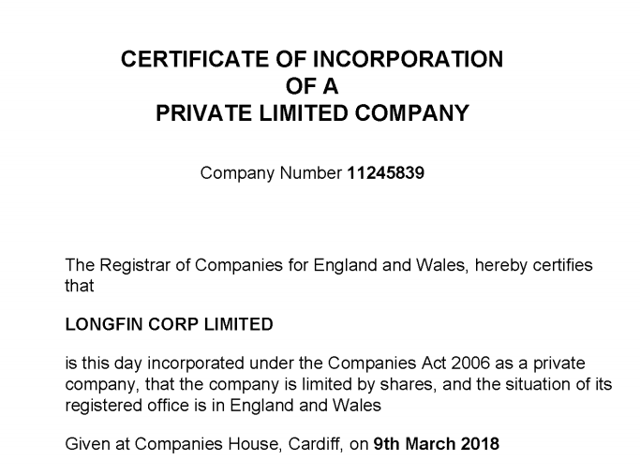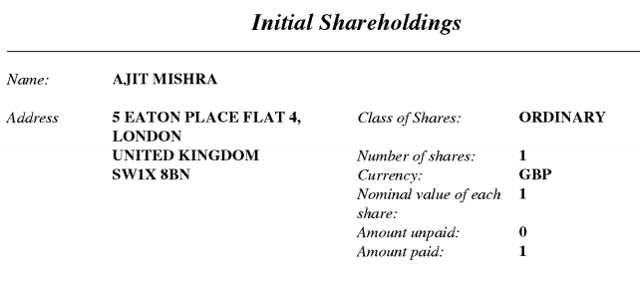 7. Mr. Meenavalli did not disclose AFAIK to Longfin Corp investors, that 7/28/2015, on or around after he had resigned from Stampede Capital Ltd but continued to work with subsidiaries, and tried to incorporate in New Zealand a subsidiary of now Longfin Tradex Pve. Ltd. FKA Stampede Trade Pve. Ltd. FKA Stampede Financials Pve. Ltd.  The attempt to create a NZ company appears to have ended unsuccessfully. Why would someone experiencing or on the verge of such great revenue growth need to go to the ends of the Middle earth for YAC – yet another company? 
This is not a logical destination with so many bigger markets in APAC, this would be yet more curious activity with negative connotations to those deluded fools who question double light speed quantum trading as viable (whereas Stampede Capital and Meenavalli have already achieved this and broken the back of Einsteinian physics).
I imagine prospective investors in the Longfin Corp. IPO, would have liked had the Middle earth connection been disclosed and to know the reason the application or subsidiary failed.  But until the AI takes over from us primates, the world is an imperfect information galore. 
Oh that's right, the reverse merger! Meenavalli used Reg A as a Trojan horse to get Stampede Tradex Pvt. Ltd. through the eye of a needle it could not fit!  Except he was like: "Guys, here's my horse, but I will go back and get a bigger one later with a cloudy money trail behind explosive revenue growth.  Just hold your horses and stamp this form...."  If the Reg A loop hole wasn't exploited by started the Reg A process with Longfin Corp the nothing and then reverse-merging the Singapore company Stampede Tradex Pve. Ltd., this monstrosity would would never see the  light of NASDAQ market day otherwise.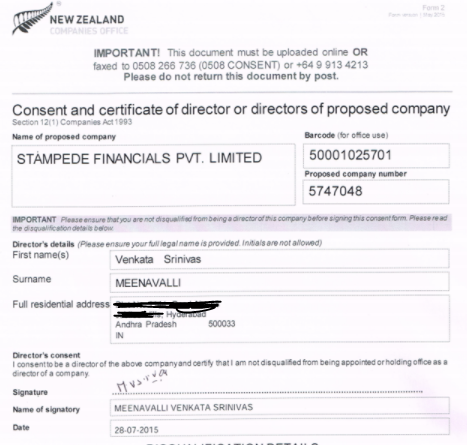 8. Mr. Meenavalli is connected as Director listed for the Singapore shell companies for India's Northgate Tech (in the last filed documents, both shell companies are out of compliance with Singapore financial filings- last information from 3/31/2016, about 5 months after Stampede Capital launched the effort to create a US listing in November 2015 when Mr. Meenavalli returned a brief 4-5 months after having resigned and passed the reigns to his wife as Chairperson), that show disagreements with auditors "Qualified", etc. and odd patterns of massive, accumulated losses ( -100 million USD, and a transfer of nearly 2 million in assets before it went dark for financial reporting 3/31/2016, whereas Meenavalli's Meridian Enterprises Pve. Ltd. FKA Meridian Tech Pve. Ltd. last reported financials on 12/31/15, 2 months after the SG subsidiary listing on US exchanges effort began, and after massive losses and asset transfers, that coincide "conveniently" with magnificent out performance of returns and revenue growth in Longfin Tradex Pve. Ltd., Longfin corp's SG subsidiary.).
This is one of many complex and hard to completely follow interlocks and linkages back to the gentleman who has now established a wholly-owned company called "Longfin HK Ltd." Dasagi. I am sure, forbid the thought of Longfin Corp ever wiring money to any such companies under the table say already or in the next few months to make it harder to seize IPO or dilution agreement monies, as that would be embezzlement and misappropriation of funds and not something an upstanding, multi-billion "NASDAQ-listed public company" run out of a "We Work Office", with a St. Vincent/Grenadines PO Box at a bank now indicted for international securities fraud and money laundering charges, that loves related party transactions like they're going out of style, would never consider as a Plan A or B, as the net encircles it. Again this hypothesis is only in that Alternate dimension and not the one we occupy where a madman, hoodlum "businessman" who would be King pretends to play 30-dimensional chutes and ladders with the world economy and political alliances. 
So, I'm sure Dasagi, an upstanding fine citizen, never thought about just helping a friend out back when this charade started and his small Reg A struggle business with millions of impressive revenues from who knows where to impress the gullible? Again, only alternate dimension could this theory happen.  I'm sure LFIN CEO Meenavali as a paper billionaire couldn't really afford the private jet ride out to HK to sign a few papers, or you know avoid coming within a thousand miles of situations that might even accidentally result in commingling of funds b/c the ownership isn't started like real business people would do, with the whole lawyers and stuff.
Who needs them to run a public company in 2018! I am right? (Although UK connection is a lawyer..maybe they're wising up a few days after HK incorporation? Maybe use a solicitor next time?  Need to work on the method acting of public company performance scam art...) 
I can't imagine a situation where a bud like Dasagi who goes way back might consider giving a "loan" to his pal to generate fake revenues through a convoluted chain of related entities and related party transactions that meant their accountants had some objections, to show fake spectacular revenue growth to Indian investors of nearly 200% for Longfin Tradex Pve. LTd.  And then...only thereafter start a fraudulent Reg A IPO for such a "fast growing" company that has no US presence (whose CEO seems to have spent much of his time in Adhra Pradesh the very month February he started Longfin Corp, giving interviews and f-ing over Stampede Capital Inc shareholders with dilution like his has just done Longfin ones – while the stock price rose in acclamation at his towering business acumen). Oh, and this business luminary who likes to change his businesses' names even when they have no problems with growing revenue according to him and his crew. But, hey what if there were no "customers" to risk? Then no brand risk, if that's not really your business. Seems like a pattern in the alternate dimension we now inhabit?
Crazy thought, if you are moving money and loans from one pocket shell entity to another to still pass audit in the entities most closely related to the public ones, keep the auditors compartmentalized- and then stop reporting from the private entities- maybe declare them insolvent at some point or something? It's weird, because that seems to be almost exactly what I've found signs of already and sent you links to the source documents: The Rise & Precipitous Fall Of The Longfin Corporation. Volume 1. Violations Of Selective Disclosure Regulation FD - bubbleception Open Letter To Longfin Corporation Senior Officers - bubbleception Fact Checking Longfin's 1-SA Document - bubbleception
Luckily that may be taking place like that, only in the alternate dimension. I'm sure there's all a reasonable explanation for what I've already recovered, and me and Meenavalli will all have a hearty chortle over a beer someday to this epic misunderstanding on my part! I should send this to the Coen Brothers for a movie idea, or create an homage…a snowball of misunderstanding innocent Caribbean banks and unvarnished blatant lies and deception to investors, repeated over at least a decade, possibly more.
It would be so crazily recognizable (at least in another alternate dimension), a person with no accounting background or criminal investigation background or computer forensics training, working diligently and non-stop could see the big picture as plain as day, and write annoyingly long, ranty missives to regulators about the problem, wondering what behind the scenes was being done…if they were behind what he had already found in a few weeks, or way ahead wrapping it up, and waiting to book the suspects on something bigger, so letting it slide for a bigger haul of charges.) That's just crazy talk. I'm sure Longfin Corp's completely not fictional customers of all the world's exchanges will remember all the record revenues they've handed over to Longfin Tradex and that they were supposedly DMMs of some of those same markets. (They wouldn't remember in the alternate dimension...but sure if a investigative reporter looked they'd get scads of customer references - versus vague assurances given in today's FAQ.) 
Anyhow: here's some more crazy-ass accounting (prior, most damning bits (inflows/outflows at convenient moment) mentioned in seeking alphas articles).  -100 million in accrued losses!  I can see why you'd need to run and  hide from creditors at that rate.  But there's not much to make of the numbers since the auditors provided a "Disclaimer of opinion" that they couldn't complete the audit in the year ending March 31, 2015, and that they had disagreements the very next.  It is a similar picture, the private companies not directly linked to the next pump, as yet undumped public company, get slurped. 
SG Northgate Investments Pte Ltd.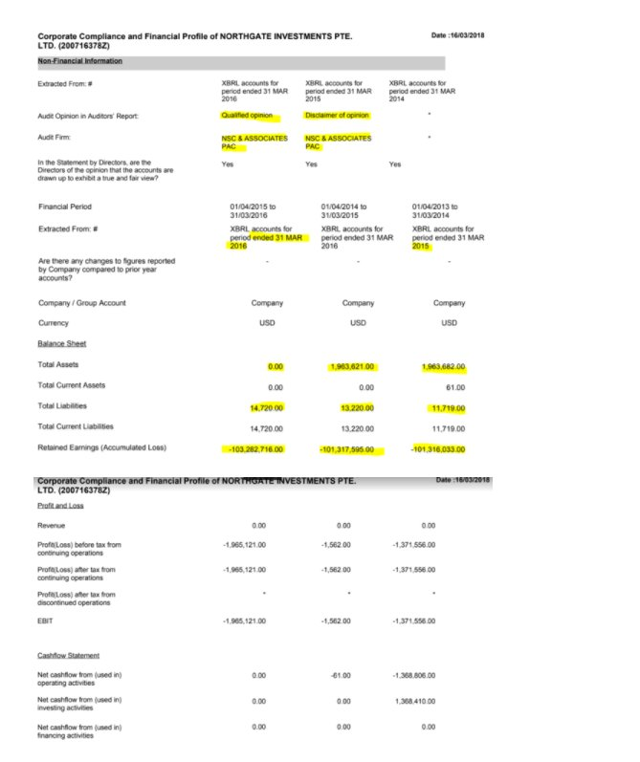 Disclosure: I am/we are short NDAQ LFIN.
Additional disclosure: I am short on NDAQ and LFIN via puts. I may hedge, add, or acquire shares to assign at any time.