The recent launch on election day of the USCF Restaurant Leaders ETF (NYSEARCA:MENU) is of interest to me for four main reasons.
- 70% of the US economy is consumer driven and restaurants as a consumer discretionary are positioned to benefit by economic growth and the new Trump administration.
- The restaurant industry, at about $780 billion in 2016 revenues, represents about 4% GDP and employs 10% of the US work force.
- MENU provides access to all the major restaurant brands and the rules behind the index methodology that drive the ETF's performance are designed as a growth allocation and aligned with the winning trend toward Quick Serve Restaurant refranchising. This mitigates stock picking risk.
- Major macro trends of the industry growth make sense to me; i.e. technology is improving service and is aligned with meeting the needs of two major demographics trends in dual income households and millennials.
Everyone has an opinion about the restaurant industry. Many express their opinions daily when they visit their favorite coffee house (NASDAQ:SBUX), order their pizza (NYSE:DPZ) through their mobile APP or grab breakfast at their favorite hamburger restaurant (NYSE:MCD). Each day, according to the National Restaurant Association, over 50 million people eat at restaurants. Of course, all this is expressed through monthly same store sales comp estimates that are broadly released. This data, plus various other data metrics, make the restaurant industry uniquely transparent as a leading indicator on how the U.S. economy is doing.
I also contend that investors often like to own stocks that they can touch and feel, and that the restaurant industry offers numerous options for investors to put their money to work. The issue for me, and I know that I am not alone, is that I am a crummy (not crumby) individual stock picker. Therefore, I view MENU as a tremendous opportunity to own the sector through a basket of stocks, as opposed to hoping and praying that I'm correct on an individual stock.
For the aforementioned reasons, I believe that investors should pay attention to MENU, and when appropriate to their own risk profile, nibble or perhaps even chow down on MENU as a small-mid cap allocation in an overall portfolio.
Economic Trends and the window into the consumer:
The U.S. economy is 70% consumer driven and the restaurant industry is uniquely well positioned at the core of consumer discretionary spending. As part of people's daily routine, restaurant spending has a broad range of price points that allow people to adjust their purchase decisions based upon their own individual needs and abilities to consume. As a result, while personal experience and preferences may be adjusted up and down the price point according to a person's individual situation, the dollars spent will remain steady. For example, while some people may swap between Starbucks and Dunkin Donuts (NASDAQ:DNKN), their desire for and spending on morning coffee remains constant. Ultimately, on a macro basis, the group should be expected to trade with consumer confidence which on November 29 was reported to be at 107.3, a 9 year high.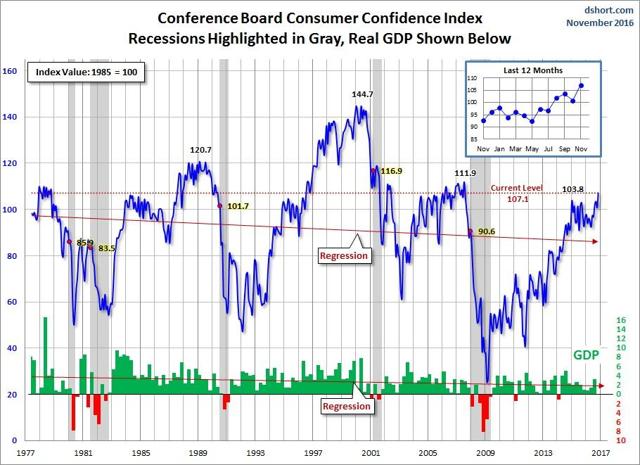 At $780 billion, the restaurants ae more than a niche industry. The transparency and impact it has on the economy is important at 4% GDP as it has 2 times as much impact though ancillary industries; including food, real estate and various service providers. According to the National Restaurant Association, the restaurant industry employs over 14.4 million people or about 10% of the U.S. workforce. This makes the industry the second largest U.S. private industry employer. Lastly, it is worth noting that with minimum wage increasing on a state by state basis, more consumers will be making more money. The new Trump cabinet appears very confident that GDP growth can be achieved in the range of 3-4%, but measuring the path to such growth will be tricky and probably not a straight line. I believe that consumer confidence, employment and restaurant same store sales and foot traffic are examples of key metrics that investors can use to measure the trajectory of the US economic expansion.
What makes MENU the smart choice as a consumer discretionary allocation:
I am bullish on the economy and see consumer discretionary stocks showing outperformance into a growing economy, but consumer tastes can be fickle so using a focused index designed to capture the growth makes sense to me. The index methodology that MENU tracks is the Restaurant Leaders INDXX Index. My understanding is that it is unusual in its structure as it was developed in line with restaurant industry research rather than a traditional market cap weighting and or equal weighting. The website describes the methodology as tilting "about 70% towards Quick Service Restaurants (NYSE:QSR)." According to the index website menuetfindex.com/, the index rebalances its holdings quarterly and uses 2 proprietary quantitative screens to remove 6 relatively underperforming stocks; thereby establishing leadership." In overweighting the QSR category at 70%, MENU tries to capture the theme that many activists and institutional growth investors have targeted while not taking on stock picking risk. 3G, Warren Buffet, Bill Ackman are three major investors in Burger King which in 2010 led the industry towards a royalty model rather than an operating model. Put differently, in 2010 Burger King as the franchisor moved away from a company-owned store model, towards re-franchising which is a growth business model that is weighted towards investment factors that are asset light, high margin and with very strong cash flows.
I realize that investing pursuant to a back test model has its risks, but in comparing iMENU (the index) to the largest consumer discretionary ETFs and their indexes I was surprised by the outcome. Investing in ETFs is supposed to be about diversification and knowing what you own should matter. However, when I compared two large indexes (SPDR Consumer Discretionary (NYSEARCA:XLY) and Vanguard Consumer Discretionary (NYSEARCA:VCR) ETFs) I was surprised by how dependent their returns have been on their weighting towards AMAZON (NASDAQ:AMZN). Amazon is truly a great company, but the $11 billion ETFs XLY and the (VCR are both weighted at about 12% towards Amazon. Further evidence of this dependency comes in the form of how the First Trust Consumer Discretionary ETF (NYSEARCA:FXD) has performed as the third largest ETFs for the group. MENU doesn't do this…
Past performance may not be indicative of future results, but it is still important to recognize the vulnerabilities of the alternatives and isn't every record based upon past performance? Amazon may be wonderful in many ways, but owners of XLY and VCR should appreciate the implementation risk they take on when they buy these ETFs. (See below graph from Bloomberg which compares the 5 year index for MENU - IMENU, XLY - IXYTR and FXD - STRQCDTR.)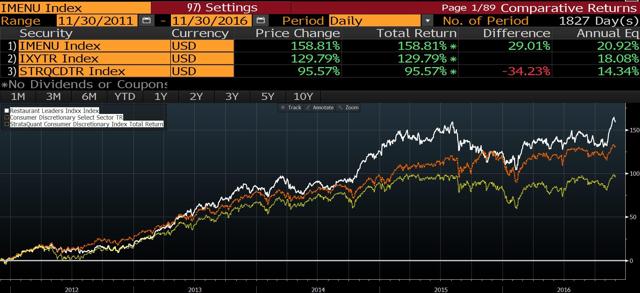 The below chart further highlights the dependence on AMZN by XLY over these past five and two years periods. Grant it - AMZN might be having a spectacular Christmas this year, but who knows versus the market's expectations. If the trend is my friend- I guess both my kids will get plenty from Amazon, but Santa does not deliver every day and my bet is that these two ETFs are way to focused on Santa.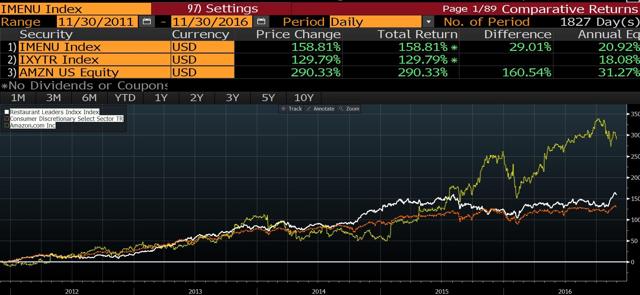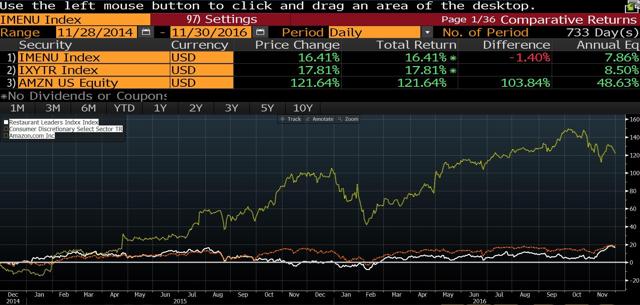 And investors in XLY who have been counting on AMZN for 2016 have been disappointed….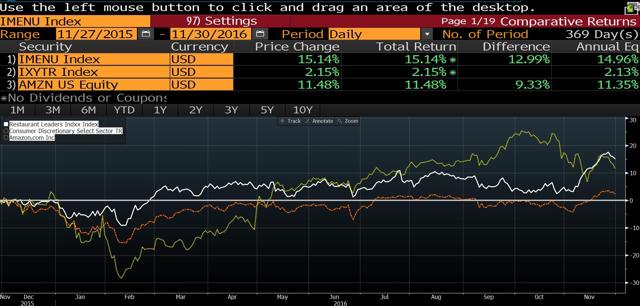 Macro Trends:
In my judgement, there are several critical demographic trends that are irreversible and important investment trends. First, is the emphasis on dual income families. The cat is out of bag and the trend towards women earning as much as men makes the value of their time more quantifiable. In that regard, dual income parents balancing life's struggles now see value in managing their time through a sit down meal at a restaurant or even by picking up a dinner on their way home. Therefore, the value proposition that has driven restaurant sales to eclipse super market sales at $50.475 Billion vs $50.466 Billion as of January 2015 should be expected to continue. (see below chart "US Retail Sales: Grocery Stores vs Restaurant and Bars Jan 1992- Jan 2015 )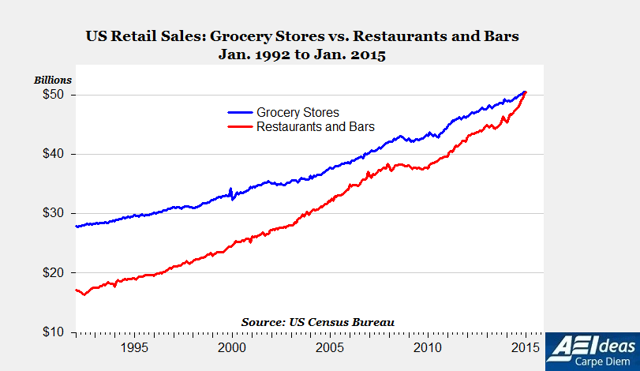 The restaurant industry is very much aligned with the tailwinds behind the rising importance of the millennial generation (born 1980 to 1999). This is evident in technology that makes restaurants operate more efficiently, how restaurant connect through digital media and quality and overall types of food offered on restaurant menus. The importance of the millennial group to the restaurant industry cannot be overstated. As a large group of consumers and an important source of employment, Millennials represent nearly one third of the U.S. population and are the largest share of the U.S. workforce. Most importantly, as they get older their needs will evolve as they form families. The challenge in identifying the winners and losers of this trend is very hard for most investors. In my judgement, I again would prefer to own an index to minimize the risk of changing tastes and menu trends and see bold changes occurring in the QSR area.
The change in the trend towards re-franchising of the QSR business model aligns franchisor and franchisee with their core strengths. This trend started to take shape in 2008 led by 3G taking control over Burger King and then spread throughout the industry. Today franchisors like Jack in the Box (NASDAQ:JACK) and Yum Brands (YUM/YUMC), McDonalds and Wendy's (NYSE:WEN) and lastly Sonic Corp (NASDAQ:SONC) have corporate goals of becoming over 90% franchise operated. The success of the asset light business model has led to many of these companies to expand aggressively, while also returning huge amounts of cash to their shareholders in the form of buybacks and dividends. Strong business models are generally followed by solid returns of capital, led by cash flow and stock price. While I believe that activism will remain an important and exciting element in the group such action will take place mostly because the business model works in the QSR category and such investors can prove their point through an "evidence based" Investment case.
Summary:
When I walk down the street, I am constantly reminded about how the restaurant industry is so ubiquitous. So why not own what you know? I also found it interesting that the group was so important to the U.S. economy and felt compelled to express myself as part of the dual income demographic trend. I am not suggesting this investment is right for everyone. Clearly, it is not without risk. However, in my judgement, as an alternative to investing in individual stocks or other sector funds, by owning MENU I have an opportunity to invest in a vehicle that I understand. Put simply, its all about the MENU.
Supporting Documents
Disclosure: I/we have no positions in any stocks mentioned, but may initiate a long position in MENU over the next 72 hours.