INVESTMENT THESIS: Alliance Resources is a company whose fortunes have been quite different from those of other U.S. coal miners. While five out of thirteen competitors have gone bankrupt over the last decade (and three of the remaining eight had previously been acquired by some of the first bankrupt five), Alliance has grown its revenues by a cumulative 46%. Bears will be quick to argue that no company can escape the onslaught of regulation against the use of thermal coal in the U.S., and that the resulting substitution of coal for natural gas is certain to kill the industry for good. To support their claim, they would point out that Alliance's revenues have declined every year from their peak in 2014 by a cumulative 23%. My thesis will make the case that Alliance's competitive advantages will save it from a permanent decline in sales, and that short-term growth factors present a timely opportunity. However, even in a no-growth scenario, a purchase at the present price should result in a lucrative return for investors.
Increasing coal tons sold despite anti-coal regulation and coal-powered plant closures:
The first indication for why Alliance is not sinking like some of its peers did, is that the number of coal tons sold has grown in eight of the last ten years. What accounts for most of the revenue decline since 2014 is the expiration of higher priced long-term sales contracts.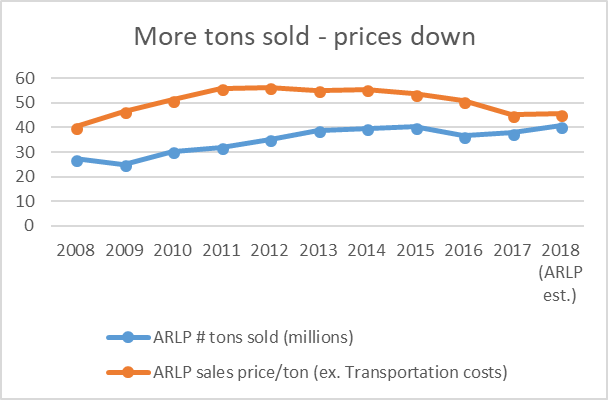 Source: ARLP 10-K reports
The bears' chief argument is that anti-coal regulations will render the use of thermal coal more expensive for utilities as compared to natural gas, and that this will result in coal plants shutting down or otherwise ceasing their coal consumption. It is true that 533 coal plants, representing approx. 66 gigawatts, have been retired (or converted to natural gas plants) since 2008. And it is also true that another 63 coal plants, consisting of approx. 17 gigawatts, are due for retirement or conversion by 2025. However, many of the plants that have come off-line were old, small, and inefficient. It was bad capacity that was taken off the market.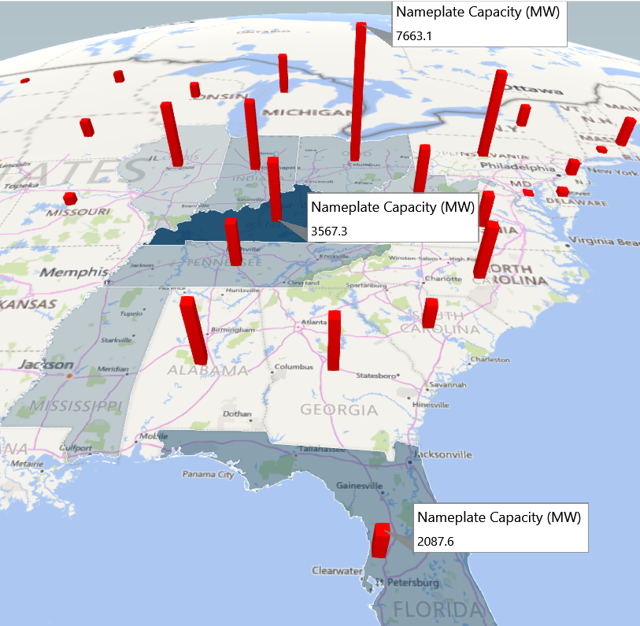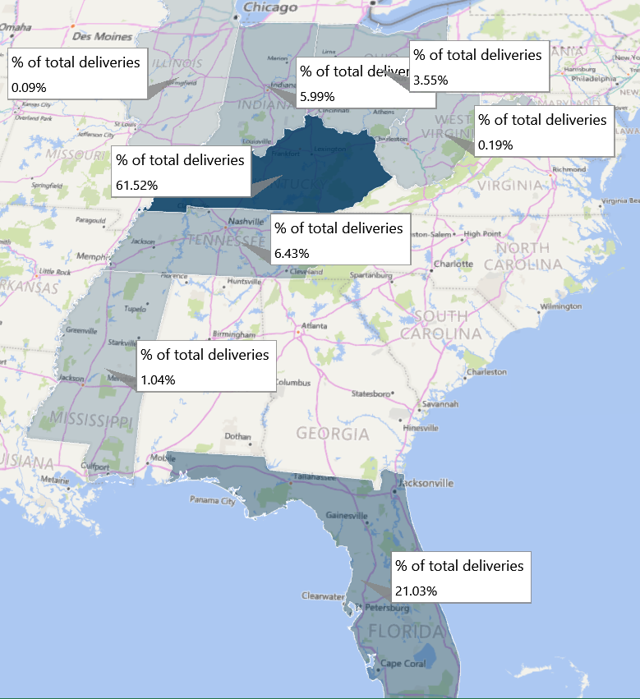 Source: EIA reports; ARLP 10-K reports
It is important to keep in mind that very few of the plants closed were likely serviced by Alliance, as demonstrated by the maps above. On the left, I show the geographical distribution of coal deliveries to customers by state.1 On the right, the red bars indicate how much coal-powered capacity in megawatts has been retired/converted east of the Mississippi since 2008. Furthermore, of the plants due to be retired or converted, only four are likely served by Alliance, amounting to 3.4 gigawatts, and representing likely 1.59% of tons sold in 2016. These four retirements are scheduled for 2018, a year for which Alliance has already secured contracts for 38 million tons and believes an additional 2.7 million will be contracted.
2. Cost advantage due to logistics network and geographical location:
At this point, we might ask: how is it that Alliance has largely eluded the effects of retiring coal plants? The answer requires an examination of its customers. When a utility contemplates the regulatory landscape that raises the total cost of burning coal, it generally faces three choices. One is to close the coal plant. Another is to convert it to a natural gas plant. The last is to install carbon-capture-and-storage (NYSE:CCS) technology, otherwise known as "scrubbers". All three choices represent high costs for the utility, often running into the $100MM+ range. Each choice also has a cost-benefit profile that is not necessarily easy to balance. Closing a plant often entails the idling and waste of once productive assets. Converting it to a natural gas plant means doing away with a reliable and cheap source of energy that could otherwise prove highly economical in periods of steady electricity use. Installing scrubbers carries with it high up-front costs as well as upkeep.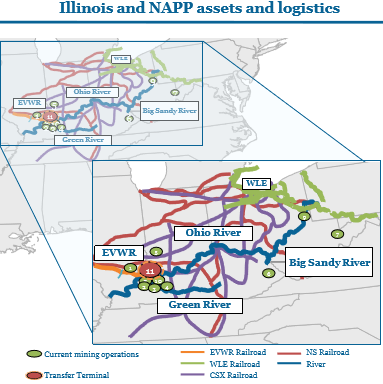 Source: ARLP presentation
All of Alliance's customers have opted to install scrubbers because, I believe, of the lower total cost to acquire the material. The location of ARLP's mines along rivers enables transportation by barge, which is significantly lower than other alternatives. For example, in 2015 it cost $4.33/ton to move coal within Kentucky by waterway, compared to $19.95/ton to move it from Wyoming to Kentucky by rail3.
3. Highly prudent and fiscally responsible management.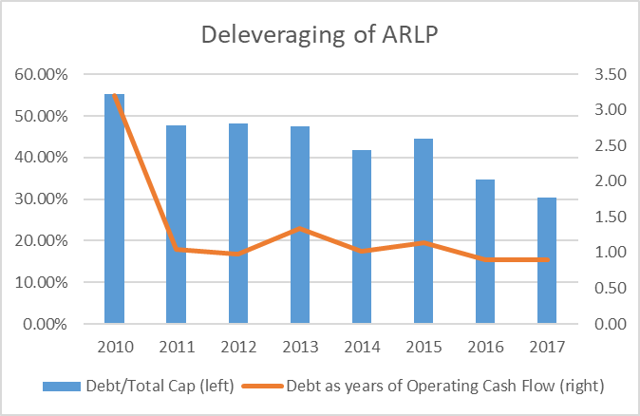 Apart from its proximity to costumers and the advantageous nature of its transportation network, Alliance has a third quality that makes it an attractive investment: its management. The company has considerable insider ownership. The CEO, Joseph Craft III, owns more than 60% of the outstanding units, tying his interests to those of the company. Alliance's management has also deleveraged the balance sheet with funds of operations -not by issuing equity. As for acquisitions, management has taken a slow, "walk-before-you-run" approach to investing in diversification and growth. ARLP has invested over $2.9 billion since 2009 in additional operating capacity and modest non-core activities while achieving the deleveraging shown to the left.
OUTLOOK & VALUATION: While domestic sales will probably remain stable over the years, growth for Alliance is likely to come from international markets. Foreign demand is likely to benefit Alliance because of its access to high-sulfur, low-cost thermal coal, which is becoming an underserved segment of the international markets. Thermal coal power capacity is set to grow by 200 gigawatts by 2022. Furthermore, the price of coal in international markets has risen considerably since 2017, rendering Alliance's lower-price coal a more compelling purchase option for electricity plants. Foreign demand could well allow ARLP to meet guidance for the foreseeable future, resulting in larger cash flows compared to 2017. As for oil & gas ventures, management will base their decision regarding increasing investment in this segment based on the results by the end of Q2FY18.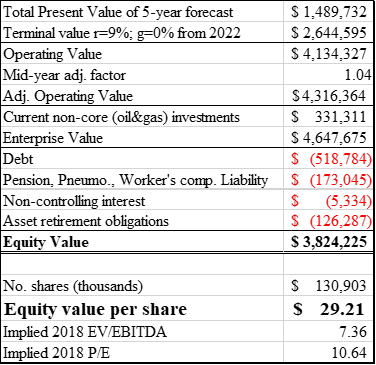 1The maps above show percentages as a total of all tons delivered to customers from ARLP's Kentucky mines only, which in 2016 were 43% of total tons sold. The Kentucky Coal Association's latest report details coal deliveries for 2016. Numbers for 2017 are due to be reported in late 2018. I use the word "likely" throughout this document since I only know to which plants 43% of coal delivered from all Alliance mines went. The remaining tons come from mines in West Virginia, Illinois, and Indiana -the mines in the latter two states are very close to those within Kentucky's borders.
Disclosure: I/we have no positions in any stocks mentioned, and no plans to initiate any positions within the next 72 hours.
Additional disclosure: The opinions presented in this article are my own exclusively, unless otherwise stated. They do not represent the opinion of my employer or its affiliated. This does not constitute financial, investment, legal, or tax advice.