Introduction:
2016 has been a tough year for Deutsche Bank (NYSE:AG), but this underdog is ready for a come back. From multi-million dollar scandals to multi-billion fines, Deutsche managed to claw and scrape its way out of the gutter that is 2016 and through a baptism of fire. Much praise has to be given to John Cryan, CEO of Deutsche Bank AG, for overseeing and guiding the firm back to it's feet despite being appointed at a rather dismal period of the bank's history.
Deutsche Bank AG (NYSE:DB) undervalued
It doesn't take a rocket scientist to tell that Deutsche Bank's stocks were and still are undervalued (although not so much anymore).
As speculations of a 14 billion dollar settlement with the Department of Justice (DoJ) loomed closer and an end seemed to be more of a possibility, further bolstered by Angela Merkel's statement denying Deutsche a bailout if there was ever a need for one, the price fell to a measly $11.85 a share on 29/9/2016.
With the case regarding the selling of toxic mortgage-backed securities (being the main source of the low confidence) being settled well below the 14 billion fine proposed by the DoJ at 7.2 billion, much of the public uncertainties were culled and confidence grew. Prices soared after the news of the settlement surfaced.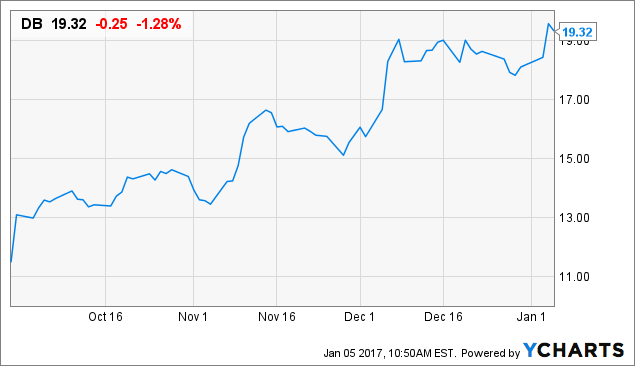 Increase from $11.85 to $19.32 from end September 2016 to Start of January 2017 , a 63.3% increase.
Strong Statistics of being undervalued
3Q2016 results reported $1.69 trillion in total assets
Book value per share reported in 3Q2016 results was €44.42
Market value per share at €11.57 at period ended
EUR 200bn of liquidity reserves
Don't get me wrong, the 3Q2016 results isn't exactly fantastic (far from it), the net income loss before taxes reported was at €278 million and Earnings-per-Share (NYSEARCA:EPS) was only €0.18. These statistics are just repercussions from the negative outlook and speculations, in the long-run, Deutsche Bank is bound to recover and results will definitely be healthier, investor confidence will increase and the value will rise as well, proportionately? Maybe not.
Conclusion:
Overall, even though the stock price has doubled since it's year low in September 2016, under the right management, leadership and promising economic outlook Deutsche Bank AG is poised to experience an increase in value as the firm enters the new year with promising outlooks, clear direction and rid of negative speculations.
Disclosure: I/we have no positions in any stocks mentioned, but may initiate a long position in DB over the next 72 hours.
Additional disclosure: I wrote this article myself, and it expresses my own opinions. I am not receiving compensation for it . I have no business relationship with any company whose stock is mentioned in this article.