Since we introduced this NovoCure (NVCR) as revolutionary in the oncology field last November, shares are up ~ 50%. This is because the company continues to deliver solid data, revenues, and clinical progression.
I reached out to the company, per email, and they promptly responded back. I asked them five questions.

Q&A 
How does NovoCure intend to increase shareholder value within the next 12-18 months?
NovoCure has multiple levers to drive shareholder value. We are principally focused on:
The opportunity to increase penetration and average reimbursement per patient in our six currently active markets for the treatment of GBM;
Our ability to strategically expand into additional geographic markets; and
Advancing our clinical pipeline in five additional indications with high unmet needs and significant market opportunities.
Analysis: NovoCure has continued to penetrate the glioblastoma market and grow their commercial business, primarily, by driving active Optune users: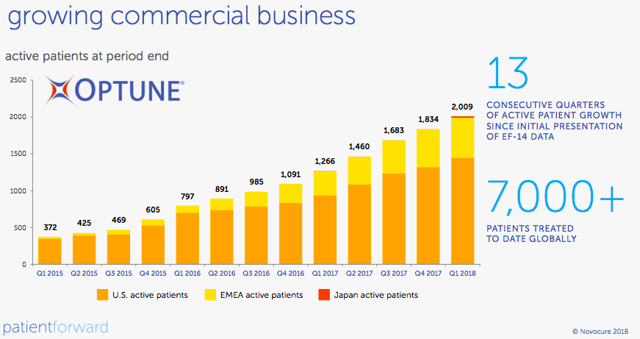 Source: NovoCure Corporate Presentation 
An ability to increase the amount of reimbursement and expand geographically should continue to inspire growth each quarter. These revenues should be apt to support the development of its clinical pipeline, without having to resort to diluting its shareholders:

Source: NovoCure Corporate Presentation
What are the reasons for withholding actual Mesothelioma data until later?
We plan to present data from our STELLAR phase 2 pilot trial in mesothelioma at a medical conference in 2H 2018 and the full data will remain under embargo until presentation. We have announced that the STELLAR results exceeded results of the interim analysis for all efficacy endpoints, demonstrating clinically meaningful improvements in overall survival and progression free survival.
Why the use of "clinically meaningful" and not "clinically significant"? Also, can you elaborate on the embargo?
We note clinically meaningful instead of statistically significant simply because the STELLAR trial was a single arm trial and not randomized with a control arm against which to run statistical analysis. We have not yet confirmed which medical conference will have the STELLAR data so I cannot confirm the terms of the embargo, but I can confirm that we have submitted for presentation at multiple conferences in the fall of 2018.
The Mesothelioma trial is only comparing TTFields + chemotherapy to historical control. If the results are truly better than interim data, the market is correct in reacting the way it did: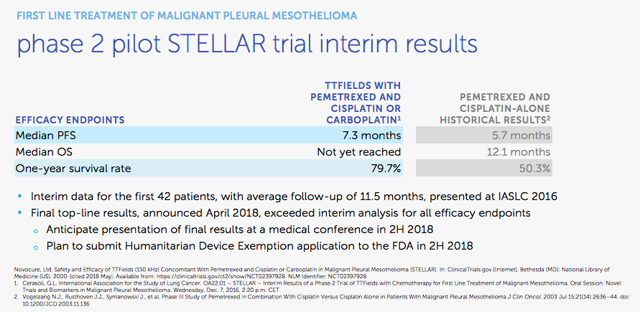 Source: NovoCure Corporate Presentation
How soon do you think you can market your product for Mesothelioma?
We received Humanitarian Use Device designation for the treatment of pleural mesothelioma in 2017 and plan to submit a Humanitarian Device Exemption (HDE) application later this year. Assuming approval, we expect to launch sometime in 2019.
The market for malignant mesothelioma is smaller than GBM. According to the American Cancer Society, 3,000 new cases are diagnosed each year. As I've discussed before, it's not so much about the additional revenue than it is about another successful trial with TTFields. An additional indication adds credence to this story and supports TTFields use in all types of solid cancers outside an enclosed skull.
What are you actively doing to expand your market reach in glioblastoma?
We continue to focus both on driving awareness of Optune in the community and increasing physician confidence and belief in our EF-14 data. Our sales force efforts focus on increasing the portion of physicians who routinely discuss Optune with patients and who then confidently position Optune plus temozolomide offering the best change for long-term survival.
NovoCure will provide Q2 results in late July. Count on us to cover it.
We thank NovoCure for reaching out to us and look forward to providing more research, data, analysis, etc. on TTFields.
Author's Note: For further insight into biotechnology stocks, please "Follow" Clover Biotech Research.

Disclaimer: The intention of this article is to provide insight, not investment advice. While the information provided in this article is intended to be factual, there is no guarantee and prospect investors are encouraged to do their own fact-checking and research before investing in a company. One must also consider one's own financial standings, risk tolerance, portfolio diversification, etc. before making a decision to buy shares in a company. Many of my articles detail biotechnology companies with little or no revenue. These stocks are, therefore, speculative and volatile. Even when prospects seem promising, there is no predicting the future. Losses incurred may be significant.
Disclosure: I/we have no positions in any stocks mentioned, and no plans to initiate any positions within the next 72 hours.
I wrote this article myself, and it expresses my own opinions. I am not receiving compensation for it (other than from Seeking Alpha). I have no business relationship with any company whose stock is mentioned in this article.