Preface
The FDA/ASH workshop is finished. Investors responded quite positive to it with prices spiking on significant volume: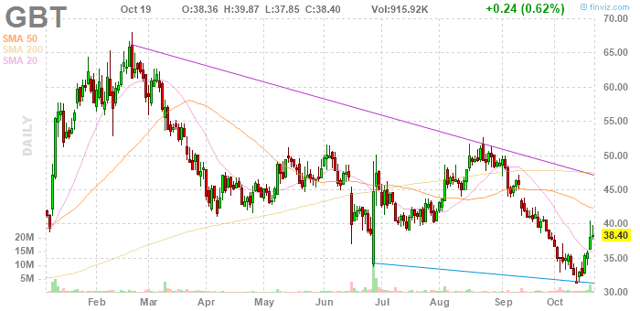 If you didn't get a chance to listen in, I was, fortunately, able to hear every word. Below, I present the three key takeaways I had from the workshop.
Takeaway 1: "Hemoglobin" Is An Established Biomarker
During the second day of the workshop, "hemoglobin" was mentioned at nauseam. In particular, hemoglobin was listed as key biomarkers for hematological and neurological endpoints: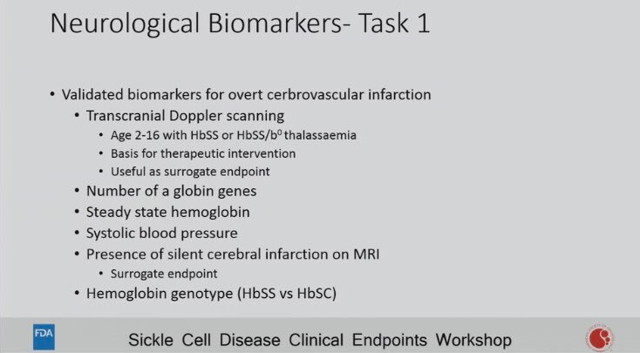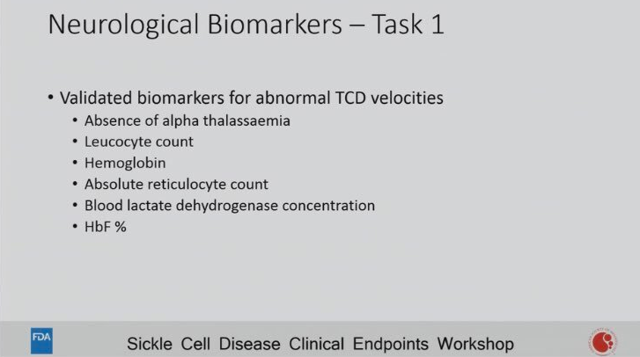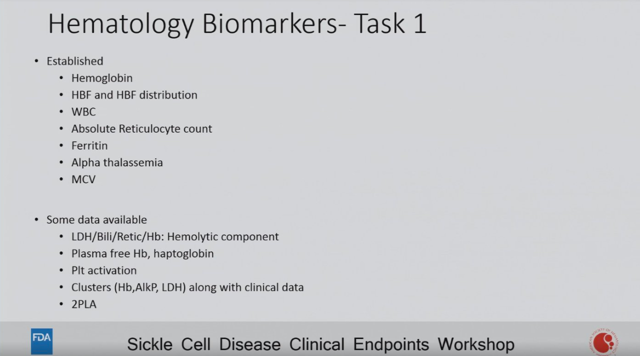 What is a "biomarker", as defined by the FDA?
a biomarker is a characteristic that is objectively measured and evaluated as an indicator of normal biological processes, pathogenic processes, or biological responses to a therapeutic intervention. An example that is familiar to many people is the use of blood glucose levels to measure the effectiveness of a diabetes medication. In this case, glucose is the biomarker.
Recall the requirements of accelerated approval:
The FDA instituted its Accelerated Approval Program to allow for earlier approval of drugs that treat serious conditions, and that fill an unmet medical need based on a surrogate endpoint. A surrogate endpoint is a marker, such as a laboratory measurement, radiographic image, physical sign or other measure that is thought to predict clinical benefit, but is not itself a measure of clinical benefit.
Global Blood Therapeutic's (GBT) voxelotor has demonstrated a robust effect on hemoglobin. Additionally, they have gathered TCD velocity data on patients before and after the use of voxelotor. As a result, GBT believes hemoglobin is a valid surrogate endpoint reasonably likely to predict clinical benefit: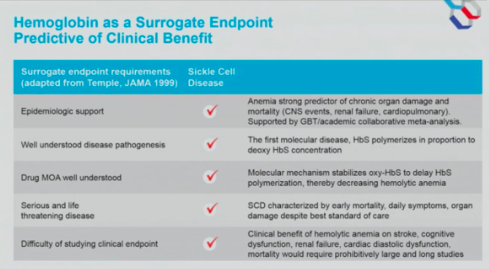 Takeaways 2 & 3 
The rest of this article is exclusive to members of my marketplace, The Formula.
Please try a free 2-week trial today for my other takeaways and other exclusive access to top biotech conviction ideas.
Authors note: I present and update my best ideas only to subscribers of my exclusive marketplace, The Formula. Try a free 2-week trial today by clicking the pictured flask below!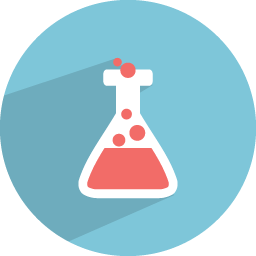 Disclaimer: The intention of this article is to provide insight, not investment advice. While the information provided in this article is intended to be factual, there is no guarantee and prospective investors are encouraged to do their own fact-checking and research before investing in a company. One must also consider one's own financial standings, risk tolerance, portfolio diversification, etc. before making a decision to buy shares in a company. Many of my articles detail biotechnology companies with little or no revenue. These stocks are, therefore, speculative and volatile. Even when prospects seem promising, there is no predicting the future. Losses incurred may be significant.