Palatin Technologies, Inc. (PTN) @ 0.393c
On November 1, 2016, Palatin Technologies released positive Phase 3 results for bremelanotide (Rekynda) for hypoactive sexual desire disorder (HSDD) in women. Rekynda met co-primary endpoints and is likely to be approved by the FDA. This will be their first FDA-approved drug.
They announced a proposed public offering on November 30, 2016. Share price dropped ~ 30%. The offering closed on December 7, 2016 for a proceed of 16.5M. They stated, "this financing provides us with approximately $15.4 million in net proceeds, allowing us to continue advancing bremelanotide for hypoactive sexual desire disorder. We look forward to submitting a new drug application on bremelanotide in the second half of next year."
On December 2, 2016, they released a Prospectus, detailing their strategy, of which included: "entering into strategic alliances and partnerships with pharmaceutical companies to facilitate the development, manufacture, marketing, sale and distribution of product candidates that we are developing." Also, "partially funding our product development program with the cash flow generated from research collaboration and license agreements..."
And, alas, on January 09, 2017, PTN announced they entered into an exclusive licensing agreement for North American rights to Rekynda with AMAG Pharmaceuticals (NASDAQ:AMAG). The deal involved a $60M upfront consideration for the rights (up to $80M contingent upon "achieving certain regulatory milestones"), along with up to $25M to cover additional expenses incurred by PTN as a result of the remaining development of Rekynda in 2017. AMAG will also pay PTN royalties (unspecified as of now) and tens of millions of dollars upon certain sales milestones.
In the same PR, PTN stated the "anticipated filing date in the U.S. for a NDA for Rekynda is in early 2018" - a bit removed from their previous target of second-half 2017.
Perhaps a combination of things and your prototypical "sell the news response" resulted in a significant drop in PTN share price.
PTN was essentially trading between 50-60c (really, throughout 2016 with inevitable rises and dips) prior to it being pumped to 80c in late November (coincidentally, days before the public offering and days after reporting their financial status and plans). It then returned to 50c after the public offering. When the licensing deal was announced, price per share (abbreviated to pps from now on) dropped in the 40-50c range and has stayed there for over a month.
Today (02/14/2017), pps stands at $0.3930.
Let me explain to you why this screams OPPURTUNITY: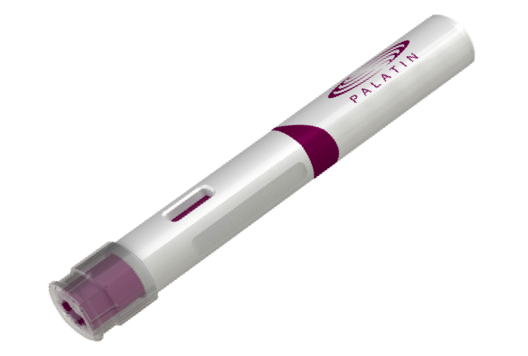 Rekynda will take part of a huge, largely unmet market need. Addyi, approved in August 2015, will be its competition. Rekynda will be a subcutaneous injection through a pen taken as needed (before sex, presumably). Rekynda has an onset of action of merely 30 minutes. Addyi is a pill taken once a day. Users of Rekynda will not be restricted from drinking alcohol. Users of Addyi are completely restricted from drinking alcohol. Rekynda is not anticipated to own a "boxed warning". Addyi includes a boxed warning.
Addyi hasn't been too successful upon its release (www.nytimes.com/2016/04/10/business/fema...). This, surely, hasn't helped the outlook for Rekynda - to a fault not of its own though.
For now, because Addyi is the primary treatment of HSDD and, relatively, brand new to the market, we can anticipate increasing sales in the near future.
Rekynda will succeed if its able to properly market itself (hello, AMAG) and differentiate itself from competition by highlighting "advantages" over competition.
On February 9, PTN released their financial status for 2Q Fiscal 2017. They burned $10M; there was no revenue; and they HAVE $13.5M in cash, excluding the $60M they will receive from AMAG. They stated, "existing capital resources will be adequate to fund our planned operations through at least the fiscal year ending June 30, 2018."
In other words, PTN believes they have enough cash to last them at least a year.
Also, as I stated before, much of the additional costs associated with Rekynda development will be paid by AMAG, freeing PTN to pursue pipeline advancements.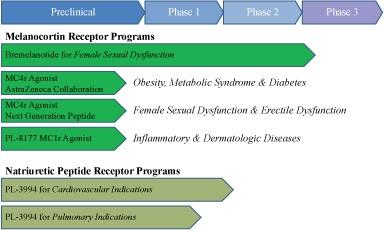 Information on all of the fancy science and patents Palatin uses to develop drugs can be found on their website. I'm going to address future catalysts in regards to shareholder value.
There may or may not be any truth in saying "the science works", but its delivered so far.
Additional Rekynda data to be formally presented in March 2017*
Sales of Addyi will, in all likelihood, increase. This will instill confidence in the ability of HSDD drugs to succeed and generate revenue and, in turn, increase shareholder value of PTN (theoretically)
"Partnerships" for the licensing of Rekynda in the EU and other parts of the world*
"Partnerships" for the development of MC4r Agonist for Obesity, Metabolic Syndrome & Diabetes*
Phase 2 of PL-3994 for Cardiovascular Indications starting 1H 2017 with preliminary data release in 2H 2017; announcement of academic collaboration for PL-3994 who we (shareholders), according to Palatine, will be "quite pleased to see"*
Initial NDA for PL-8177 for Inflammatory and Dermatological Diseases in 2Q 2017 in order to begin clinical studies in 2H 2017 to establish proof of clinical concept*
Completion of PL-8331 for Inflammatory Diseases preclinical activities this year with Phase 1 start in early 2018*
NDA submission for Rekynda "by 1Q 2018" and subsequent acceptance*
(*as mentioned in their February 9, 2017 webcast)
Further dilution as a result of warrants, already taking place.
PTN owns a deficit of $356.5M as of September 30, 2016.
Clinical studies of drugs in pipeline could be pushed-back.
At the moment, the chart technicals are against PTN.
All of the other risks associated with any stock, especially biotech stocks.
I think it's possible PTN share price could dip as low as 33c. I am buying and accumulating in the 35-40c range and plan to hold until pps is at least between 70c-80c. I'm also establishing a 1-year PT of $0.90 - meaning, I believe PTN will be comfortably trading between 80c-$1.00 EOY.
This is a gain of 75-125% depending on how you play this.
With the flurry of upcoming catalysts, it is my belief pps could reflect these target ranges within the 1Q - and, if not, certainly by the 1H.
PTN may still be searching for a bottom, but I am confident pps will begin to accurately represent the value of PTN in Spring.
The current market cap is around $50M. They will have over $50M in cash for much of 2017. They will seek additional partnerships, licensing agreements, and pipeline advancements beginning 1Q and throughout 2017-2018. The market ability of Rekynda will be realized and reflected in pps. The dilution will eventually end.
I like to keep things as simple as possible. I did not go over too many specifics (actual sale numbers for drugs targeting HSDD, for example). I advise you look them up. I advise you read the Prospectus issued in December by PTN and listen to the webcast from February.
Agile Therapeutics, Inc. (AGRX) @ $2.36
AGRX was "one of those" classic clinical phase failure biotech stocks. Agile was trading, since its inception in mid-2014, around $6/share and pushed ~ $7/share a month before a repeat Phase 3 study. AGRX differs from the "classics" because it did not actually fail by any stretch of the imagination.
Phase 3 SECURE study for Twirla, a low-dose combined hormonal contraceptive patch, was initiated in September 2014. This study was described as "confirmatory...to build upon data from previous phase 3 studies in support of the company's NDA to the U.S. FDA".
The excitement over the prospect of Twirla and the reality of public offerings to raise capital in order to support its development caused the pps to flucuate between ranges of $6 to as high as $11 and $12.
Just during the second half of 2016, pps stablized a bit over $7 in anticipation of SECURE.
In December 2016, a month before SECURE results, pps, mysteriously (cough), dropped nearly $1.50.
On January 3, 2017, AGRX released what they called "Positive Topline Phase 3 Results". However, investors did not feel the same. Share price plumbeted ~ 65% and has since traded around $2.30.
I will assign a modest PT of $4.50 by EOY. I believe it will soon trade comfortably > $3 within three to five weeks. The bottom appears to be ~ $2.20 - it may very well revisit it a couple of more times. Assuming one can get in ~ $2.50, I'm estimating a profit comfortably yielding over 50% return. I do not expect a return to the bullish sentiment of > $7/share until, perhaps, Twirla hits the market.
Here is why:
Gross Overreaction and Unrealistic Expectations of SECURE
The main marker to look out for in a contraceptive drug study is its ability to safely prevent pregnancy (obviously). This is calculated by something called a Pearl Index, PI. I won't get into the calculations used to determine, but I will say the expected PI was < 4.0.
SECURE presented an overall PI of 4.80 and investors went nuts. However, the FDA asked Agile to include overweight and obese women. Hormonal contraceptive studies, overwhelmingly, do not include overweight and obese women because these drugs are more likely to fail at preventing pregnancies in these groups.
The PI in "normal" (according to BMI, don't get offended) women, which only consisted of 39% of total study population, was 3.03. And in normal and overweight women: 3.94. It is already well-known that this type of contraceptive isn't suggested in obese women (PI 6.42).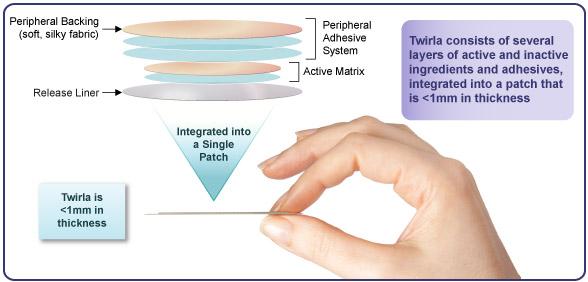 Twirla presents a viable option for contraception in a market that is, obviously, profitable. It's efficient in preventing pregnancies. Compared to other patches, "adverse events" demonstrated in the SECURE trial are significantly better. Headache, nausea, and breast tenderness (common side effects of such drugs) are, almost, ridiculously lower (4x) for Twirla than other drugs demonstrated in the Ortho Evra and Quartette trials. This is attributed to its lower doses. And while PI may suffer compared to competition, Twirla will provide a safe relief from the dreaded side effects associated with contraceptives (also keep in mind patches are more efficient in contraception than condoms).
The market potential is self-evident.
Agile is also working on "small patch" product candidates to provide more options for women and expand potential market share after Twirla is introduced.
Agile reported ~ $52M cash on hand as of September 30, 2016 and ~ $49M cash on hand (unaudited) as of December 31, 2016 (described as "sufficient" to fund operations throughout 2017 in cc). Much of this was raised from a public offering of $40M in February of 2016. They also received $3M in non-dilutive financing through the State of New Jersey's Technology Business Tax Certificate Transfer Program. It doesn't sound like much, but it essentially and apparently funded an entire quarter of operations.
Current market cap stands at $68M
I believe the stabilization of share price and technical indicators pointing positive will be a catalyst all of its own. The slow realization that the reaction to SECURE was a bit too much will also increase shareholder value.
CEO Al Altomari will present at the RBC Captial Markets 2017 Global Heathcare Conference on February 23, 2017. Although I don't believe conferences are actual catalysts, I do believe it will serve a purpose in advancing my first "catalyst" mentioned.
Presubmission meeting with FDA before resubmission.
NDA resubmission expected in 1H 2017.
File acceptance within 30 days of NDA resubmission.
NDA acceptance expected in 2H 2017.
Renee Selman was hired as Chief Commercial Officer in mid-2016. She has 20 years of experience with J&J and launched the first ever contraceptive path after playing a role in Ortho Evra.
Disclosure: I am/we are long PTN, AGRX.