This write up is intended to augment Kwan Chen Ma's article and assist his smart investors when sharpening their pencils for enhanced investment opportunities.
This article contains backup comparisons of both AMD's and Intel's Current 14 nm CPU's and a Technical Side By Side Comparisons of AMD's Proposed 7 nn Process Along Side Intel's Proposed 10 nm Technologies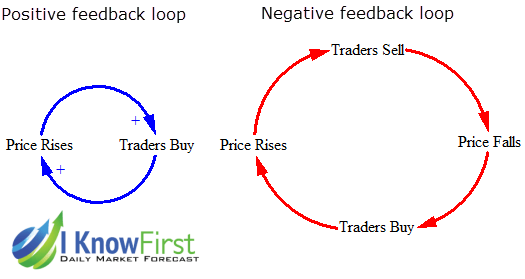 Figure 1 courtesy of I Know First
AMD's current uptick and Intel's current downtick may be partially due to Positive Feedback loop and negative feedback loop respectively.
Investor's sentiment sometime produces a positive feedback loops and negative feedback loops that exclude evidence that may be contrary to the market trend, giving investors cause to be oversold in a particular stock that is stuck in a down trending negative feedback loop or becoming overbought in an upward trending positive feedback loop.
The negative Feedback loop occurring today with Intel is reminiscent to what happened with AMD in the early 2010s when AMD became static. AMD's downward negative feedback loop extended over many years, causing investors to jump ship and remain dispossessed even into today's market.
Many investors are still living the memory of what happened and remain focused on the loss of millions of dollars and remain blinded to AMD's current positive feedback loop. Many of these disenfranchised investors have become fodder for the AMD permabears and are not reaping the benefits of AMD's turnaround.
It is a true statement that investors that ignore contrary evidence during a positive feedback loop stand a good chance of losing profits. Conversely investors that ignore contrary evidence that the stock is going to make a turnaround during a negative feedback loop miss out on key entry points, resulting in missed opportunity to make profits. Obviously smart investors are able to sell at the peaks and buy at the valleys or simply walk away from a bad stock.
So long as AMD's fundamentals remain strong, investors blinded by the current overwhelming positive feedback loop may ignore contrary evidence and experience small temporary losses.
So long as Intel's fundamentals remain mostly static, the downward negative feedback loop will probably influence many to invest in other stocks that are more likely to appreciate short term. This blind sight will probably prevent some investors from recognizing when Intel makes the important turnaround missing some excellent entry points in the future.
For long AMD investors, I believe any losses from being blind sighted by AMD's positive feedback loop should most likely be short lived.
For long Intel investors, I believe Intel is in a strong forward moving position that will recompose its self in the coming months. It does not look like Intel will not get caught in an extended negative feedback loop because Intel has enough other assets like Mobileye, Optane (Intel's trade name for 3D X-Point) and especially considering Intel's recent JV with AMD to produce embedded technologies using AMD Vega GPU.
With Intel's long standing excellent relationships with OEMs and the vendors that equip the cloud, big data analytics as well as AI are all essential hallmarks that should stimulate a fairly fast turnaround.
Its possible Intel may combine embedded chip designs incorporating Optane to produce a competitive AI chips for Mobileye's automotive segment and the high performance compute segment. My only issue is current chip technology may still have the Meltdown and Spectre vulnerabilities that would decrease the likelihood of widespread use for driverless cars.
Let's take a quick look at AMD's and Intel's current 14 nm chip technologies and how they fit into the current market.
Anton Kabanof a Seeking Alpha contributor compares current generation AMD's EPYC 7601 vs. Intel's Xeon 8176 with Intel configured with dual socket and AMD single socket.
"Depending on the situation, performance, performance-per-watt, and/or performance-per-dollar are what matters. While EPYC is able to achieve the equivalent or higher performance per dollar spent in most cases, that is not true in all cases as seen in encryption benchmark. With AMD 21 billion dollar TAM for data centre, there is no confusion as to the dollar value of addressable market compared to Intel's 65 billion. Today, AMD can only target some server applications, while others require optimization to further enhance the value proposition. However, paired with 30% power consumption advantage (however little the cost advantage), AMD EPYC has a shot at a hefty 21 billion TAM that they currently have close to 0% market share."
How does AMD's 7nm compare with Intel's 10nm?
For those techy's who want a deep comparison, let's take a look at a comparison made by Bryon Moyer's article – "Life at 10nm. (Or is it 7nm?) And3nm Views on Advanced Silicon Platforms" Life at 10nm. (Or is it 7nm?) And 3nm
"Intel speaks of using a third-generation FinFET in their "10nm" node, patterned using self-aligned quadruple-patterning (SAQP). They're leveraging cobalt for the local interconnect (and contacts), which they say gives them a 60% reduction in contact line resistance. And they've saved layout space in a couple of different ways.
In current platforms, the contact for the transistor gate is laid out to the side of the active areas of the transistor; this takes extra space. Intel moved the contact to be over the diffusions, making the cell smaller.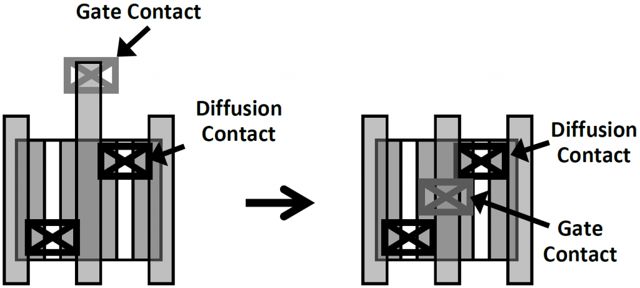 (Image courtesy IEDM)
More savings came from a change to the edge of cells. Their existing platform requires a dummy gate at the edge, which uses up precious space. In the new work, they've taken out that requirement and put in an isolation trench along the edge instead.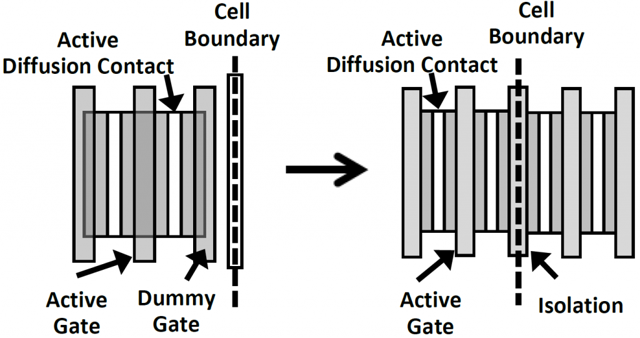 In addition, they say that they've improved transistor matching to the point that fewer fins can be used – a clear space-saver.
The fin has grown taller: 46 nm tall. With a width of 7nm, that's almost a 7:1 aspect ratio. Other top-level bullet points include what they call fifth-generation high-Κ metal and seventh-generation strained silicon, 12 metal layers, and an ultra-low-Κ dielectric between metals. They claim 2.7x scaling over the 14nm node."
"GlobalFoundries also claims a third-generation FinFET – in their "7nm" platform. They've built the process assuming 193i lithography, with SAQP for the fins and SADP for backend metal. That said, they've also planned for EUV insertion as an option to replace the multi-patterned layers. Designs done for 193i would naturally need some new masks to move to EUV, but they say that no design changes would be required.
They've also architected the dimensions such that basic logic can be implemented with two-fin transistors, while designs targeting the high-performance computing (HPC) space can accommodate four-fin devices.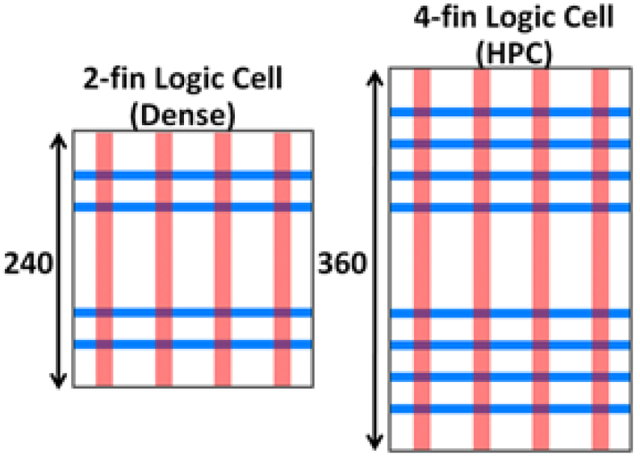 Overall, they're claiming 2.8x scaling over the 14nm node – roughly the same as what Intel is claiming with their "10nm" node. They also claim greater than a 40% speed-up over 14nm (at fixed power) or a 55% reduction in power (at fixed speed).
They've also done an undoped fin by using work-function metals to provide "RVT," "LVT," and "SLVT" transistors, plus an "XLVT" version for HPC."
"10nm vs. 7nm
So, to get a sense of the difference between Intel's "10nm" node and GlobalFoundries' "7nm" mode, we can build a table that stacks up some of the numbers.

In other words, most parameters end up pretty darn close. (Comparison of the shrink from 14nm assumes they both mean the same thing with the 14nm designation.) Yes, there's one outlier – metal 1 pitch – and yet, in that case, Intel's 10nm process is more aggressive than GlobalFoundries' 7nm version."
Summary: According to Anton Kabanof - AMD has a TAM market opportunity in data center compute of around $21 Billion,, it becomes evident there is no real advantage between Intel's current 14nm vs. AMD's 14nm technology .
When comparing Intel's 10mn vs. AMD's 7 nm technologies, using the most sophisticatedinformation available, provided by Bryon Moyer's article – "Life at 10nm. (Or is it 7nm?) And3nm Views on Advanced Silicon Platforms". It is my opinion that because of complex production issues that's preventing Intel from profitably releasing 10nm technologies; most likely Intel will not release 10nm in the near future. This is especially true in light of the idea that AMD's 7nm is believed to be a more reliable, cheaper with higher profit margin for profit technology that is ready for market release at any moment.
Unless Intel is holding something back something unknown, it is reasonable for AMD to take a large portion of Intel's CPU market in the near future.
Disclosure: I am/we are long AMD.