PAX Global Technology is principally engaged in the development and sales of electronic funds transfer point-of-sale ("E-payment Terminals") products, provision of payment solutions services and maintenance and installation services. The Company was listed on the Main Board of The Stock Exchange of Hong Kong Limited on 20 December 2010.
When I see technology… and Hong Kong, I often refuse to read more, since one of my investment principles is investing in what you really know and when possible close to your hometown. However, the business is simpler than it appears at first time, as most of Pax revenue come from the USA, LATAM and Europe.
Pax Global Technology is a spin-off from Hi-Sun, a Chinese company controlled by Kui Man Chun. Hi Sun is the major shareholder position (33.09%)
Pax Global Technology plays the cashless trend that we are experiencing around the world. They mainly sell payment terminal products that we use to pay with a credit card in any shop.
Globalization, digitalization, automation, ease and government fighting against fraud are the main drivers of the cashless trend which is growing every day.
The Nordic countries are one step ahead, they are not producing cash paper anymore and have announced the end of cash transactions for 2030. Other countries, like Spain, are regulating the maximum amount that you can pay in cash to 2.500€ and they want to lower this limit to 1.000€ soon.
The developed countries are not alone, emerging countries like India and Brazil are taking steps forward to reduce the cash transactions too.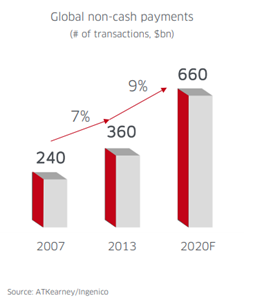 A report from ATKearney shows that cashless transactions have been growing more than 7% every year from 2007, led by emerging countries (>16 %) and mature countries (>6%).
New methods and devices of non-cash payments like Apple pay, Android pay, Wechat, Alipay, NFC (Near-Field Communication or Contactless), QR code… and the govern incentives will increase this growth during the next years. Moreover, the recent trends of self-service and big data treatment are helping the cashless transaction growth.
Pax Global business is very easy to understand, they operate at the beginning of the value chain. For example, when you are going to pay your dinner with your credit card in a restaurant, you should pay with a POS (Point of sale) terminal (E-payment terminal)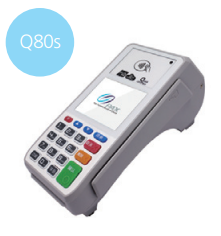 A typical cashless transaction: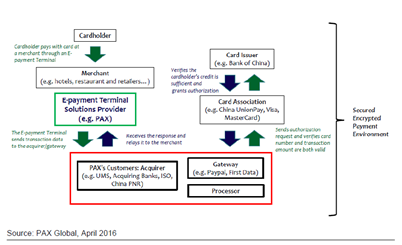 We must differentiate various players: The company who build the E-payment terminal, the merchant acquirer, the bank (card) issuer, the merchant´s (like a supermarket) bank.
First, the cardholder purchases with a card at a merchant through an E-payment Terminals. Then, the E-payment Terminal sends transaction data to the acquirer who sends authorization request and verifies with the card issuer that the card number and transaction amount are both valid through the network of card association. The acquirer receives the response and relays it to the merchant.
There are a lot of players in a cashless transaction, but our company just provide an E-payment Terminal and receive a one-off profit for that. Its main clients are financial entities that work as merchant acquirers and introduce their own software in the Pax´s hardware. Cielo/UOL in Brazil, Swedbank, HSBC… are among its principal clients.
To make it clearer, Pax Global products don´t compete with Apple, Paypal, Global Payments, Procesa… they need Pax products to work. Despite Pax doesn´t directly benefit from online payments through Paypal or Ebay, it benefits indirectly because it provides more ease to accept E-payment Terminals.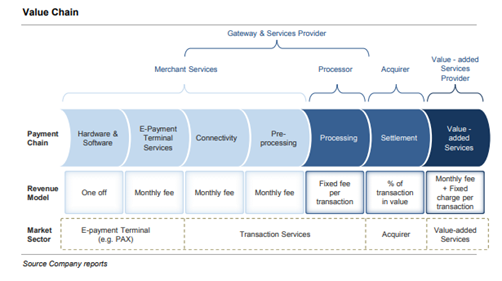 Results from 2017 shows that 95% of its revenue comes from selling terminals and only 5% came from Payment solutions services, maintenance and installation services (offering data analytics, loyalty program & membership management, support bank card promotion activities, electronic business software solution, outsourcing operation etc.)
Once its business is understood, we should ask ourselves if the terminal market is overbooked like Ingenico hatters claim.
I really think that the world will be experiencing 7-9% terminals growth in the next 5 years, led by emerging markets.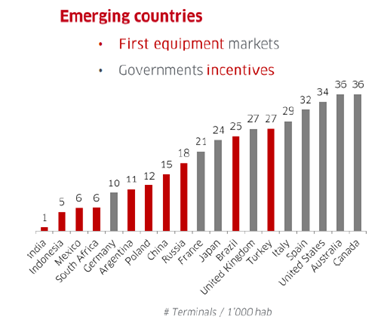 The Pax huge potential comes from emerging markets, where according to Nilson Report, Pax has the bigger market share in countries like Brazil, Russia, Argentina, Middle East, Africa… while it has a minor market share in countries like the USA, Europe or Canada who could improve soon.
It is also interesting to know the fact that the terminals replacement cycle takes place every 4 or 5 years. Therefore, if you have a large customer base, you will also have recurring profits.
Source: 2016 Ingenico Investor Day
Pax product mix: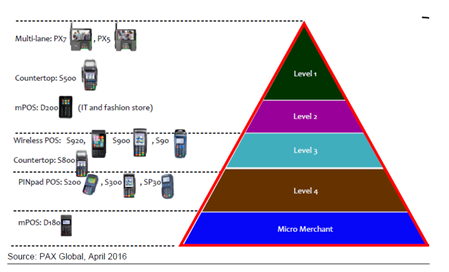 Following the customer needs, Pax could offer different products. The products found in the lower part of the pyramid (Micro Merchant and Level 4) have a lower profit margin as well as reduced product functions.
Sales Numbers



Source: Pax reports and Pax guidance 2018
Pax has been experiencing a double-digit growth outside of China since its internationalization, while it has also been experimenting problems in the Chinese market recently.
The total annual shipments have grown 210% in the last four years making Pax Global the third world player with an 11.5% market share according to Nilson Report. Just behind Ingenico (21% market share) and Verifone (15% market share).
What is happening in China?
China is experiencing an abnormal growth. According to Nilson Report, 55% of the world´s annual terminals shipments are in China. According to People Bank of China, the number of cards in circulation in 2017 has been 6.7 billion, a 24% increase since 2015 and the total terminal shipments has been 31.2 million, a 37% increase since 2015.
These abnormal growth returns attract a lot of competitors. Also, companies like Alibaba and Wechat are providing a QR payment method that permits a grocery accept cashless payments without a POS terminal.
This new method of payment is vulnerable to fraud, the barcodes can be reproduced by criminals and linked up to unknown sources, allowing them to intercept payments.
Last December, The People's Bank of China announced a new regulation. Starting on April 1st, a single static QR code will only be able to receive 500 yuan from an individual in a single day. This cap can be raised once the institution accepting the payment passes security checks, receives proper permits, or just simply switches over to specialized point-of-sale terminals that create a new code for each transaction, making the process more secure.
According to the Financial Times, both Alipay and WeChat have voiced their support for these regulations, with analysts believing that it will only strengthen China's mobile payment ecosystem in the long run by compelling more businesses to switch from static QR codes to POS terminals.
However, Pax Global management informed that this new method of payment doesn´t affect its business. In their opinion, Alipay and Wechat are making transactions that otherwise would have never been made throughout their POS terminals. For example, street-food stands, which didn´t allow one or two euro payments with a POS terminal, are currently accepting QR payments. Therefore, the new PBC regulation are promoting POS terminals, which is, without any doubt, an incredible opportunity in order to keep stealing market share from cash transactions. Hence, the real problem in China is the high competition and the structural switch from a traditional POS terminal, where they earn a bigger margin (Level 1 to 3 in the product mix picture) to mPos terminals, where they earn a lower margin (Micro merchant in the product mix picture).
It makes sense if you observe the huge increase in the bank cards and shipments terminals for the last years in China.
Intense competition is reflected being in its margins. China´s 2016 gross margins were 20-30%, however, in 2017 it was achieving 15-25%.
Although China is very competitive, the POS terminal business have high barriers to entry. There are a lot of standards and certifications from every country that you must pass. It is a business where you must fight with the fraud every day, so you must have the best technological resources. Only three players are playing around the world (Ingenico, Verifone and Pax).
What is happening outside of China?
2018´s guidance shows that 77% of revenue will come from outside of China, in particular 44% from LACIS region (Latin America and the Commonwealth of Independent States).
In this area, Pax managers think that can obtain a double-digit growth for the next decade. They have a small market share in mature markets (3.8% in the USA, 4.5% in Europe and 0.1% in Canada) while they have a big market share in emerging countries (35% in LACIS region and 15% in Sud-Africa and Middle East).
Moreover, Ingenico, the biggest player in the world, recently acquired Bambora, a merchant acquirer. So, from a Pax customer perspective, that strategic movement switches Ingenico from a terminal and service provider to a direct competitor. Now, Ingenico can offer value in the whole chain, leaving behind its role as a unique terminal provider.
That movement annoys some Ingenico´s customers and makes them more receptive to switch to Pax product. Knowing that, Pax is doing this year an aggressively campaign to gain market share with great discounts but reducing its gross margin.
It is also important that Pax works in US dollar around the world, except for Europe and China. This, significantly reduces its currency risk because the functional currency of Pax (HK dollar) is pegged to US dollar since 1983.
Moreover, Pax has higher gross margins outside China, as stated in the last earning conference call, they achieved 45-55% gross margin in 2017, remarkably if you compared to 15-25% in China. The international margin is in line with Ingenico´s terminal gross margin.
Operating Margins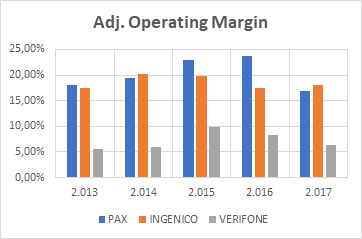 Source: Pax, Ingenico and Verifone annual reports
I adjusted the operating margin with goodwill amortizations, goodwill impairments and cost of restructuration and integration.
If you look at the graph, you can easily understand that Ingenico and Pax are more efficient than Verifone. Verifone was the market leader before the financial crisis, but Ingenico and Pax Global spent more resources in R&D and have achieved a faster growth and improvement since then.
Verifone is in an eternal turnaround. On the opposite, Ingenico and Pax are experiencing a healthy growth.
As you observed in the latest graph, Ingenico has an operating margin around 20%. Now, it is a little lower because it is growing very fast on acquirer business that has lower margins, while Pax Global had an operating margin above 20%, but it has dropped this year.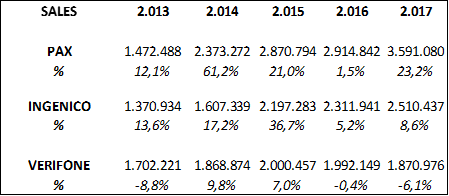 Source: Pax, Ingenico and Verifone annual reports
This drop is linked to their strategy growth. Remember that Pax has increase 57.1% its revenue outside China this year. For this reason, it has had to invest in order to prepare their company to the future in those regions.
For example, PAX successfully launched two new payment services solutions, PAXPAY and PAXSTORE, which increase its range of products with new terminals launched, consequently increasing 56.4% its R&D.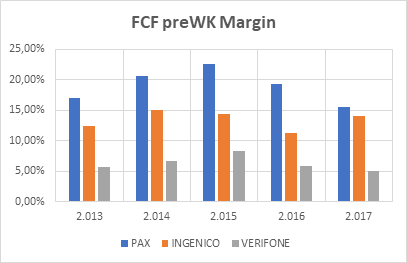 Source: Pax, Ingenico and Verifone annual reports
E-payment terminal companies operate under a light Capex business because they use a fabless model. They can convert to FCF more than 50% of EBITDA.
I would like to emphasize that I work with FCF preWK because PAX has a huge number of receivables on their balance sheet, contrary to Ingenico and Verifone.
We devote a big number of hours to understand and check its working capital movements and we conclude that its huge working capital number is not a handicap.
We are going to do a summarize its WK problem:

Source: 2017 Pax Annual Report
Contrary to Ingenico and Verifone, Pax has a lot of revenue from Brazil, Argentina, Russia… These countries have a larger trade and bills receivables policy than mature countries. The big growth in these countries cause a huge increase in WK every year since 2014, the year when the company begun the internationalization.
FCF calculation:

Source: Pax Annual Reports
WK disclose:

Source: Pax Annual Reports
Pax Global barely uses factoring and it had little/none receivable impairments.
It is working to improve its cash conversion, mainly enhancing LACIS (Latin America and the Commonwealth of Independent States) receivable turnover.
Financial Structure
An emerging company, does necessarily need to have financial strength as to get my attention. Pax Global has no debt and counts on a cash position of 2.2 billion of HK dollars.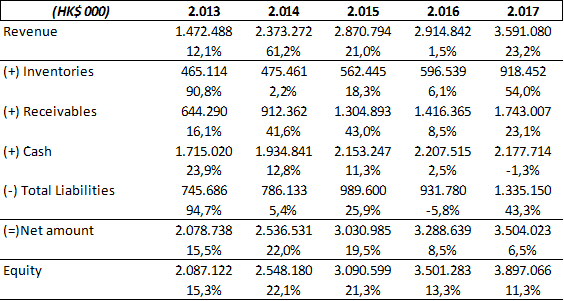 Source: Pax Annual Reports
Note: The 54% increase in Inventories is for supply the huge Brazilian growth that will be in Q1 2018.
If you look at his financial reports, they are easier to understand than most of the European financial reports.
See that Equity is approximately the sum of Inventories, receivables and cash, minus total liabilities. (Net amount is more or less like equity). Its balance sheet is mostly cash. On the other hand, equity is achieving a healthy double-digit growth every year.
The company is beginning to repurchase shares and pay dividend since last year. For the moment, they are focused on M&A. They spent low quantities in the past, but this year they bought two companies and invested 20% in two more.
Valuation
Pax made 550 million of Free Cash Flow before WK or net profit in 2017. A little lower than in 2016, such a consequence of its huge investing to ensure its future growth.
Instead modelling an increase of net profit in the coming years that will be the consequence of margin normalization and increase in revenue, let's make the numbers focusing on 2017 profit.
Because of its extraordinary (just this year) strategy to capture market share from Ingenico, the 20% increase of revenue that they give to us in their annual guidance will be offset by their lower gross margins, so a flat profit growth for 2018 can be acceptable. But, I strongly believe that 2019 and 2020 will be awesome, therefore I want to make it clear that taking 2017 profit as a valuation base is a very conservative view.
Taking 2017 profit into account, Pax is trading at 7.5x P/E ratio and 3.1 EV/EBITDA based on 3.8 HK dollars that is trading Pax today. (4.2 billion of market cap)
Maybe it is very high, but you are forgetting that PAX has 2.2 billion in cash (52% of market cap) and lacks debt. So, if you adjust by cash, Pax is trading at 3.5 P/E ratio.
But I want to go further, the amount that is easily converted in cash (Inventories + Receivables + Cash) sums a total of 4.8 billion and if you subtract all the liabilities (1.3 billion) you get 3.5 billion of HK.
That's market capitalization of 4.2 billion, so you have 84% of the market capitalization amount in "cash". So, when you adjust by "cash", the P/E ratio is 1.2x.
Conclusion
We are dealing with a growth company at value prices. Pax Global is going to growth at double-digit rate in the next five years and the market will recognize its potential. Like you see, the P/E multiple is irrational, so I target Pax Global with a minimum price of 14 HK dollars. (It is trading at 3.8 HK dollars)
What really make us feel confident is the small downside because we have most of market capitalization in cash.
Last but not least, as Warren Buffett said, "If you don´t know who the pasty is, you´re the pasty". Why can Pax be trading at such ridiculous multiples?
I´ve been reading a lot of Pax reports and contacted several people in the sector, so I will summarize the following points to you:
1. Pax CFO argued with a Macquarie analyst. The analyst rated the company as underperform in 2016 and the CFO manager didn´t take it well. They aggressively invite the analyst to leave the earning call conference. The following days, the CFO apologized in public and resigned. You can watch the video on Youtube. This unfortunate event deteriorates the management reputation.
2. Pax Global is losing market share in China. If a company is reducing  revenu es in its country, the analyst takes this very bad. The reality is different. Pax watched the enormous competence and create a big market share in other growing countries that ensured its future growth. Its strategy builds a moat in emerging markets due to its strong commercial relations with its clients.
3. Pax Global has had two years with no profit growth. The market is disillusioned with Pax. First (2016), because of high competition in China and now (2017) for a big investment to ensure their future growth. But after all, two years with no profit growth and maybe, 2018 will be the third.
4. Pax Global has a hidden asset. Nobody takes into account the receivables amount (40% of their market cap) and for my surprise, most analysts don´t take into account the cash amount either (52% of market cap)
5. Pax Global has a major shareholder. It is too difficult that Hi Sun sells its stake at these prices. It difficult any takeover. On the contrary, I positively worth that a major shareholder keeps an eye on Pax management.
6. Pax Global is small, badly tracked and trade in the Hong Kong market. Pax Global has 4.2 billon HK of market cap, it is like 432 million of Euros. Pax has ADR in the USA an EDR in Europe, but with, literally, 0 volume.
7. Ingenico´s stock is plummeting. (A Pax comparable) The vast majority of analyst don´t understand the model change that Ingenico is making as well as the strong impact of Euro´s appreciation (extraordinary effect) in its 2018 results (2/3 from its revenue come from other currencies different than Euro). Moreover, Ingenico is hiding profits throughout a recurrent goodwill amortization, so while it looks like trading at 17x P/E ratio (2018), it certainly is at 11.5x P/E ratio whereas increasing revenues at 7-9% LFL (without considering Forex effect) and reaching double digit growth on net profit and FCF. But we will deal with these analysis in a different report.
I believe that any of these problems will be permanent, I think that the Pax Global worth is 3 or 4 times more than today´s value. The historical data show me that Pax management is doing a good job, so we only have to be patient and wait until the market recognizes its value.
Disclosure: I am/we are long INGIF, PXGYF.